Viewers delight in preview clip for return of 'Get Out Me Ear' slot on Ant & Dec's Saturday Night Takeaway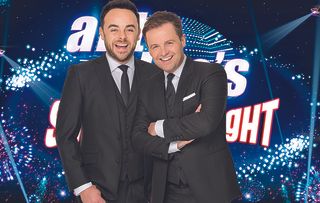 (Image credit: ITV)
Jordan and Ashley Banjo will star in the episode this Saturday...
Dancing on Ice stars Jordan and Ashley Banjo will be left at the mercy of duo Ant and Dec, in tonight's installment of Saturday Night Takeaway.
The brothers, 25 and 29, will be starring in the popular 'I'm A Celebrity, Get Out Me Ear' segment on the ITV show, where they'll have to do everything Ant and Dec ask of them.
And fans have delighted in a recent preview clip shared on Ant and Dec's Twitter account of the tounge-in-cheek section of the programme.
The 44-second video shows lead Diversity dancer Ashley in a gym on his phone.
The DOI judge is then asked by Ant and Dec to walk over to a girl's exercise bike, unplug it, and instead, plug his phone charger in.
Clearly struggling with the awkward ask, Ashley goes back and forth between his spot in the gym and the unsuspecting girl's bike. To which Dec hilariously responds, "He's so embarrassed!".
Ashley eventually plucks up the courage to unplug the bike and plug in his phone - leave the gym-goer less than pleased.
He quickly scurries off after completing the prank, reducing Ant and Dec to fits of giggles.
Viewers of the 90-minute show were left in hysterics at the short clip, with many commenting that it's left them looking forward to Saturday night's show - and the full prank - even more.
One wrote, "That girl's FACE!!!😱 when @AshleyBanjo unpluged her excise bike to charge his mobile phone!!📲😂😂😂 Absolutely buzzing to watch it tonight 🤗 #SaturdayNightTakeaway"
While another said, "I love this part of the show! Can't wait 😀 #SaturdayNightTakeaway".
And a third fan agreed, "Looking forward to my Saturday @itvtakeaway ..Best show on tv @antanddec"
Saturday's episode of the show will also see Spice Girl Emma Bunton take to the stage as the Guest Announcer for the episode. Hosts Ant and Dec will also be taking part in an hilarious-looking Doughnut on a String challenge, which seems them attempt to eat a doughnut (on a string) whilst blindfolded. The pair will be competing against YouTube stars for the channel SORTEDfood.
Ant and Dec's Saturday Night Takeaway airs Saturday nights on ITV at 7pm.
Get the latest updates, reviews and unmissable series to watch and more!
Thank you for signing up to Whattowatch. You will receive a verification email shortly.
There was a problem. Please refresh the page and try again.