The X Factor contestants include a stripper, a monk and a multi-millionaire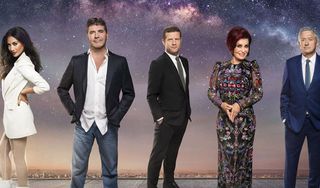 The first flavours of this year's X Factor contestants have been teased by the judges
A self-made multi-millionaire, a Brazilian dancer who strips during her audition and a singing monk who has Simon Cowell seeing butterflies are among the acts hoping to win the new series of The X Factor.
The talent competition is returning to ITV this September with its usual mix of the good, the bad and the downright awful.
Host Dermot O'Leary said the singing female monk's audition was so good it was 'off the scale' and had X Factor supremo Simon claiming to have seen a butterfly flying into the room.
He said: "She was singing and then suddenly Simon's talking about seeing a butterfly come into the room, even though it was at night.
"It was weird, but she's spiritual and touched by a higher power, I hope!"
However, Simon insisted he later realised the audition 'sounded better than it was'.
He said: "You get in this bubble when you are on these shows, you're immersed in this surreal world, they start singing, you start fantasising about certain things, I saw butterflies.
"When I watched it back a month later and I was like, 'What was I thinking?' You go a bit doolally!"
Other hopefuls include Danny Lambo, a multi-millionaire who picked his surname because he owns three Lamborghinis.
Judge Nicole Scherzinger, who was teased about the possibility of a romance with Lambo by Simon, said: "He came to us singing an original song which really gave me an in-depth look into his soul.
"It was titled Playboys. The lyrics were something like, 'Hoes, boats, Gucci, Prada, selfies with the hotties'."
A Brazilian dancer steals the show when she strips during her audition.
Nicole laughed: "I've never seen a bathing suit hold on so tight to a body. She had a lot of energy, a lot of charisma. I think Simon really enjoyed that performance actually."
But it seems Simon was less enamoured with one female contestant's rendition of the Spice Girls track Wannabe.
"I literally had to put my fingers in my ears, it was that bad," he said.
Among the highlights is a contestant named Grace who moves both Nicole and her fellow panellist Sharon Osbourne to tears.
Nicole said: "She comes out a little bubbly, flighty and you don't really know what to expect. Then when she sings her original songs, Pandora's Box opens up to her soul and it's clear.
"You see straight into her, you connect with that and you immediately associate the song to your own life and things going on, things you've experienced."
"She makes me cry like a baby every time that she performs," she added.
The X Factor returns to ITV on Saturday, September 2 and Sunday, September 3 at 8pm.
Get the latest updates, reviews and unmissable series to watch and more!
Thank you for signing up to Whattowatch. You will receive a verification email shortly.
There was a problem. Please refresh the page and try again.