Doctor Who Boxing Day treat! All 627 classic episodes will be made available on BritBox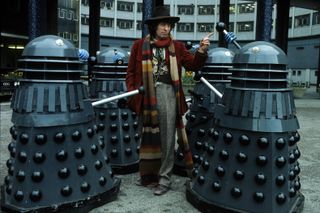 (Image credit: Getty Images)
Love old Doctor Who episodes? Well, they're all coming soon to BritBox
All 627 episodes of classic Doctor Who will be made available on new streaming service BritBox, it's been revealed.
In a festive present for Doctor Who fans, BritBox announced that all the episodes broadcast between 1963 and 1989, will be available to stream for the first time ever from Boxing Day.
BritBox announced it would include "animated recreations of missing episodes using the original soundtrack, and the original pilot from 1964. 'Spearhead From Space' featuring the third doctor Jon Pertwee will be made available in HD on the service".
Mind you it's not a complete gift, as BritBox, which will be offering shows from ITV, the BBC, C4 and Channel 5, will cost £5.99 per month. It is offering a free 30 day trial currently on its official website.
But perhaps Doctor Who fans will think that £5.99 per month is a price worth paying to watch episodes featuring William Hartnell (1963-1966), Patrick Troughton (1966-69), Jon Pertwee (1970-1974), Tom Baker (1974-1981), Peter Davison (1981-1984), Colin Baker (1984-1986), and Slyvester McCoy (1987-1989).
However, it's not yet been revealed whether episodes featuring later Time Lords, including David Tennant's and Jodie Whittaker's, will find their way onto BritBox.
Other shows which are available straight away on BritBox include Downton Abbey, Wolf Hall, Love Island, Cracker, Ashes to Ashes, and Gavin & Stacey.
MORE: Is Jodie Whittaker getting a festive episode as the Time Lord this Christmas?
Also coming soon to BritBox exclusively will be the first seven series of The Great British Bake Off and Les Miserables.
However, BritBox faces stiff completion in the busy streaming service market including rivals Netflix, Amazon Prime and Apple TV+.
Classic Doctor Who episodes will be available from Boxing Day on BritBox.
Main picture of Tom Baker with Daleks: Getty Images
Get the latest updates, reviews and unmissable series to watch and more!
Thank you for signing up to Whattowatch. You will receive a verification email shortly.
There was a problem. Please refresh the page and try again.