Gogglebox's Siddiqui family reveal their Christmas plans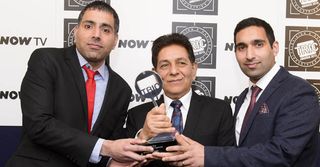 (Image credit: Jonathan Hordle/REX/Shutterstock)
The Siddiqui family from Channel 4's Gogglebox on why they love the festive season
The Siddiqui family have revealed their plans for Christmas. The clan, comprising father Sid and sons Umar and Baasit, have been sharing their televisual thoughts with the nation ever since the first series of Gogglebox hit our screens back in 2013. Here, they tell us what's in store for them over the festive season.
How do you normally spend the Christmas break?
Family time, food time and TV time. Christmas isn't Christmas unless we've watched Elf, Lord of the Rings, or Harry Potter.
Do you watch much telly at Christmas (and if not, why not?)
We watch the soap Christmas specials and try and fit Sherlock in. You always plan to watch a lot of telly but there's always some turkey to be eaten or family to go and see.
Do you have any family traditions?
A Christmas walk after the Christmas meal is always a nice Christmas tradition. As a family because there are a lot of brothers and sisters, instead of buying everyone a present we do a secret Santa between us all which is always a lot of fun. Baasit always tries to guess who everyone's secret Santa is, but he never guesses right.
What's your Christmas tipple of choice?
Baileys or whatever festive Jack Daniels is out that year. Last year there was a nice cinnamon cocktail which was very festive.
Turkey? Goose? Pot noodle? What's on the menu?
Turkey and Lamb. The turkey is pre-carved and marinated in gravy before being served (this is a Sid Siddiqui special) - it's very tasty.
What are the most memorable presents you've received (either best or worst)?
The funniest was when dad said in passing he needed a fleece. That year he got four fleeces, two of them were the same one!
What's your favourite thing about Christmas?
All the little things that build up to Christmas. Mince pies, decorating the tree, the local pub usually has a salvation army band that play Christmas tunes on trumpets around that time of year.
What's your least favourite thing about Christmas?
Last minute shopping, Brussels sprouts, post Xmas dinner remorse.
What will you be asking Santa for this year?
Dad will be asking for a fleece, Umar needs a new Fitbit and Baasit needs another Fred Perry t-shirt to add to his collection.
What would be your dream Christmas?
I can't remember when we had a white Christmas so that would be really fun. If Michael Buble just so happened to turn up that would be great!
How do you normally see in the New Year?
Umar tends to have a house party which usually leads to someone pulling his curtains down. Thankfully that's as messy as it gets.
How will you remember 2017?
The craziness of North Korea and trump!
What are your hopes for 2018?
Game of thrones comes out a little early enough before North Korea and Trump ruin it for us!
Gogglebox – Best of 2017 is on Channel 4 on Christmas Eve at 9pm.
Get the latest updates, reviews and unmissable series to watch and more!
Thank you for signing up to Whattowatch. You will receive a verification email shortly.
There was a problem. Please refresh the page and try again.