Holby City's Jac Naylor causes complete and utter chaos in Casualty!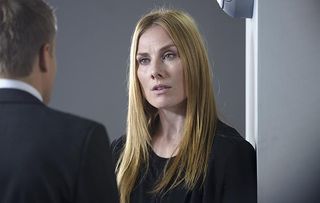 (Image credit: Alistair Heap)
Holby City's Jac Naylor sets off a catastrophic chain of events in Casualty
Ethan Hardy enters a new circle of hell after he desperately strikes up a well-meaning deal with Darwin clinical lead Jac Naylor (played by Holby City's excellent Rosie Marcel) in this week's Casualty. Patients' lives are undoubtedly at risk…
Here's everything you need to know about Jac Naylor's appearance in Casualty… Warning: Contains spoilers
Ethan is highjacked
Acting clinical lead Ethan Hardy is in a flap before he attends a meeting with the hospital board this week. But he's got a plan! Before the meeting Ethan reveals to Jac Naylor, who's also attending the meeting, that he's planning on setting up a new screening area manned by the junior doctors in order to shorten patient waiting times and avoid a catastrophic situation, as seen a few weeks ago…
Chair-raising
Spying an opportunity to relieve the stress on her own department, Jac convinces Ethan (George Rainsford) to bypass the usual protocols and set up the screening area immediately. She even promises him some chairs if Ethan agrees to treat some of her patients into the bargain!
Lives at stake
When senior nurses Jacob and Duffy (Charles Venn and Cathy Shipton) realise what's happening they are understandably furious and become vocally opposed to Ethan's attempts to increase the ED's capacity with no budget! To make matters worse, Jac reneges on their initial deal and it soon becomes clear she's used Ethan's inexperience against him and conned him into treating some of her patients, without returning the favour…
Love, lies & Alicia's blog
Ethan's troubles increase when Jac reveals the board also expects him to weed out the anonymous writer of the explosive blog Rage in Resus. Crumbling under the pressure, Ethan turns to friend and fellow doctor Alicia Munroe (Chelsea Halfpenny) for emotional support. However, he's completely unaware Alicia is the anonymous author of Rage in Resus! Still, at least things are looking up in his personal life with Alicia, eh?
We can't help but wonder what Connie Beauchamp will make of this when she hears about it!
Catch Jac Naylor in Casualty on Saturday 17 February at 8.20pm
Get the latest updates, reviews and unmissable series to watch and more!
Thank you for signing up to Whattowatch. You will receive a verification email shortly.
There was a problem. Please refresh the page and try again.