James Corden reveals he's 'sick with nerves' ahead of Gavin and Stacey Christmas special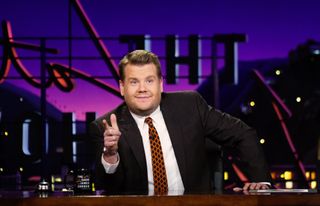 The BBC announced the one-off special in May
James Corden has admitted he is sick with 'nerves' ahead of filming for the Gavin and Stacey Christmas special – which starts on Monday.
The TV star, 40, revealed his fears over such a huge comeback, which he is penning with co-star Ruth Jones, 52, during filming for the Late Late Show in London earlier this week.
"This is it now, we go on another break and I'm going to start this on Monday morning – this new Gavin and Stacey Special," he reportedly told the audience according to The Sun.
"Or as me and Ruth Jones say 'We start this new Gavin and [pretends to throw up]', just out of nerves."
MORE: Heartbeat actor William Simons dies aged 79: 'He'll be terribly missed' (opens in new tab)
In May, the BBC announced a one-off Gavin and Stacey Christmas special for this festive season – the first episode of the hugely popular comedy in almost a decade.
Matthew Horne (Gavin), Joanna Page (Stacey), James Corden (Smithy), Ruth Jones (Nessa), Larry Lamb (Mick), Rob Brydon (Bryn), Melanie Walters (Gwen) and Alison Steadman (Pam) will all be back.
Creators Ruth and James said: "Over the last ten years we've talked a lot about Gavin and Stacey – where they might be today and what their lives might look like. And so in secret we took the plunge and wrote this one hour special.
"We've loved revisiting Barry and Essex again and bringing the characters back together has been a joy. We're so excited to get the chance to work with our fabulous cast and crew once more and to give fans of the show a festive treat this Christmas. Thank you BBC for helping to make this happen."
James tweeted the first page of the script, saying: "Ruth Jones and I have been keeping this secret for a while… We're excited to share it with you. See you on Christmas Day."
Joanne Page also sounded thrilled about the prospect of a new Gavin and Stacey Christmas special, tweeting: "I'm so excited! It's happening. See you at Christmas !!!!"
The BBC said it will announce further details in due course.
Jenni McKnight is a beauty, lifestyle and entertainment journalist, currently US Lifestyle Editor for HELLO! Online. She has also written for HELLO! Magazine, GoodTo, CelebsNow, Daily Mirror and Yahoo! Her first big break came when she interned on the Guilty Pleasures showbiz desk at Metro newspaper. She has since worked on the online lifestyle team at Woman & Home and Woman and was Senior Content Editor at CelebsNow.
Get the latest updates, reviews and unmissable series to watch and more!
Thank you for signing up to Whattowatch. You will receive a verification email shortly.
There was a problem. Please refresh the page and try again.