Peacock cancels free subscription tier for new subscribers
Now, you'll have to pay to watch Peacock.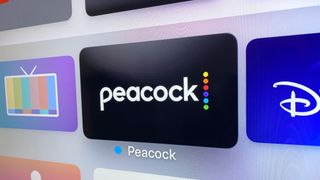 (Image credit: WhatToWatch.com)
One of the many perks of NBCUniversal's streaming service Peacock is that, unlike many rivals, it offered a free tier. With this, you could watch certain shows from the streaming service's library without having to pay a dime, with ads on the content instead.
Unfortunately, you can no longer sign up for this wallet-friendly tier. When you try to subscribe to Peacock now, you're only offered its $4.99 per month Premium or $9.99 per month Premium Plus plans, with no mention of the free version.
If you were already signed up to Peacock Free, you're still able to use the service, and current Peacock subscribers can downgrade their subscription to this level. So currently, this shift only affects people who weren't previously signed up for Peacock, however there's no word on the life expectancy of the free tier.
Peacock Free tier didn't offer all of Peacock's library or allow you to watch any of its original content, but were interesting watches you might consider checking out on a rainy day. Movies on the tier include cult classic Highlander, Jennifer Lawrence's breakout Winter's Bone and the Jack Black flick Bernie.
So, fans of free streaming, we're sorry to say that Peacock is out. Instead, you'll have to stick to options like Amazon FreeVee, Tubi and the Roku channel.
To try and entice prospective customers to sign up to its paid plans, Peacock recently rolled out a tempting streaming deal: until February 7, you can get $20 off an annual plan of the Premium tier, so it'll cost you just $29.99 for a whole year.
This deal is handy for people who were interested in checking out new shows The Traitors US and Poker Face, as well as sports fans with Peacock the new streaming home of all US National Men's and Women's Team games.
The difference between the Premium and Premium Plus plans is that the former puts ads on content, while the latter removes them.
According to a recent Hollywood Reporter article (opens in new tab) based on a Comcast earnings report (that's the company that owns NBC Universal, which itself owns Peacock), the company is expecting 2023 to be an unprofitable year for it. By upgrading its free users to paid ones it likely looks to take the edge off the $3 billion losses that it projects.
Get the What to Watch Newsletter
The latest updates, reviews and unmissable series to watch and more!
Streaming and Ecommerce Writer
Tom is the streaming and ecommerce writer at What to Watch, covering streaming services in the US and UK. His goal is to help you navigate the busy and confusing online video market, to help you find the TV, movies and sports that you're looking for without having to spend too much money.