Real Housewives Ultimate Girls Trip: Beverly Hills alum go head to head
A lovely dinner is ruined with the mentions of Adrienne Maloof, cinnamon sticks and The Critics Choice Awards.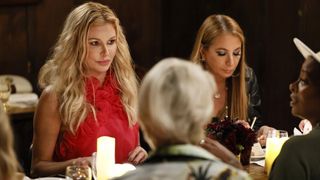 (Image credit: Zack DeZon/Peacock)
There's an old expression, "let sleeping dogs lie," about how you shouldn't rehash an old situation if it's just going to cause more problems. It seems Taylor Armstrong of The Real Housewives of Beverly Hills has never heard of this expression, as she decided to ruin a perfectly good dinner on the latest episode of The Real Housewives Ultimate Girl Trip by bringing up the past.
It all started with the ladies going to a restaurant that Dorinda Medley boasts of previously working at when she was in her teens. After the ladies take their seats around the table, it's not long before Dorinda gets into an argument with Jill Zarin.
As a viewer, we thought their nonsensical conversation about who was thirsty to be back on camera would be the peak of the night's drama. But The Real Housewives of New York women settle things for the time being. However, Taylor chooses to stir another pot by inquiring of Brandi Glanville why she felt the need to out former RHOBH star Adrienne Maloof for using a surrogate to carry her children, and that's when things go left.
Taylor initiating this conversation seemed bizarre on a few levels. First, the incident is from RHOBH season 3, which was almost 10 years ago. Second, Taylor is drudging up an issue that has absolutely nothing to do with her. Although, in a moment of irony, she takes the opportunity to defend her initiating the discussion claiming Brandi "hurt a family" and the surrogacy was none of her business.
We should also note here that Taylor's dinner talking point was a bizarre one to have given Brandi and Adrienne have moved past their problems; Brandi said in the episode the two even text and see each other.
As the other women around the table were scratching their heads trying to determine the relevance of the conversation, Taylor starts making more weird comments. For example, she tells Brandi that RHOBH season 1 had the "classy ladies of the show" and Brandi was "a little cinnamon stick in an actually successful pot of water." (Please don't ask us to attempt to decipher this metaphor.)
Taylor also states she has a Critics Choice Award for her time on RHOBH, which Brandi does not. As the discussion continues to confuse the other ladies and viewers at home, Brandi accuses Taylor of being like Dorinda, to which Dorinda responds with her classic line "back that sh*t up," before hurling an insult.
Things go from bad to downright ugly after Taylor insinuates that Brandi said the RHOBH season 1 cast had a lack of success. Frustrated with the back and forth, Brandi blurts outs, "Were you successful or cause your husband… ." While she didn't finish her thought, the mention of Taylor's husband, who was allegedly abusive and has since passed away, caused some of the other ladies to call foul.
In an attempt to gather herself, Brandi walks away from the table. After Jill and Phaedra Parks console her, she rejoins all the ladies and Dorinda tries to make her point why Brandi should not have brought up Taylor's deceased husband. Dorinda then sticks her foot in her mouth attempting to get through to the former RHOBH cast member by saying, "I love you so much. How about if your son died?"
At this point, dinner pretty much ends as the group accuses Dorinda of crossing the line. Brandi again storms off and the episode draws to a close.
Fans react to the RHOBH feud and Dorinda's input
Fans seemed to be just as perplexed as we are about why Taylor brought up the old Housewife drama. They also appear not to be happy with Dorinda's two cents.
New episodes of RHUGT become available on Thursdays on Peacock.
Get the What to Watch Newsletter
The latest updates, reviews and unmissable series to watch and more!
Terrell Smith has a diverse writing background having penned material for a wide array of clients including the federal government and Bravo television personalities. When he's not writing as Terrell, he's writing under his pseudonym Tavion Scott, creating scripts for his audio drama podcasts. Terrell is a huge fan of great storytelling when it comes to television and film. Some of his favorite shows include The Crown, WandaVision, Abbot Elementary and Godfather of Harlem. And a fun fact is he's completely dialed into the TLC 90 Day Fiancé universe.