From Big Breakfast model to Hollywood hero – Tom Hardy in pictures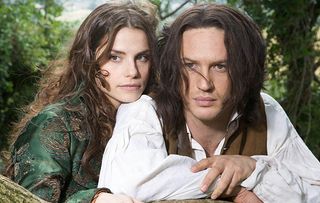 Taboo star Tom Hardy has had a remarkable career on TV and the big screen. Let's look back at some of his greatest moments...
Tom Hardy, 39, has become one of the most in-demand actors in the world thanks to roles in film such as The Revenant and Mad Max: Fury Road, a long way from his first taste of fame as the winner of Channel 4's The Big Breakfast Find Me a Model competition.
Time and again, he's shown he's so much more than a pretty face. Just check these roles from his near two decades on screen...
Hottie! Tom was 20 when he won the Big Breakfast's Find Me A Model competition in 1998
Tom tasted early movie success with Ridley Scott's Black Hawk Down, co-starring Ewan McGregor, in 2001
Dark side: Tom played evil Shinzon in Star Trek: Nemesis in 2002
Outstanding Newcomer: Tom won big at The Evening Standard Drama Awards in 2003
Regal bearing: Tom played Robert Dudley in The Virgin Queen, who was Queen Elizabeth 1's true love, in 2006
Sci-fi: he played brilliant but conflicted scientist John Fleming in the BBC TV movie A for Andromeda in 2006
Star power: he co-starred with Benedict Cumberbatch as a troubled homeless man in Stuart: A Life Backwards on the BBC in 2007
Muscle-bound: Tom bulked up to play Britain's most violent man, Charles Bronson, in 2008 film Bronson
Romantic hero: Tom played Heathcliff in the ITV's Wuthering Heights in 2009. His now wife Charlotte Riley played Cathy
Romantic hero: Tom played Heathcliff in the ITV's Wuthering Heights in 2009. His now wife Charlotte Riley played Cathy
Ex-con: Tom played the leading role of Freddie in Sky's violent family drama The Take in 2009
I Spy: Tom played field agent Ricki Tarr in 2011's hit remake of John le Carré's Tinker, Tailor, Soldier, Spy
Hollywood anti-hero: He played arch villain Bane opposite Christian Bale in 2012's The Dark Knight Rises
Bootlegger: Tom was Forrest Bondurrant in 2012 film Lawless, co-starring with Guy Pearce, Shia LaBeouf and Gary Oldman
Crime lord: He was gangland leader Alfie Solomons in series three of BBC2's cult period drama Peaky Blinders
You AGAIN?! Tom co-starred with Gary Oldman once again in 2015's Child 44, playing a disgraced Russian officer
Mad Max: Tom took on the iconic Mel Gibson role in 2015's high-octane Mad Max: Fury Road. He will play the role once again in The Wasteland
Legend: Tom played Ron AND Reggie Kray in the 2015 film about the rise of the notorious criminal siblings
Only the fittest survive: He co-starred with Leonard DiCaprio in 2015 Oscar-winning movie The Revenant
Awww: Dog lover Tom appeared in an episode of Paul O'Grady: For the Love of Dogs in 2015
Taboo: Tom co-created the BBC2 period drama Taboo, currently screening on Saturday nights, with his father, Chips, and Ridley Scott. What's next for the super-talented star?
Get the latest updates, reviews and unmissable series to watch and more!
Thank you for signing up to Whattowatch. You will receive a verification email shortly.
There was a problem. Please refresh the page and try again.