What's new on Netflix in November 2022
Everything that's coming to Netflix in November — What to Watch picks the TV shows and movies to add to your watch list.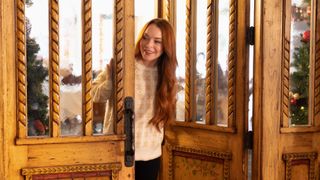 (Image credit: Netflix)
November has arrived. There's a chill in the air, the nights are getting longer (thanks to the time change) and the holidays are fast approaching. Netflix has you covered with new shows and movies that are perfect for a cozy night at home.
Netflix has a great selection of early holiday fare and some highly anticipated shows like The Crown and Wednesday to keep you occupied all month long.
Sign up for Netflix (opens in new tab), as well as learn about some of the best streaming deals out there right now.
Let's take a look at what's new on Netflix in November 2022
Best movie on Netflix in November: Falling for Christmas (November 10)
Tis the season for holiday movies!
Lindsay Lohan is back in an all-new holiday adventure. In Falling for Christmas, Lohan plays an heiress who loses her memory in a ski accident at a resort. She finds herself in the care of a widower (Chord Overstreet) and his daughter who try to help her recover her memory.
Then, in Christmas with You (November 17), Aimee Garcia (Lucifer) and Freddie Prinze Jr. (Scooby Doo) team up in a feel good holiday movie about a young girl who wants to meet her music idol.
There are two other new holiday movies coming this month, including the UK's Christmas on Mistletoe Farm (November 23) and The Noel Diary (November 24), so there's lots of holiday cheer to go around.
Best TV show on Netflix in November: Wednesday (November 23)
They're creepy and they're kooky and they're coming to Netflix on November 23. That's right, the notorious Addams Family is getting a new series with the lovably macabre daughter at the forefront.
Wednesday follows Wednesday Addams' (Jenny Ortega) adventure at Nevermore Academy. Her new school is hiding secrets of its own and it's up to Wednesday and some of her new acquaintances to discover what's going on. This mystery-comedy-drama comes straight from Tim Burton's imagination to your TV screen.
Best documentary on Netflix in November: Capturing the Killer Nurse (2022)
If you tuned into The Good Nurse with Jessica Chastain and Eddie Redmayne in October, it's time to learn more about the real-life story behind the movie. ICU nurse Charles Cullen managed to move from hospital to hospital, leaving a trail of mysterious deaths behind him. He almost got away with it, too, if not for one of his fellow nurses who helped bring him to justice.
Here is the full schedule of what's new on Netflix this November
What's new on Netflix in November 2022
(Netflix original series identified in bold)
November 1
Attack on Finland (2021)
The Bad Guys (2022)
The Bodyguard (1992)
Dennis the Menace (1993)
Dolphin Tale (2011)
Gabby's Dollhouse season 6
Key & Peele seasons 1-3
The Legend of Zorro (2005)
The Little Rascals (1994)
The Little Rascals Save the Day (2014)
Man on a Ledge (2012)
The Mask of Zorro (1998)
Mile 22 (2018)
Moneyball (2011)
Notting Hill (1999)
Oblivion (2013)
The Pink Panther (2006)
The Pink Panther 2 (2009)
Still Alice (2014)
The Takeover (2022, Dutch)
Think Like a Man (2012)
Top Gear season 31
Training Day (2001)
Up in the Air (2009)
Young Royals season 2 (Sweden)
November 2
The Final Score season 1 (Colombia)
Killer Sally (2022)
November 3
Blockbuster season 1
The Dragon Prince season 4
Panayotis Pascot: Almost (2022, France)
November 4
Buying Beverly Hills season 1
Ẹlẹṣin Ọba: The King's Horseman (2022, Nigeria)
Enola Holmes 2 (2022)
The Fabulous season 1 (Korea)
Lookism (2022, Korea)
Manifest season 4 part 1
November 5
Orgasm Inc: The Story of One Taste (2022)
November 6
November 7
November 8
Behind Every Star season 1 (Korea)
The Claus Family 2 (Dutch, 2022)
Neal Brennan: Blocks (2022)
Triviaverse (2022)
November 9
Angels & Demons (2009)
The Crown season 5
FIFA Uncovered (2022)
The Railway Man (2013)
The Soccer Football Movie (2022)
November 10
Falling for Christmas (2022)
Lost Bullet 2 (France, 2022)
Love Never Lies: Destination Sardinia season 1 (Spain)
State of Alabama vs Brittany Smith (2022)
Warrior Nun season 2
November 11
Ancient Apocalypse (2022)
Capturing the Killer Nurse (2022)
Don't Leave (2022, Turkey)
Down to Earth with Zac Efron Season 2: Down Under
Goosebumps (2015)
Is That Black Enough for You?!? (2022)
Laguna Beach seasons 1 & 2
Monica, O My Darling (2022, India)
My Father's Dragon (2022)
November 14
November 15
Deon Cole: Charleen's Boy (2022)
Johanna Nordstöm: Call the Police (2022, Sweden)
Jurassic World Camp Cretaceous: Hidden Adventure (2022)
Run for the Money season 1 (Japan)
November 16
In Her Hands (2022)
The Lost Lotteries (2022, Thailand)
Mind Your Manners season 1
Off Track (2022, Sweden)
Racionais MC's: From the Streets of São Paulo (2022, Brazil)
The Wonder (2022, UK)
November 17
1899 season 1 (Germany)
Bantú Mama (2021)
Christmas with You (2022)
Dead to Me season 3
I am Vanessa Guillen (2022)
Pepsi, Where's My Jet? (2022)
November 18
The Cuphead Show! Part 3 (2022)
Elite season 6 (Spain)
The Great British Baking Show: Holidays season 5 (UK)
Inside Job: Part 2 Reign Supreme season 1 (France)
Slumberland (2022)
Somebody season 1 (Korea)
The Violence Action (2022, Japan)
November 21
My Little Pony: Winter Wishday (2022)
StoryBots: Answer Time (2022)
November 22
LEGO: City Adventures season 4
Trevor Noah: I Wish You Would (2022)
November 23
The Boxtrolls (2014)
Blood, Sex & Royalty (2022)
Christmas on Mistletoe Farm (2022)
Lesson Plan (2022, Poland)
The Swimmers (2022, UK)
Taco Chronicles: Cross the Border (2022, Mexico)
The Unbroken Voice season 1 (Colombia)
Wednesday season 1
Who's a Good Boy? (2022, Mexico)
November 24
First Love season 1 (Japan)
The Noel Diary (2022)
Southpaw (2015)
The Vanishing (1993)
Tyler Perry's Temptation: Confessions of a Marriage Counselor (2013)
November 25
Blood & Water season 3 (South Africa)
Ghislaine Maxwell: Filthy Rich (2022)
November 28
The Action Pack Saves Christmas (2022)
November 29
The Creature Cases season 2
Crime Scene: The Texas Killing Fields (2022)
Romesh Ranganathan: The Cynic (2022, UK)
November 30
A Man of Action (2022, Spain)
My Name is Vendetta (2022, Italy)
The Lost Patient (2022, France)
Snack vs Chef season 1
Take Your Pills: Xanax (2022)
Contract Length
(opens in new tab)
(opens in new tab)
(opens in new tab)
Editorial Content Producer
Sarabeth joined the Watch to Watch team in May 2022. An avid TV and movie fan, her perennial favorites are The Walking Dead, American Horror Story, true crime documentaries on Netflix and anything from Passionflix. You've Got Mail, Ocean's Eleven and Signs are movies that she can watch all day long.
When she's not working, Sarabeth hosts a podcast dedicated to books and interviews with authors and actors. She's also very close to realizing her lifelong dream of publishing a novel.