What's new on Netflix in January 2023
Everything that's coming to Netflix in January — What to Watch picks the TV shows and movies to add to your watch list.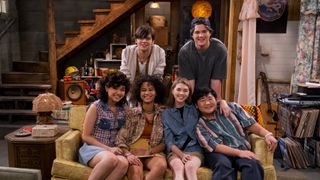 (Image credit: PATRICK WYMORE/NETFLIX)
What better way to ring in 2023 than with a whole host of new movies, series and documentaries? If you're looking for things to binge in the New Year, Netflix has you covered. So what's new on Netflix this month? Let's take a look, including our top picks.
Best movie on Netflix in January: The Pale Blue Eye (January 6)
Set at West Point in 1830, The Pale Blue Eye follows a detective (Christian Bale) hoping to find answers behind a grizzly murder at the prestigious military academy. When he meets resistance from the cadets refusing to talk about the matter, he recruits a cadet to help him on the case. The cadet who helps him? Edgar Allan Poe.
Also worth noting this month is that the five Rocky movies are making their way to Netflix along with three of Tom Cruise's best movies, including Top Gun, Jerry Maguire and Minority Report. Several classic Eddie Murphy movies are coming to the platform as well, including Daddy Day Care and The Nutty Professor movies, to go along with his new movie, You People, arriving on January 27.
Best TV show on Netflix in January: Vikings: Valhalla season 2 (January 12)
It's time to return to the fjord with Freydis, Leif and Harald for new epic adventures in Vikings: Valhalla season 2. This new generation of heroes has set out to explore new lands and conquer more territory in the pursuit of power.
For those looking for lighter fare, the sequel to That '70s Show, appropriately titled That '90s Show, lands on January 19. It features a mix of new and returning cast members as Leia Forman follows in her parents' footsteps in Point Place, but the world has changed quite a bit from the time her folks were her age. Fans of the original series will see that while the world looks a little different, some things never change.
The final season of The Walking Dead also lands on Netflix in January (January 6, to be exact), a chance for fans to catch up on all 11 seasons of the zombie series ahead of all the new Walking Dead spinoffs coming in 2023.
Best documentary on Netflix in January: Break Point (January 13)
The team that brought us F1: Drive to Survive has turned to tennis with the documentary series Break Point. The documentary follows a diverse group of tennis players hoping to reach the number one spot in the world. They have to push themselves to reach the top in the seemingly endless slams to prove their prowess, but with a number of tennis stars nearing retirement, there's room for the newest generation of tennis stars to start making their presence known. The path to glory isn't just about winning, it's also lined with injuries and heartbreak along the way.
Here is the full schedule of what's new on Netflix this January:
What's new on Netflix in January 2022
(Netflix original series identified in bold)
January 1
The Aviator (2004)
Barbershop 2: Back in Business (2004)
Blue Streak (1999)
Brokeback Mountain (2005)
The 'Burbs (1989)
Closer (2004)
The Conjuring (2013)
Daddy Day Care (2003)
Fletch (1985)
Forrest Gump (1994)
G.I. Joe: The Rise of Cobra (2009)
Grease (1978)
I Know What You Did Last Summer (1997)
Jerry Maguire (1996)
King Kong (2005)
Lady Voyeur season 1 (Brazil)
Leap Year (2010)
Life (2017)
Minority Report (2002)
National Security (2003)
New Amsterdam season 1
The Nutty Professor (1996)
The Nutty Professor II: The Klumps (2000)
Old Enough! season 2
Parenthood (2010)
Reservoir Dogs (1992)
Resident Evil: Afterlife (2010)
Road to Perdition (2002)
Rocky (1976)
Rocky II (1979)
Rocky III (1982)
Rocky IV (1985)
Rocky V (1990)
Scott Pilgrim vs. the World (2010)
Survivor season 18
The Taking of Pelham 123 (2009)
The Way of the Househusband season 2 (Japan)
This is 40 (2012)
Top Gun (1986)
Transformers: Dark of the Moon (2011)
Transformers: Revenge of the Fallen (2009)
Twins (1988)
January 4
How I Became a Gangster (2023, Poland)
The Kings of the World (Colombia)
The Lying Life of Adults season 1 (Italy)
MADOFF: The Monster of Wall Street
January 5
Copenhagen Cowboy season 1 (Denmark)
Woman of the Dead season 1 (Austria)
January 6
Love Island USA season 2
Mumbai Mafia: Police vs The Underworld (2023)
The Pale Blue Eye (2022)
Pressure Cooker season 1
The Ultimatum: France season 1 part 2 (France)
The Walking Dead season 11
January 9
January 10
Andrew Santino: Cheeseburger (2023)
The Hatchet Wielding Hitchhiker (2023, UK)
January 11
Noise (2023, Mexico)
Sexify season 2 (Poland)
January 12
Kung Fu Panda: The Dragon Knight season 2
The Makanai: Cooking for the Maiko House season 1 (Japan)
Vikings: Valhalla season 2
January 13
Break Point
Dog Gone (2023)
Sky Rojo season 3 (Spain)
Suzan & Freek (2023)
Trial by Fire season 1 (India)
January 17
January 19
Junji ito Maniac: Japanese Tales of the Macabre (Japan)
Khallat + (2023, South Africa)
The Pez Outlaw (2022)
That '90s Show season 1
Women at War season 1
January 20
Bake Squad season 2
Fauda season 4 (Italy)
Mission Majnu (2023, India)
The Real World season 28
Represent season 1 (France)
Sahmaran season 1 (Turkey)
Shanty Town season 1
January 23
Minions: The Rise of Gru (2022)
Narvik (2023, Norway)
January 24
January 25
Against the Ropes season 1 (Mexico)
Begin Again (2013)
January 26
Daniel Spellbound season 2
Record of Ragnarok season 2 episodes 1-10 (Japan)
January 27
Kings of Jo'Burg season 2 (South Africa)
The Snow Girl season 1 (Spain)
You People (2023)
January 30
January 31
Cunk on Earth season 1 (UK)
Pamela, a love story (2023)
More on streaming
Get the latest updates, reviews and unmissable series to watch and more!
Editorial Content Producer
Sarabeth joined the Watch to Watch team in May 2022. An avid TV and movie fan, her perennial favorites are The Walking Dead, American Horror Story, true crime documentaries on Netflix and anything from Passionflix. You've Got Mail, Ocean's Eleven and Signs are movies that she can watch all day long.
When she's not working, Sarabeth hosts a podcast dedicated to books and interviews with authors and actors. She's also very close to realizing her lifelong dream of publishing a novel.
Thank you for signing up to Whattowatch. You will receive a verification email shortly.
There was a problem. Please refresh the page and try again.