What's new on Netflix in December 2022
Everything that's coming to Netflix in December — What to Watch picks the TV shows and movies to add to your watch list.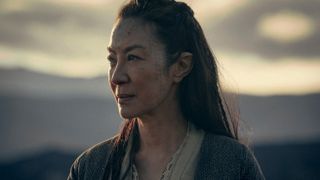 (Image credit: Netflix)
It's hard to believe that 2022 is almost over, but Netflix is ending the year on a high note with lots of highly anticipated movies and series to keep you entertained on those long winter nights.
This month there is plenty of holiday fare and some highly anticipated shows and documentaries to keep you occupied all month long.
Sign up for Netflix (opens in new tab), as well as learn about some of the best streaming deals out there right now.
Let's take a look at what's new on Netflix in December 2022
Best movie on Netflix in December: Glass Onion: A Knives Out Mystery (December 23)
Rian Johnson dazzled mystery buffs with 2019's surprise megahit Knives Out, a movie that featured an all-star cast and Chris Evans in a cable knit sweater. The fun continues with Glass Onion: A Knives Out Mystery, with Daniel Craig returning to the role of Southern gentleman and famed detective Benoit Blanc. This time around the action takes place in Greece, with a new cast of characters in the middle of a mystery that needs to be solved.
If you didn't see Glass Onion while it was in theaters over the Thanksgiving holiday, you're in for a treat when Glass Onion premieres at the end of the month on the streaming platform.
Best TV show on Netflix in December: The Witcher: Blood Origin (December 25)
With news that Henry Cavill is passing The Witcher torch to Liam Hemsworth, there has been a lot of attention on the franchise and its future. But worry not, Witcher fans, for the franchise is about to expand yet again with a new limited series, The Witcher: Blood Origins.
Arriving Christmas Day, Blood Origins looks to be the gift that keeps on giving with an all-star cast that includes Michelle Yeoh (Everything Everywhere All at Once), Sophia Brown and Laurence O'Fuarain. Set over a thousand years before the events of Cavill's story, Blood Origins follows a group of outcasts in an Elven world who set out to fight an evil empire.
If your wish list includes high fantasy, The Witcher: Blood Origins is the perfect gift.
Best documentary on Netflix in December: Harry & Meghan docuseries (December 8)
The buzz surrounding the upcoming Harry & Meghan docuseries on Netflix has reached a fever pitch.
The docuseries features an inside look at the home life of the Duke and Duchess of Sussex. Instead of a reality series, it's an honest representation of their life in California and focuses on their love story. Liz Garbus (Love, Marilyn) directed the project after replacing Garrett Bradley.
The project was due to launch sooner but was delayed after the Queen's death.
What's new on Netflix in December 2022
(Netflix original series identified in bold)
December 1
21 Jump Street (2012)
Basketball Wives seasons 1-2
Coach Carter (2005)
Dead End season 1 (Poland)
Forged in Fire: Knife or Death season 1
Hachi: A Dog's Tale (2009)
The Happytime Murders (2018)
JoJo's Bizarre Adventure: Stone Ocean season 1 episodes 25-38 The Final Episodes (Japan)
LEGO Friends: Holiday Special (2021)
Love Island USA season 3
The Masked Scammer (2022)
Meekah season 1
My Girl (1991)
Peppermint (2018)
Qala (2022, India)
Troll (2022, Norway)
Troy (2004)
December 2
December 3
December 4
The Amazing Race season 17 and 31
December 5
Mighty Express: Mighty Trains Race (2022)
December 6
The Boss Baby: Christmas Bonus (2022)
Delivery by Christmas (2022, Poland)
Sebastian Maniscalco: Is It Me? (2022)
December 7
Burning Patience (2022, Chile)
Emily the Criminal (2022)
I Hate Christmas season 1 (Italy)
The Marriage App (2022, Argentina)
The Most Beautiful Flower season 1 (Mexico)
Smiley season 1 (Spain)
Too Hot to Handle season 4 (new episodes weekly)
December 8
The Elephant Whisperers (2022, India)
Harry & Meghan (2022)
In Broad Daylight: The Navarte Case (2022, Mexico)
Lookism (2022, Korea)
December 9
Cat season 1 (India)
Dragon Age: Absolution (2022)
Dream Home Makeover season 4
How to Ruin Christmas: The Baby Shower season 1 (South Africa)
Money Heist: Korea — Joint Economic Area Part 2 (Korea)
December 10
Alchemy of Souls season 1 part 2 (Korea)
Prisoners (2013)
December 13
Gudetama: An Eggcellent Adventure (2022, Japan)
Last Chance U: Basketball season 2
Single's Inferno season 2 (Korea)
Tom Papa: What a Day! (2022)
December 14
Don't Pick Up the Phone (2022, UK)
Glitter season 1 (Poland)
I Believe in Santa (2022)
Kangaroo Valley (2022)
December 15
The Big 4 (2022, Indonesia)
The Hills seasons 1-2
Sonic Prime (2022)
Violet Evergarden: Recollections (2022, Japan)
Who Killed Santa? A Murderville Murder Mystery (2022)
December 16
A Storm for Christmas season 1 (Norway)
BARDO, False Chronicle of a Handful of Truths (2022, Mexico)
Cook at All Costs season 1 (Canada)
Dance Monsters season 1
Far From Home season 1 (Nigeria)
Paradise PD part 4
Private Lesson (2022, Turkey)
The Recruit season 1
Summer Job season 1 (Italy)
The Volcano: Rescue from Whakaari (2022)
December 18
December 19
Trolley season 1 (South Korea)
Trolls (2016)
December 20
A Not So Merry Christmas (2022, Mexico)
The Seven Deadly Sins: Grudge of Edinburgh part 1 (2022, Japan)
December 21
Disconnect: The Wedding Planner (2022, India)
Emily in Paris season 3
I Am A Killer season 4 (UK)
December 22
Alice in Borderland season 2 (Japan)
Mathieu Dufour at Bell Centre (2022, Canada)
December 23
Glass Onion: A Knives Out Mystery (2022)
Piñata Masters! season 1(Mexico)
December 25
After Ever Happy (2022)
Daughter from Another Mother season 3 (Mexico)
Roald Dahl's Matilda The Musical (2022)
Time Hustler season 1 (Brazil)
The Witcher: Blood Origin season 1
Vir Das: Landing (2022, India)
December 26
No Escape (2015)
Treason season 1 (UK)
December 27
Chelsea Handler: Revolution (2022)
December 28
7 Women and a Murder (2022, Italy)
A Night at the Kindergarten (2022, Poland)
The Circle season 5 (new episodes weekly)
Stuck with You (2022, France)
December 29
Brown and Friends (2022, South Korea)
Rise of Empires: Ottoman season 2
December 30
Alpha Males season 1 (Spain)
Chicago Party Aunt part 2
Secrets of Summer season 2 (Argentina)
White Noise (2022)
December 31
Best of Stand Up 2022 (2022)
Editorial Content Producer
Sarabeth joined the Watch to Watch team in May 2022. An avid TV and movie fan, her perennial favorites are The Walking Dead, American Horror Story, true crime documentaries on Netflix and anything from Passionflix. You've Got Mail, Ocean's Eleven and Signs are movies that she can watch all day long.
When she's not working, Sarabeth hosts a podcast dedicated to books and interviews with authors and actors. She's also very close to realizing her lifelong dream of publishing a novel.