Around The World In 80 Days: cast interviews, episode guide and all about the drama with David Tennant
Around The World In 80 Days sees David Tennant play fictional explorer Phileas Fogg from the Jules Verne classic.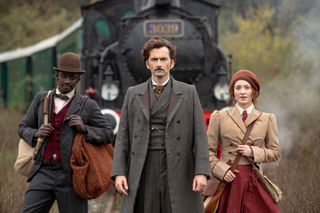 (Image credit: BBC)
In his latest role for Around the World In 80 Days, on BBC1 and PBS Masterpiece, David Tennant couldn't look more different from the sinister serial killer Dennis Nilsen he played in ITV's Des (on Sundance Now in the US). Former Doctor Who star Tennant dons a mustache and cravat to play literature's most famous explorer, Phileas Fogg, in the series which updates the 19th-century novel by French author Jules Verne.
So here's everything we can tell you about BBC1 and PBS Masterpiece drama Around The World In 80 Days...
Around The World In 80 Days release dates
Around The World In 80 Days launched with a double bill on Boxing Day on December 26 on BBC. The famous story plays out over eight episodes, each around 50 minutes long. For its US release date, Around the World In 80 Days was shown on PBS Masterpiece from January 2022.
The drama will also air on France Television, Germany's ZDF, Italy's RAI and Channel 7 in Australia.
Around The World in 80 Days actually made its world premiere in Cannes on Sunday, October 10, with a screening of the first two episodes. It was unveiled in the "Out of Competition" section during the Festival's Season 04 at the Palais des Festival et des Congrès in parallel with the 37th edition of MIPCOM.
Around The World In 80 Days trailer
A trailer for Around The World In 80 Days has been released in which you can see David Tennant's mustache in its full glory as his Phileas Fogg begins by saying: "I'm going to circumnavigate the globe in 80 days!". The production does look amazing. Take a look below and also the tweet which shows the opening title sequence...
First look at the Around the World in 80 Days title sequence pic.twitter.com/FyK0fG8rPLNovember 9, 2021
Around The World In 80 Days plot
BBC1's epic eight-part series Around The World In 80 Days follows intrepid adventurer Phileas Fogg, played by David Tennant and his newly employed French valet Passepartout as they attempt to circumnavigate the world in 80 days as part of an outrageous bet. Along the way, they're joined by an aspiring journalist, Abigail Fix, who seizes the opportunity to report on the legendary journey. But the valiant trio find themselves in some hair-raising situations and end up facing the scorching heat of the desert, skullduggery in Hong Kong and strikes in Paris.
Around The World In 80 Days cast — David Tennant on playing Phileas Fogg
In Around The World In 80 Days, David Tennant plays Phileas Fogg an upper-class English gent who has a bet with his friends at the Reform Club that he can circumnavigate the world in just 80 days. Then he sets out to prove it, with plenty of global adventures along the way.
David Tennant says: "Phileas Fogg spends most of his days at the gentlemen's club in Pall Mall, the Reform Club. He seems to go there every day. He seems to have a fairly uneventful life surrounded by other middle-aged gentlemen that are all rather set in their ways. He's probably more set in his ways than most. He's had a fairly timid life up to this point. He's not been an adventurer. We will discover later that there was a moment when he could've been an explorer and he very much chickened out. That's the thing that's haunted him for a very long time.
"In the novel, he's a rather remote character who has an almost supernatural ability to remain calm and to solve problems as he goes, whereas our version of Fogg is very much not that! He's never really left his comfort zone, so he has to find a way of stepping outside his front door at the start. As well as traveling around the world, Fogg goes on his own personal journey during the series.
"Passepartout becomes Fogg's valet on his journey. This come about as Fogg's butler Grayson, who he has lived with for many years is a rather elderly chap whom Fogg blithely assumes is going to come with him until it's pointed out to him that he hasn't left the house in twenty years. So, he applies to Fritton's agency for their finest manservant. Passepartout intercepts that message and decides to present himself for the job. Within minutes they are setting off to Paris on the first leg of their journey."
David Tennant is a Scottish actor who's most famous for playing British sci-fi icon Doctor Who from 2006 to 2010. He went on to star in the crime drama Broadchurch, and recently he portrayed serial killer Dennis Nilsen in the creepy drama Des. All can be seen on the streaming service BritBox. In 2022 David will star in the TV series Litvinenko about the notorious poisoning case.
Who's in the cast of Around The World In 80 Days cast?
Joining David Tennant in Around The World In 80 Days are rising French star, Ibrahim Koma (Je Suis Daddy, Mother is Wrong) as Passepartout, the mercurial chancer whose role as Fogg's valet ends up changing his life forever. Meanwhile, Leonie Benesch, who was Prince Philip's sister Cecilie in The Crown on Netflix, is playing Abigail Fix, a young journalist determined to make her mark in a man's world and emerge from the shadow of her British establishment father.
Ibrahim Koma says: "We first meet Passepartout at the Reform Club where he works as a waiter. While he's working at the club he gets into trouble with another employee and ends up having to get away from London and fast. He overhears Fogg having a bet with his friends and Passepartout sees it as an ideal opportunity for him to get away. He will always find a way to get what he wants. He is very smart that way. He can quickly gauge the measure of a man. Passepartout is not really an adventurer but he has no choice. He'd love to stay put and take no risks but he is always ready to move on. Fogg doesn't really know anything about the world apart from what he has read in books. That's the difference between them both.
"In the beginning, Passepartout is street smart and as a child growing up on the street he learned things he shouldn't have had to learn at such a young age. However, with that comes a lack of trust for him and he finds it difficult to trust other people. Through this journey, I think we will see him mature and become more confident as we see him create a relationship with Fix and Fogg on which he can rely."
Leonie Benesch says: "Abigail Fix is a very unconventional young woman, to begin with. She's quite spoilt and she's definitely a Daddy's girl who has been given everything she ever asked for. Her father, Bernard Fortescue (played by Jason Watkins), has given her the permission and room to make her own choices in life. Abigail is in her mid-20s, unmarried and doesn't have children. She thinks only of her career, which is also made possible by her father as owner/editor of the Daily Telegraph newspaper. She considers herself intelligent and knows a lot about the world in theory but she's never actually been outside of England."
The impressive cast also includes Jason Watkins (Des) as newspaper owner Bernard Fortescue (see above), Peter Sullivan (Poldark) as Nyle Bellamy, Lindsay Duncan (A Discovery Of Witches) as Jane Digby, Giovanni Scifoni (DOC – Nelle Tue Mani) as Niccolo Moretti, Victoria Smurfit as Lady Clemency Rowbotham and Faical Elkihel (The Spy) as Sheik Medjuel el Mezrab.
Also look out for Dolly Wells (Dracula) as Estella, Richard Wilson (One Foot In The Grave, Merlin) as Grayson, Anthony Flanagan (The Terror) as Thomas Needing and Gary Beadle (Patrick Melrose) as Bass Reeves, while Ashley Pharoah (Life On Mars, Ashes to Ashes) leads the writing team on the series.
Lindsay Duncan on playing Jane Digby in episode 3
Lindsay Duncan is joining David Tennant in the third episode of Around The World In 80 Days (see our episode guide below). She plays aristocratic adventurer Jane Digby, a trailblazing woman who has filled her life with travel, culture and romance.
"She's brilliant," says Lindsay. "She's raced camels, fought in inter-tribal warfare and had the respect of her adopted people. Jane Digby was in fact a real woman, who led an extraordinary life. We see her in this storyline in the last chapter of her life as she's worked her way through European royalty with her love affairs. Now she's married to an Arab Sheikh and lives in the desert in Damascus. We meet her in the marketplace where she's negotiating the purchase of a camel. Of course, word would go round very quickly in this situation about foreigners coming to town and who was about and what they were up to. So, she's probably got a sense that there are three people among them who might have a slightly crazy plan. When she sees Fogg, Passepartout and Fix, she thinks, 'you idiots'.
"I read about Jane Digby years ago and she was quite something so actually playing her was very exciting. At this stage in her life, she could race camels, speak Arabic, she tended to all the animals and she found cures for her husband's family and their children. She was really special. Also, she was a bit of a warrior because she did fight off other tribes alongside her husband. I suppose by being that empowered, she looks at foreigners who think they can have a little jaunt in the desert with something bordering on contempt. It's that age-old thing of don't play around if you don't know what you're doing in somewhere that is really dangerous. It's a mixture of being funny and then very thrilling when they get into trouble. It's definitely funny to see hapless Fogg, who is typical of the privileged Brit, particularly in the 19th century, thinking the world is his for the taking. It's quite nice to see him learn his lesson."
Victoria Smurfit on playing Lady Clemency Rowbotham in episode 5
Former Ballykissangel star Victoria Smurfit says: "Lady Clemency is the wife of the Governor of Hong Kong who has been stationed there for years. She left behind her family and friends to support her beloved husband. She is a romantic at heart and simply searches for intrigue and love. She is buttoned up, elegant and plays her part as a supporter of her husband's role as Governor, while secretly is probably quite bored looking for excitement. Is it safe to say that Lady Clemency has more than admiration for the adventurous stories of Phileas Fogg, perhaps even a soft spot for him?
"When Lady Clemency sees Fogg outside the bank, to her it's the equivalent of me seeing George Clooney walk into my local Sainsbury's. She's in awe, stumbles slightly with fangirling but knows she should maintain decorum so instantly invites Fogg and his traveling companions to their home. This is both to show off her status but also to show off her connection to the most talked about man in the colony. Due to Fix's recently published article, Fogg's fame has preceded him but he has no idea of this. Let's face it, Fogg is tall, handsome and according to Fix a believer in love. Lady Clemency's Kryptonite!"
Around The World In 80 Days episode guide
Episode 1
When Phileas Fogg (David Tennant) receives an anonymous postcard with the word COWARD written on the back, he's thoroughly shaken. To prove the sender wrong he takes on a wager against his friend Nyle Bellamy (Peter Sullivan) to circumnavigate the world in just 80 days. First, he heads to Paris, with his valet Jean Passepartout (Ibrahim Koma) and journalist Abigail 'Fix' (Leonie Benesch), daughter of his friend Fortescue (Jason Watkins), in tow. However, Paris is in the middle of a riot and the trio finds themselves right in the heart of the trouble.
Episode 2
Next, the trio heads to Italy and hitch a ride on a train. There, Phileas meets arrogant industrialist Niccolò Moretti (Giovanni Scifoni) who's jealous of the way Fogg chats easily with his grieving son. Bully Niccolò taps into Phileas' deepest insecurities, causing him to have a crisis of confidence. Meanwhile, Passepartout is struggling to process what happened in Paris and Fix is worried Phileas doesn't have what it takes to complete the challenge. But when disaster strikes, Phileas must dig deep to save the day.
Episode 3
Phileas, Fix and Passepartout find themselves stranded on the coast of Yemen so Phileas decides to travel across the Empty Quarter with a guide, leaving Fix behind. However, the guide turns out to be a thief and Phileas and Passepartout are abandoned in the desert in the middle of a sandstorm. Meanwhile, Fix, who is furious at being left behind, turns to disgraced English aristocrat Jane Digby (Lindsay Duncan) and her husband Sheik Medjuel el Mezrab (Faical Elkihel) for help and learns some unpleasant truths.
Episode 4
When the train tracks run out across India the adventurers are stranded in the village of Narupani, which is preparing to host a wedding. But then, British soldiers come to arrest the groom, a soldier who has gone AWOL. Despite being determined to continue his journey, Phileas tries to intervene on the soldier's behalf while Passepartout must decide where his loyalties lie. And Fix is still trying to come to terms with what she learned in the desert.
Episode 5
Having reached Hong Kong, Phileas finds himself an unexpected celebrity thanks to the publication of Fix's latest article. However, despite his newfound fame Phileas is unable to access his bank account. He turns to the Governor, Sir Henry Rowbotham (Patrick Kennedy) and his wife Clemency (Victoria Smurfit) for a loan but then Passepartout decides to take matters into his own hands and things take a turn for the worse. Can the trio cope with the disaster he has created and continue their journey?
Episode 6
While aboard the ship Carnatic, the trio is cast overboard by a strange man and ends up washed up on a desert island in the Pacific Ocean. Phileas hits rock bottom, bearing the weight of responsibility for bringing Fix and Passepartout on his doomed voyage. Soon the adventurers are forced to share the secrets that threaten to split them apart. Can they set aside their differences and survive on the island?
Episode 7
Phileas, Fix and Passepartout travel across the American Rockies to catch The Transcontinental railway, hoping to make it to New York in time for the final leg of their journey. But then US Marshal Bass Reeves (Gary Beadle) asks for help to bring a criminal to justice. As they are drawn into the Marshall's fight, they realize it's their fight too and start to understand how much their journey had changed them. Soon they must decide whether to risk their wager in order to see justice prevail.
Episode 8
When the travelers reach New York they find the whole city is talking about them. But when it comes down to it, Phileas realizes he's willing to lose it all in order to track down his lost love Estella (Dolly Wells). As he risks losing the wager to find her, Phileas finds himself at the mercy of hidden dangers in the city including a mysterious gang leader (Ty Tennant). Meanwhile, as Fix and Passepartout prepare to travel back to London they both must analyze what home now means for them.
Around The World In 80 Days locations
Filming of Around The World In 80 Days began in February 2020 but was interrupted by the global pandemic, so the shoot had to pick up again later that year and in early 2021, finishing in March. Filming occurred all over Europe including Croatia and Romania, plus South Africa..
More about this adaptation of Around The World In 80 Days
This adaptation of Around The World in 80 Days is written by a top team including Wild at Heart writer Ashley Pharoah, who also co-created the hit series Life on Mars and Ashes to Ashes.
"We're thrilled to have such a talent as David to play this modern take on the iconic role of Phileas Fogg," says executive producer Simon Crawford Collins. 'I'm excited that viewers will also have the pleasure of watching the extraordinary talents of Leonie and Ibrahim in the roles of Fix and Passepartout, as they travel around the world. The series is full of adrenaline, heart and of course lots of fun, thanks to Ashley and our talented writing team. Viewers are in for something really special!"
Around The World In 80 Days soundtrack by Hans Zimmer
The legendary composer Hans Zimmer, Bleeding Fingers composer Christian Lundberg and score producer Russell Emanuel have created an electrifying title soundtrack for Around The World In 80 Days.
Hans Zimmer said, "It was a great honor to help bring the iconic Jules Verne tale to life with such an amazing team. During this time as the world stood still and no one could travel, it was thrilling to experience the wonders of the world through Phileas Fogg. I'm excited for everyone to see it and be inspired."
Hans Zimmer has already composed tracks for over 150 films including The Lion King, for which he won the Academy Award for Best Original Score in 1995, plus Dunkirk, Gladiator and The Pirates Of The Caribbean movies.
Simon Crawford Collins, the drama's Executive Producer, said, "It was a bit of a "pinch myself moment", to be honest. I mean, who wouldn't be excited to get a call saying Hans Zimmer was interested in scoring the music to their show?"
Around The World In 80 Days the novel
The novel Around The World in 80 Days (opens in new tab) by the world-famous French writer Jules Verne was first published in French in 1872. It's one of Verne's most acclaimed works and has been adapted many times in theatre, radio, film and on TV.
Other adaptations of Around The World In 80 Days
David Niven famously played top-hatted Phileas Fogg in a lavish 1956 Hollywood movie of Around The World In 80 Days, alongside Shirley MacLaine, John Carradine and Robert Newton. A 1989 television version of Around The World In 80 Days also saw former James Bond actor Pierce Brosnan as Phileas Fogg and Monty Python legend Eric Idle as Passepartout. Michael Palin based his first documentary travelogue in 1989 on Around The World in 80 Days as he followed the footsteps of Phileas Fogg.
Another Jules Verne adaptation is on its way
Even before Around The World in 80 Days has been shown, it's been revealed that a second series of a Jules Verne classic and the same production team is making Journey To The Centre of The Earth. This production could be shown in either late 2022 or 2023 and will be released worldwide.
TV Content Director on TV Times, What's On TV and TV & Satellite Week
I'm a huge fan of television so I really have found the perfect job, as I've been writing about TV shows, films and interviewing major television, film and sports stars for over 25 years. I'm currently TV Content Director on What's On TV, TV Times, TV and Satellite Week magazines plus Whattowatch.com. I previously worked on Woman and Woman's Own in the 1990s. Outside of work I swim every morning, support Charlton Athletic football club and get nostalgic about TV shows Cagney & Lacey, I Claudius, Dallas and Tenko. I'm totally on top of everything good coming up too.
Thank you for signing up to Whattowatch. You will receive a verification email shortly.
There was a problem. Please refresh the page and try again.