How to watch Six Nations Rugby: watch every rugby match online
How to watch all 15 rugby matches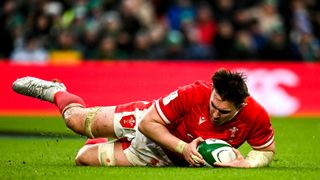 (Image credit: Harry Murphy/Sportsfile via Getty )
There are now less than two weeks to go until the Six Nations Rugby tournament kicks off for 2023, so very soon we'll get to see England, Scotland, Ireland, Wales, Italy and France go head-to-head to see who's best in rugby this year.
With France winning the 2022 tournament, and having a solid track record for previous years, the other five teams will have to try hard to win back the trophy. Five weekends of games, with three happening each weekend, will decide who wins, and it's the biggest event in the rugby calendar for these six close neighbors and closer rivals.
If you're keen to watch the Six Nations Rugby tournament, you'll be happy to hear that it's pretty easy to watch online, even if you don't live in one of the six nations which compete in the cup itself.
So here's how to do just that — we've also got information about the tournament itself, so you know when the fixtures are as well as some other basic information.
How to watch Six Nations Rugby in the US
There are two main cable channels that show the Six Nations Rugby games for people who live in the US: these are NBC Sports and TV5 Monde (though the latter shows the games with French commentary).
If your cable package doesn't include NBC Sports or TV5 Monde, FuboTV has both, while Sling TV has TV5 Monde and Hulu with Live TV and YouTube TV have NBC Sports.
However, there's a cheaper option for people who don't have a cable subscription or any of those services. NBCUniversal's streaming service, Peacock, is showing the matches. You just need to be on the $4.99-per-month Premium plan, not the free tier.
How to watch Six Nations Rugby in the UK
In the UK, the Six Nations Rugby games either air on BBC Sport or ITV Sport, so every single game is on one of these two channels (and, in one case, both).
To make things easier for you, in our match list below, we also indicate whether the game is being shown by the BBC or ITV, so you won't have to flick between listings to find it.
If you can't watch live TV on your set, there's an alternative for anyone with a TV license, and that's streaming via the web. For BBC, you can use iPlayer to stream live TV, while ITV has ITVX, which offers the same function. This works on smart TVs, mobiles, tablets and computers.
For Wales games, S4C also airs the matches with Welsh-language commentary.
How to watch Six Nations Rugby everywhere else
Wherever you live, there's a good possibility that a national broadcaster is streaming the Six Nations games, particularly if your country has a team playing in the tournament.
However, there's a possibility that there's no easy way of watching Six Nation games. Thankfully, you can solve this issue with a Virtual Private Network (a VPN).
A VPN lets you get around the usual digital barriers by changing your IP address, meaning you can watch events like the Six Nations tournament even if it is not directly broadcasting where you are. Our favorite is ExpressVPN (opens in new tab), which is the No. 1-rated VPN in the world right now according to our sister site, TechRadar.
Six Nations Rugby fixtures
The Six Nations games play out over five weekends, with each team playing once per week. You can see all the games below and in the brackets which UK broadcaster airs it.
Round 1
February 4: Wales vs Ireland — 9:15 am ET/2:15 pm UK (BBC)
February 4: England vs Scotland — 11:45 am ET/4:45 pm UK (ITV)
February 5: Italy vs France — 10 am ET/3 pm UK (ITV)
Round 2
February 11: Ireland vs France — 9:15 am ET/2:15 pm UK (ITV)
February 11: Scotland vs Wales — 11:45 am ET/4:45 pm UK (BBC)
February 12: England vs Italy — 10 am ET/3 pm UK (ITV)
Round 3
February 25: Italy vs Ireland — 9:15 am ET/2:15pm UK (ITV)
February 25: Wales vs England — 11:45 am ET/4:45 pm UK(BBC)
February 26: France vs Scotland — 10 am ET/3 pm UK (ITV)
Round 4
March 11: Italy vs Wales — 9:15 am ET/2:15 pm UK (ITV)
March 11: England vs France — 11:45 am ET/4:45 pm UK (ITV/BBC)
March 12: Scotland vs Ireland — 10 am ET/3 pm UK (BBC)
Round 5
March 18: Scotland vs Italy — 7:30 am ET/12:30 pm UK (BBC)
March 18: France vs Wales — 9:15am ET/2:15 pm UK (ITV)
March 18: Ireland vs England— Noon ET/5 pm UK (ITV)
Your Six Nations Rugby questions answered
Where does the Six Nations Rugby take place?
Unlike in some sports tournaments, which see one country host the whole cup, in the Six Nations Rugby each of the six countries has one stadium which will be used for some games:
Italy: Stadio Olimpico in Rome
England: Twickenham in London
Wales: Principality Stadium in Cardiff (formerly known as the Millennium Stadium)
France: Stade de France in Paris
Scotland: Murrayfield Stadium in Edinburgh
Ireland: Aviva Stadium in Dublin
Who could win Six Nations Rugby?
The Six Nations 2022 champions were France, which also won the Grand Slam by winning all of its matches.
Since 2000, when Six Nations began (it was Five Nations before Italy joined that year), France has won six times. Wales have also won six times, while Ireland have four and England have won seven times.
So any of those four teams has a good shot of winning, especially given the fact that, in the last five years, each has won at least once.
Less likely to come out on top are Scotland and Italy, which haven't won once since 2000. Italy are the real underdogs, as they have taken the Wooden Spoon (last place) for the last seven championships and have "won" it all but six years since they joined.
Why is it called Guinness Six Nations?
You might sometimes see the tournament called "Guinness Six Nations," named after the popular stout, and that's its official name.
That's because Guinness serves as the sponsor for the tournament and has done since 2019.
However since the sponsors change frequently, the tournament is usually referred to simply as "Six Nations," with most eschewing the sponsor name. That's especially the case in France, as it's illegal for alcohol companies to sponsor sports there, so the Guinness name is dropped for one of the six nations.
Get the latest updates, reviews and unmissable series to watch and more!
Streaming and Ecommerce Writer
Tom is the streaming and ecommerce writer at What to Watch, covering streaming services in the US and UK. His goal is to help you navigate the busy and confusing online video market, to help you find the TV, movies and sports that you're looking for without having to spend too much money.
Thank you for signing up to Whattowatch. You will receive a verification email shortly.
There was a problem. Please refresh the page and try again.