Rosie Molloy Gives Up Everything — release date, cast, plot, trailer, interviews, episode guide and all about the Sheridan Smith comedy
Rosie Molloy Gives Up Everything is a new Sky comedy starring Sheridan Smith, Ardal O'Hanlon and Pauline McGlynn.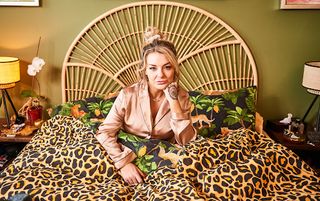 (Image credit: SKy)
Rosie Molloy Gives Up Everything is a new comedy on Sky that sees Sheridan Smith return to her comedy roots.
Sheridan plays 30-something Rosie Molloy, who has a well-paid partnership position in a Manchester accountancy firm. But the stressed workaholic has been self-medicating with everything — alcohol, drugs, cigarettes, and even Terry's Chocolate Oranges. But when everything comes tumbling down in the worst way possible Rosie attempts to forge a new life, which crucially means giving up everything!
"There's a big life changing event that happens," Sheridan told us at a recent Sky event. "It makes her reevaluate her life and decide to try and give up everything."
The series comes from the writer of Two Pints of Lager and a Packet of Crisps, which also starred Smith, and reunites two of the stars from Father Ted, Ardal O'Hanlon and Pauline McLynn, who play Rosie's parents.
So here's everything you need to know about the joyful sitcom Rosie Molloy Gives Up Everything on Sky Comedy…
Rosie Molloy Gives Up Everything release date
Rosie Molloy Gives Up Everything launches Sky Comedy and NOW on Wednesday December 7 2022 at 10pm. The six-part show will also be available on NOW. We'll update here when we hear any information on an international or US air date.
Is there a trailer for Rosie Molloy Gives Up Everything?
Yes an official trailer for Rosie Molloy Gives Up Everything has been released by Sky. It looks like lots of fun, with Sheridan Smith in good spirits, so do take a look below...
Rosie Molloy Gives Up Everything plot
Rosie Molloy (Sheridan Smith) is addicted to everything — smoking, alcohol, Terry's Chocolate Oranges, Xanax, Adderall, caffeine… the list goes on. After an embarrassing incident at her brother Joey's wedding, she wakes up in hospital and decides to change her life by giving up everything. But as Rosie juggles the ill health of her father (Ardal O'Hanlon) and the possibility of losing her job, she has the dawning realisation that her addictions are destroying everything – her friendships, her family and her work life. Harder still is the realisation that perhaps it isn't the addictions that are the problem. The big question is... if Rosie really does give up everything, will she still be Rosie?
Rosie Molloy Gives Up Everything cast — Sheridan Smith interview on playing Rosie
Rosie Molly is played by Sheridan Smith, who has revealed what the role means to her...
How do you see Rosie?
Sheridan says: "Rosie is a very complicated character. She's fun, she's wild, chaotic and a lot of fun to play! Yes he's chaotic! But she's one of the funniest characters I've played. Rosie's single, got a great family, has just been promoted and seems to have it all. But she doesn't, because she's suffering from the illness of addiction. She's got a huge heart though, she's flawed yet lovable."
What lies behind Rosie's addictions?
Sheridan says: "She alludes to the fact that she has been through a lot in her past. But she has become ill without realising it and is manipulative to those around her. Then a life-changing event makes her reevaluate and decide to give up everything. She's in denial but you just want her to beat her addictions.
Did you enjoy working with Ardal O'Hanlon and his Father Ted co-star Pauline McLynn, who plays Rosie's mum Win?
Sheridan says: "I loved working with Pauline, because she played my mum when I was 17 in my first ever TV job [in ITV's 1999 period comedy Dark Ages]. And watching the two of them together was brilliant. Apparently, they hadn't worked together since Father Ted!
The series also reunites you with writer Susan Nickson, who penned Two Pints of Lager and a Packet of Crisps. Was that part of the appeal?
Sheridan says: "Yes, we worked on Two Pints for eight years and we've kind of grown up together. She's created the series from challenging things that have happened to her. She writes honestly, tackling a difficult subject from the heart, but she understands how to find the humour in it.
How does the show mix comedy and pathos?
Sheridan says: "It's important to get the tone right - we're laughing at Rosie's situations, not her addictions. There's an amazing balance between laugh out loud moments and moments that make you think and cry. Susan's brilliant at writing funny situations and suddenly she'll pull the rug from under your feet.
Were there any memorable moments on set?
Sheridan says: "So many funny things happened! Rosie's meant to finish a bottle of wine and then deliver a line. It was only meant to be a small amount of pretend wine, but on this take, the bottle was full. I could hardly breathe after downing it!
* Sheridan tarted her career in sitcoms, including The Royle Family, Two Pints of Lager Benidorm and A Packet of Crisps and Gavin & Stacey. She's also starred in a number of top dramas including Four Lives, No Return and The Teacher, all shown in early 2022.
Who else is starring in Rosie Molloy Gives Up Everything?
Father Ted stars Ardal O'Hanlon and Pauline McLynn play Rosie's parents Conall and Win. Ardal is also known for playing DI Jack Mooney in Death in Paradise, while Pauline has gone on to star in Shameless, GameFace, Holding and as Charlie Cotton's mum Yvonne EastEnders.
"I think Pauline and I make a very convincing older couple actually, given our history together and our shorthand and our affection for each other," says Ardal.
Pauline adds: "It was a joy to do because you don't often get a set of scripts that are so crackingly brilliant. Not just funny, but also really incredibly moving. Sheridan is nothing less than magnificent – it was the role she was always meant to play. You're in for a treat."
Interview: Ardal O'Hanlon on playing Donall
How did you get involved in this project?
Ardal says: "Some scenes were sent to me and I immediately responded "yes". You see lots of stuff, and it's fine. you think, "yeah, I could do something with that", but this was ready-made. It was funny in a very edgy way. Scenes where they had a lot of charm about them. I'm playing the common character, playing Rosie's dad and with the best will in the world, a lot of dad roles are fairly generic. But this one wasn't even though he's a secondary character. He had his own story.
At what point did you know Pauline was going to be your better half?
Ardal says: "That was just before we started rehearsing. My agent let that slip and my first instinct was to laugh. I thought it was hilarious on many levels. I'm very friendly with Pauline, but we don't see much of each other. So apart from anything else, I was looking forward to seeing her and hanging out with her again after so long. It's a good match in terms of doing scenes with Pauline. It makes sense to cast us together because we have this familiarity and we can be prickly with each other. We know each other that well, going way back, so we have this shorthand. We can take the piss out of each other so I think that all translates quite well to playing husband and wife roles.
Tell us about Conall
Ardal says: "Conall is Rosie's dad and he also reckons that they're best friends as well, or they're very close friends. They confide in each other. He's possibly not the best role model in the world for Rosie. He's got his own issues to deal with but I think his instinct at all times is to have fun. That's his coping mechanism. The family has had a trauma in the past and they've never dealt with it. His way of dealing with whatever life throws at them, generally, is to drink more. So he never takes anything seriously. Deep down he's probably in great pain, great psychological pain, but on the surface, he just enjoys life. He drinks, smokes, eats, and he does all the things that Rosie does. It's not as obviously destructive as Rosie but he doesn't do himself any favours. We get a sense of the roots of Rosie's issues through the relationship with her parents.
How was building rapport with Sheridan Smith?
Ardal says: "That was easy. From minute one, she was just a dream to work with. Apart from her obvious, unique talent, she's just ultra-professional. She had so much work to get through every day, she was in every scene, very intense scenes, sometimes very long and she didn't miss a beat. It's incredible to watch. She's great company, very low-key onset and offset and has this lovely, calm energy for someone who has to do so much. We had some nice intimate scenes, having tête-à-têtes and I was just marvelling at what she was doing. None of it's forced, it's very natural.
Interview: Pauline McGlynn on playing Win
Why did you want to join the project?
Pauline says: "Over the years, you get sent scripts and some of them are wanting to be a comedy, but they're not. It all comes down to the writing and the very best of comedy writing now is something that in one moment you're going to be laughing and in the next you might be crying. That's what Susan Nickson has done so brilliantly. Watching a person's life implode and even looking from afar, you recognise so much of your own life. You either have it or you don't have it and Susan definitely has an eye for the quirky comedy that we all encounter in life."
Tell us about your character Win
Pauline says: "Win is Rosie's mum, the mother of the family, but she is no less daft than the rest of them. Just because she's the mum doesn't mean she's any better in a family crisis than anyone else. In fact, we learn that there was a family tragedy, some years beforehand, and Win handled it very badly. They all did."
What kind of journey do they go on?
Pauline says: "We find out early on that Conall is very unwell but how they deal with a problem is not to admit that it is. They'll say Rosie's got addiction issues, but who doesn't? We meet them at a time where they absolutely have to face things head on including things that happened to them in the past. They really do have to band together. In some very useless ways, others in very earnest ways, and others just saying, have a glass of wine, it could be fine. Win like everyone else has to grow up in it but I'm not saying it's all successful for them. Anyone thinking we would tie up a nice bow on it and say, "There, that's how you solve all of those problems," where would be the enjoyment?
Rosie Molloy Gives Up Everything episode guide
Here's our brief guide to all six episodes of Rosie Molloy Gives Up Everything...
Episode 1
Rosie wakes up in the hospital following her brother's wedding where she served as best man. We reveal that her life is completely out of control as she struggles with her compulsions and addictions - egged on by her outrageous best friend Nico. After a disastrous interaction in a pub with a yoga instructor, Rosie resolves to totally give up all her negative behaviours in order to gain Joey's trust and support her dad through some difficult news.
Episode 2
Giving up everything is REALLY hard. Rosie decides it's better to cut down, so attempts to reduce all substances and destructive behaviour by precisely half. At the very moment Joey and Rosie seem to have made up, a tragedy occurs. Everyone takes it very hard, including Rosie. With Nico in tow, she goes back to her usual damaging behaviours, drinking excessively and seeking out kumquats on Deliveroo..
Episode 3
Rosie is still reeling from the events of Episode 2. Through flashbacks we learn she has been carrying a lot of guilt over things that happened in her family's past. Rosie wants to be blamed for everything as a way of coping with her self-destruction. It's very narcissistic of her. In the end she agrees to attend a rehab facility but at the last minute she escapes, legging it into the nearby countryside.
Episode 4
On her escape from rehab, Rosie meets affable drug dealers Ken and Hat and accidentally takes meth. She goes on an odyssey, befriending trees, kids on bikes and finds her way to Ruby and Joey's house where she discovers something shocking. On returning to her flat, Nico tries to help Rosie but the two have an argument. The next morning Nico leaves, instructing the Molloys to clear the flat of any narcotics or alcohol as it is clear Rosie has crossed a line.
Episode 5
Joey, Ruby, Nico and Win are not happy with Rosie having abandoned her attempt at rehab/giving up anything (let alone everything). After being accused of secretiveness and hiding her bad behaviour (not unlike her dad) Rosie goes on the attack. With her relationship with Joey in tatters, Rosie tries to talk to her mother, with no luck.
Episode 6
Rosie is finally back at rehab after being signed off sick from work as HR (and Robert) are concerned about her increasingly erratic behaviour. After exhausting all available activities at home (scrolling Google, scrolling YouTube, scrolling Zoopla) by 11:30am she and Nico decide to hang out. Their fun is thwarted when Rosie discovers she needs to attend a private clinic for a health MOT and must provide a urine sample. Rosie (who has spent the morning popping Xanax and drinking wine) panics – if her test results show she is taking drugs she will lose her job. Somehow Rosie gets her hands on a counterfeit urine sample - she got away with it! But a call from the clinic shows Rosie has failed the drugs test… Back to present day, Rosie reveals someone else has been keeping a secret from them all.
* Here a more guides to top shows on Sky below...
Christmas Carole
Funny Woman
A Town Called Malice
Django
The Fear Index
The Gilded Age

Get the What to Watch Newsletter
The latest updates, reviews and unmissable series to watch and more!
TV Content Director on TV Times, What's On TV and TV & Satellite Week
I'm a huge fan of television so I really have found the perfect job, as I've been writing about TV shows, films and interviewing major television, film and sports stars for over 25 years. I'm currently TV Content Director on What's On TV, TV Times, TV and Satellite Week magazines plus Whattowatch.com. I previously worked on Woman and Woman's Own in the 1990s. Outside of work I swim every morning, support Charlton Athletic football club and get nostalgic about TV shows Cagney & Lacey, I Claudius, Dallas and Tenko. I'm totally on top of everything good coming up too.