The best action movies on Tubi TV
Tubi has plenty of explosions, car chases and fights to satisfy any action movie fan.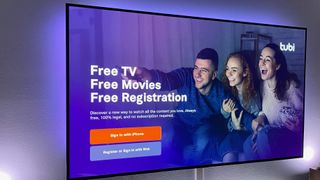 (Image credit: WhatToWatch.com)
There's a lot that can make a memorable action movie, be it some classic one-liners, an iconic protagonist (or antagonist) or just a lot of cool looking explosions. Whatever it is that gets your attention, Tubi probably has an action movie that can deliver it.
Tubi is an ad-supported, free streaming service offering a number of classic movies and TV shows to watch, covering all different genres like sci-fi, comedies, LGBTQ and Black stories. 
Here's a look at some of the best action movies that Tubi has on its service right now.
Akira (1988)
Akira is not only one of the best anime films out there, it holds its own as a straight up action flick. Though the Akira's setting (2019) is now in the past, it is a futuristic film that sees a biker gang attempt to save Neo-Tokyo from a secret military project and the psychopath at the center of it.
There have been a few attempts for a live-action adaptation of Akira, but it's been a bumpy road to say the least and at this point there is no indication when we may be getting one. Even if a live-action Akira is coming down the pipe, it will have a tall task topping the original.
Battle Royale (2000) 
What do you get when 42 Japanese teenagers are sent to an island by their tyrannical government to fight to the death? A fun and bloody movie known as Battle Royale.
Kinji Fukasku's cult classic is a wild ride featuring multiple great action sequences and character deaths. While there was controversy on how much Battle Royale influenced The Hunger Games franchise (author Suzanne Collins said she had never heard of Battle Royale), the Japanese film goes a step further than Hollywood does in its depiction of violence.
The Boondock Saints (1999) 
The movie that every guy had a poster of in their college dorm, The Boondock Saints was almost a rite of passage for anyone old enough to see it in the 2000s.
Writer/director Troy Duffy popped from obscurity with The Boondock Saints, the story of two brothers who decide to take on Boston's criminal underworld in the name of God. Normand Reedus and Sean Patrick Flanery starred as the two brothers, while Willem Dafoe and Billy Connolly had memorable supporting turns.
It's prevalence may have faded a bit, but The Boondock Saints is still a fun ride.
Fist of Fury (1972)
Legendary martial artist Bruce Lee is out for revenge in Fist of Fury, one of the few feature films that he was able to make before his death in 1973.
Fist of Fury stars Lee as Chen Zhen, a renowned martial artist who discovers that his former master has died. He soon learns that he was poisoned by a rival dojo and sets about getting revenge on the killers.
Bruce Lee's film career may have been cut short, but that has raised each film's profile and makes it special to see the skill Lee exhibits in them. Fist of Fury is no exception.
The Grandmaster (2013)
Ip Man, the legendary martial artist who trained Bruce Lee, has been the subject of many films, but The Grandmaster stands out not only for its incredible fights, but the beauty with which they are shot.
Kar-Wai Wong (In the Mood for Love, Chungking Express) directed The Grandmaster, which was inspired by the life of Ip Man, in particular his relationship with a fellow martial artist.
Just watch the trailer, and if the gorgeous visuals of the movie, in particular its fight scenes, shot by Philippe Le Sourd (who earned an Oscar nomination for his work) don't entice you to check it out, I'm not sure what would.
Highlander (1986)
We can nitpick all we want about some of the problems in Highlander (most notably Sean Connery choosing to stick with his Scottish accent for a Spanish character named Ramirez), but at the end of the day the movie features dudes cutting each others heads off with swords — it's a fun time.
In case you're not familiar with Highlander, it centers on a group of nearly-immortal beings who are locked in an ongoing contest for a mystical "prize." The way to win is to be the last one standing.
There are sequels and even a television series for Highlander, but as the movie itself says, "There can only be one," so stick with the original.
Shaft (1971)
Shaft, he's a bad mother (shut your mouth), and he's free to watch on Tubi. Arguably the best film to come out of the Blaxploitation genre, the original Shaft created an iconic character that has tried to be imitated in reboots, but has never been duplicated.
Richard Roundtree plays private detective John Shaft, who is hired by a crime lord to find his kidnapped daughter. He shoots and fights his way to saving the day, joined along the way by a cast that included Moses Gunn, Charles Cioffi, Christopher St. John and Gwenn Mitchell.
Isaac Hayes' score and theme song add to Shaft's overall level of cool.
Stagecoach (1939)
If you think that films from early Hollywood weren't able to produce the same kind of high-intensity sequences that action films today often feature, go watch the Native American attack scene in Stagecoach and be floored by how they pulled it off.
John Ford's classic western has some great action, but it's tale of a group of travelers forced to put aside their differences as they travel through hostile territory aboard a stagecoach is compelling when the guns are firing and when the characters, portrayed by John Wayne, Thomas Mitchell, Claire Trevor and more, are shooting off dialogue.
Train to Busan (2016)
The zombie genre has gone beyond horror and become a popular element to many action films, like Train to Busan. The South Korean film is a great example of the genres working well together.
When a zombie apocalypse breaks out, survivors attempt to flee to safety on the train from Seoul to Busan. Of course, you can't keep a zombie down and the undead wind up on the train and passengers are forced to fight them.
Gong Yoo, Su-an Kim and Parasite actor Woo-sik Choi star.
Troy (2004) 
The original epic action stories came from the Greek legends written by Homer, The Iliad and The Odyssey. Hollywood brought an adaptation of the former to life with the Brad Pitt-led Troy.
Pitt stars as the legendary warrior Achilles, who joins the Greek army in attacking the Trojans after Prince Paris steals the wife, Helen, or a Spartan King. Eric Bana, Orlando Bloom, Brian Cox, Diane Kruger, Brendan Gleeson, Rose Byrne, Sean Bean, Garrett Hedlund  and the great Peter O'Toole also star.
Homer may have had a few notes, but Troy holds up as one of the better examples of the sword-and-sandal epics that took off after the success of Gladiator.
Unstoppable (2010)
Denzel Washington and Chris Pine are the only people who can stop a runaway train in Unstoppable, the final film in action director Tony Scott's career.
Scott was the director behind classic action flicks like Top Gun, Days of Thunder, True Romance and Crimson Tide. He reunited one last time with frequent collaborator Denzel Washington for one heck of a ride for one of his best reviewed movies of the 21st century.
Michael Balderston is a D.C.-based entertainment writer and content producer for What to Watch. He previously has written for TV Technology and Awards Circuit.
Get the latest updates, reviews and unmissable series to watch and more!
Thank you for signing up to Whattowatch. You will receive a verification email shortly.
There was a problem. Please refresh the page and try again.