World Baseball Classic 2023: how to watch, teams, schedule and more
Baseball players from around the world come together to face off in the World Baseball Classic.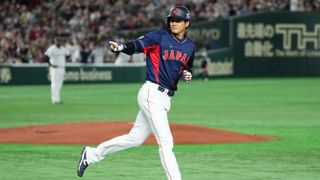 (Image credit: Masterpress - Samurai Japan/SAMURAI JAPAN via Getty Images)
The World Baseball Classic returns this spring with teams from 20 countries vying for the title. While Major League Baseball gears up for the season, many players will be leaving spring training to join international teams in hopes of bringing home a big win.
While Team USA expects to make an impact at the WBC, it's anyone's guess as to which country will come out on top. Shohei Ohtani and Yu Darvish will represent Team Japan while the Dominican Republic team is stacked with players like Juan Soto, Manny Machado and Wander Franco lining up behind their designated hitter and team general manager, Nelson Cruz (opens in new tab).
It's also a huge occasion for Team Great Britain as they make their first-ever WBC appearance. And there are already lots of fans cheering for the underdog Czech Republic team that's made up of baseball enthusiasts who are not professional athletes. In fact, their team is made up of financial analysts, teachers and firemen and they're a lot of fun to watch.
Here's everything you need to know about the World Baseball Classic 2023.
How to watch the World Baseball Classic 2023 in the US
Fans in the US can tune into the World Baseball Classic on the Fox Sports and Fox Deportes family of channels, including FS1 and FS2. A small number of games will also be available to stream on Tubi.
Fox is carried by all cable TV providers, so you can watch your local Fox station. Another option is a TV antenna, which can receive all local station signals, including Fox. FS1 and FS2 aren't always included through cable TV subscriptions, so check with your provider to make sure you have them.
If you've cut the cord, you can access Fox stations through many of live streaming services, including FuboTV, Hulu with Live TV, Sling TV and YouTube TV.
Fox does not have its own streaming service, but if you are a subscriber to a traditional or live TV streaming service that carries the network, you can use that login to get the game on the Fox Sports app.
How to watch the World Baseball Classic in the UK
UK baseball fans can watch the World Baseball Classic on BT Sport.
World Baseball Classic 2023 teams and pools
There are four pools of teams (opens in new tab) playing in the World Baseball Classic. Each pool plays in a pre-determined city for the early rounds before moving on to the quarterfinals in either Tokyo or Miami.
Pool A (March 8-12 in Taichung, Taiwan)
Chinese Taipei
Netherlands
Cuba
Italy
Panama
Pool B (March 9-13 in Tokyo)
Japan
Korea
Australia
China
Czech Republic
Pool C (March 11-15 in Phoenix)
USA
Mexico
Colombia
Canada
Great Britain
Pool D (March 11-15 in Miami)
Puerto Rico
Venezuela
Dominican Republic
Israel
Nicaragua
World Baseball Classic 2023 schedule
A MASSIVE go-ahead 3-run blast in the 9th inning for Team Czech Republic! 🇨🇿#WorldBaseballClassic pic.twitter.com/pCalHZngBTMarch 10, 2023
CLASSIC POOL PLAY
March 7
Cuba 2, Netherlands 4
March 8
Panama 12, Chinese Taipei 5
Australia 8, Korea 7
Panama 1, Netherlands 3
March 9
China 1, Japan 8
Italy 6, Cuba 3
Czech Republic 8, China 5
Cuba 13, Panama 4
March 10
Korea 4, Japan 13
Italy 7, Chinese Taipei 11
China 2, Australia 12
Panama 2, Italy 0
March 11
Czech Republic 2, Japan 10
Netherlands 5, Chinese Taipei 9
Nicaragua 1, Puerto Rico 9
Colombia 5, Mexico 4
Dominican Republic 1, Venezuela 5
Great Britain 2, USA 6
Czech Republic 3, Korea 7
Chinese Taipei 1, Cuba 7
March 12
Japan 7, Australia 1
Netherlands 1, Italy 7
Nicaragua 1, Israel 3
Great Britain 8, Canada 18
Venezuela 9, Puerto Rico 6
Mexico 11, USA 5
Australia 8, Czech Republic 3
March 13
Korea 22, China 2
Dominican Republic 6, Nicaragua 1
Colombia 5, Great Britain 7
Israel 0, Puerto Rico 10
Canada 1, USA 12
March 14
Nicaragua 1, Venezuela 4
Canada 5, Colombia 0
Israel 0, Dominican Republic 10
Great Britain 1, Mexico 2
March 15
Venezuela 5, Israel 1
Mexico 10, Canada 3
Puerto Rico 5, Dominican Republic 2
USA 3, Colombia 2
QUARTERFINALS 1: TOKYO
March 15
Game 1: Cuba 4, Australia 3
March 16
Game 2: Japan 9, Italy 3
QUARTERFINALS 2: MIAMI
March 17
Game 3: USA 9, Venezuela 7
March 18
Game 4: Puerto Rico 4, Mexico 5
SEMIFINALS AND CHAMPIONSHIP: MIAMI
March 19
Semifinal 1: Cuba 2, United States 14
March 20
Semifinal 2: Japan 6, Mexico 5
March 21
Championship: USA vs. Japan
More on the World Baseball Classic 2023
Who is playing in the World Baseball Classic 2023?
Every World Baseball Classic features talented rosters of players from around the globe, but there's something very special about the 2023 slate of players.
According to WBC player eligibility rules (opens in new tab), a player can choose which team he wants to represent if he qualifies. Some of the qualifying factors include being born in the designated country or having a parent who was born there. That's how you end up having players like US-born Manny Machado and Freddie Freeman playing for the Dominican Republic and Canada, respectively.
Let's take a look at some of the big names playing in the World Baseball Classic 2023:
Yu Darvish, Team Japan
Shohei Ohtani, Team Japan
Ha-Seong Kim, Team Korea
Julio Urias, Team Mexico
Juan Soto, Team Dominican Republic
Wander Franco, Team Dominican Republic
Jose Altuve, Team Venezuela
Xander Bogaerts, Team Netherlands
Mike Trout, Team USA
J.T. Realmuto, Team USA
Pete Alonso, Team USA
Mookie Betts, Team USA
Kyle Schwarber, Team USA
Mike Piazza, Team Italy manager
How often is the World Baseball Classic played?
The World Baseball Classic is played every four years.
It has been six years since the last time the Classic was played in 2017, after the global pandemic cancelled plans for it to take place as scheduled in 2021.
Where is the World Baseball Classic 2023 being held?
The World Baseball Classic will play out across four locations in 2023:
Phoenix, Ariz. (Chase Field)
Miami (LoanDepot Park)
Taichung, Taiwan (CTBC Bank Park)
Tokyo (Tokyo Dome)
The Semifinals and Championship games will be held at LoanDepot Park in Miami.

Get the What to Watch Newsletter
The latest updates, reviews and unmissable series to watch and more!
Editorial Content Producer
Sarabeth joined the Watch to Watch team in May 2022. An avid TV and movie fan, her perennial favorites are The Walking Dead, American Horror Story, true crime documentaries on Netflix and anything from Passionflix. You've Got Mail, Ocean's Eleven and Signs are movies that she can watch all day long.
When she's not working, Sarabeth hosts the My Nights Are Booked Podcast (opens in new tab) and blog (opens in new tab) dedicated to books and interviews with authors and actors. She also published her first novel, Once Upon an Interview (opens in new tab), in 2022.