Corrie's Tina O'Brien reveals how Sarah Platt is sectioned after her hostage horror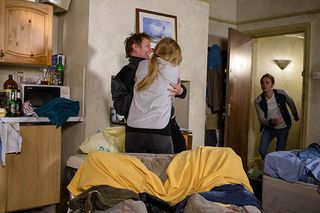 (Image credit: Joseph Scanlon)
The already-fragile Sarah Platt in Corrie has a full-blown breakdown after she's kidnapped drug addict Lee next week. Tina O'Brien gives Soaplife the full story…
The already-fragile Sarah Platt in Coronation Street has a full-blown breakdown after she's kidnapped drug addict Lee next week. Tina O'Brien (opens in new tab) gives Soaplife the full story…
How does Sarah come into contact with Lee? "Sarah's in a bad place over Callum [Sean Ward (opens in new tab)] and desperate to find Billy [Daniel Brocklebank (opens in new tab)] and speak to him. So when Lee tells her he's going to see him, she agrees to go along. Obviously, she doesn't know Lee's planning to hold her hostage until her family and friends stump up some cash for his drug habit."
Does Lee realise the state she's in? "Almost immediately. He sees she has many issues and she's fixated on Callum."
What happens next? "Lee [Richard Crehan (opens in new tab)] tells her Callum's still alive and he's out to get her. He abuses the situation and her vulnerability, but it backfires because Sarah completely believes him and she goes ballistic. She tries to escape because she truly believes Callum is coming."
Who rescues her? "David [Jack P Shepherd (opens in new tab)] and Billy find her. It seems Lee called Billy and demanded ransom money in exchange for Sarah. David's really worried about the police becoming involved or any kind of medical intervention for Sarah because she might reveal what really happened to Callum."
David saves Sarah from Lee… But who can save Sarah from herself?
But she is taken to hospital… "Yes. And the psychiatrist says her psychotic episodes are down to a body being discovered in the house, Harry's recent birth and a lack of sleep. She needs to stay in hospital and get treatment."
How does Sarah react? "She acknowledges she needs to get better. People are telling her her hallucinations aren't real and, although she has moments when she believes this, her head still tells her they are. It would probably be better for her if the truth came out about Callum. That's the root of her problems. It's the dark secret that's eating her up."
Coronation Street (opens in new tab), ITV
Thank you for signing up to Whattowatch. You will receive a verification email shortly.
There was a problem. Please refresh the page and try again.