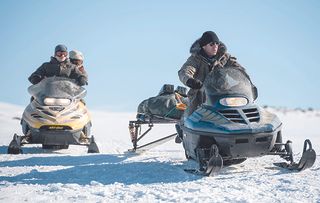 (Image credit: Steffan Hill)
Everyone is starting to unravel somewhat in this week's visit to the weirdest town in the Arctic
Everyone is starting to unravel somewhat in this week's visit to the weirdest town in the Arctic.
Munk is cracking under the pressure of hiding more than one sinister secret while simultaneously struggling to maintain law and order (good luck with that!).
Eric is guilt-stricken after rowing with Hildur and Dan – well, the sheriff hasn't quite been the same since he reappeared on the scene.
Stroppy Vincent, meanwhile, is furious with poor Natalie, a fragile Freya is trying to keep her worsening condition secret and Michael's bonding trip with his son Rune takes a dark and tragic turn.
Just another day in Fortitude…
Thank you for signing up to Whattowatch. You will receive a verification email shortly.
There was a problem. Please refresh the page and try again.