Freddie and Mercedes grow closer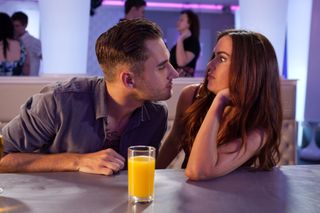 Lindsey writes the time of JJ's hospital appointment on the chalkboard in the kitchen and agrees for Freddie to take JJ, urging him to get there early and make sure JJ's properly checked over. Kim changes the time of the appointment from 1pm to 4pm. She makes Freddie paranoid when she suggests Lindsey's been looking at Joe like she used to. As Lindsey finds out Freddie didn't turn up for the appointment, Kim goes back to the Roscoes' and changes the note on the chalk boardback to 1pm. Lindsey's furious with Freddie and says she doesn't know why they're together. He storms out and bumps into Mercedes, who's feeling sorry for herself about being pregnant and man-less. They go to The Loft and comfort each other but, when drunk Freddie makes a move on her, Mercedes slaps him!
When Ste comes home after being out all night, Sinead confronts him with an empty condom box she found in the bin. Caught out, Ste lies that he gave the condoms to Harry because he was too embarrassed to buy them himself. Sinead believes him until a text comes through on Ste's phone... Ste comes downstairs but Sinead's gone. His heart sinks when he reads the text message: "CAN'T STOP THINKING ABOUT LAST NIGHT, LOVE HARRYXXX". Furious, Ste tells Harry that Sinead has left and taken Hannah – he's made him lose everything.
Jade's slept rough outside The Dog and Jack finds her stealing from the drinks delivery. Meanwhile, Zack's suspicious when he sees Lisa hide a notebook in her bag. When she's distracted, Zack swipes the notebook. As he's being given general anaesthetic for his operation, Zack tries to warn his parents not to trust Lisa. Nancy and Jack see Jade pinching a burger from the Tugboat Grill, and Nancy is swayed as Jade talks about being neglected by her foster parents and asks if she can stay with them. When Zack quizzes Lisa about the notebook, she tells him that she's using it to remember everything in case she ever loses them again. Later, Lisa's surprised when she goes to The Dog and sees Jade with her feet firmly under the table.
Get the latest updates, reviews and unmissable series to watch and more!
Thank you for signing up to Whattowatch. You will receive a verification email shortly.
There was a problem. Please refresh the page and try again.