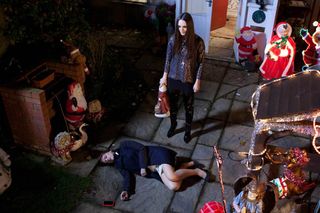 It's Christmas Day and Jacqui is finally able to move on from Rhys and surprises her Mum with a visit from John Paul. Meanwhile, Mercedes and Paul drive extravagantly through the village in a chauffeur driven vintage car, every bit the ice King and Queen. It's a frosty welcome when they turn up at the McQueens, but nothing can prepare the family for when they find an abandoned baby in the garden with a note 'Dear Daddy... Merry Christmas'. Everyone looks to Bart, forcing him to tell Sinead about Lola in Amsterdam. On her first Christmas without Rhys, Jacqui's emotions run wild. She is nostalgic as she looks through Rhys's phone. But her face pales when she discovers a video of him and Cindy in bed together! She's like a zombie as she walks out of the house and attacks Cindy. When Tony and Myra follow her into the garden, they find a motionless Cindy on the ground. Later, Jacqui drags Cindy out of her hospital bed and takes her to Rhys's grave to hear the truth. Worried for Carmel, Myra overhears the events of last night and learns how Mercedes ruined Carmel's big night. She decides it's time to throw Mercedes out in the cold. Elsewhere, John Paul struggles to adapt to Christmas at the McQueens.
Get the latest updates, reviews and unmissable series to watch and more!
Thank you for signing up to Whattowatch. You will receive a verification email shortly.
There was a problem. Please refresh the page and try again.