Meet the You People cast: who's who in the comedy
Get familiar with the characters and actors in the You People cast.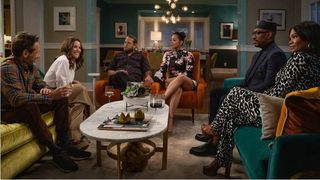 (Image credit: Parrish Lewis/Netflix)
The good people over at Netflix are determined to kick off 2023 with a barrel of laughs with the debut of You People. The new movie follows two individuals from two different worlds trying to blend their lives together all in the name of love. Fortunately for would-be viewers, this love story of sorts winds up being a culture clash of epic comedic proportions.
Although this plot point may sound somewhat familiar in its premise, what makes You People truly stand out is the all-star cast. The movie is fronted by Academy Award-nominee Jonah Hill, Emmy-royalty Julia Louis-Dreyfus and one of the greatest comedians of all time, Eddie Murphy.
So who else is in the film and what characters do they portray? Meet the cast of You People.
Jonah Hill as Ezra Cohen
Ezra is a 35-year-old millennial who has a high-paying job in finance. Unfortunately for him, he finds his career path a bit boring. To find excitement in life he turns to his loves of hip-hop, sneakers and the podcast he hosts with best friend Mo (Sam Jay). But his life changes when he meets the love of his life, Amira.
Starring as Ezra is Jonah Hill, who also co-wrote You People with Kenya Barris. Over the years, Hill has been a part of several high-profile films including The Wolf of Wall Street, Moneyball and Don't Look Up. He was also front and center in 21 Jump Street and 22 Jump Street.
Eddie Murphy as Akbar Mohammed
Akbar is a strict and protective Muslim father who wants nothing but the best for his daughter Amira (Lauren London), which doesn't include Ezra. In an effort to get his baby girl to see that, he puts Ezra through a series of life tests that often prove humiliating for his would-be son-in-law.
Playing Akbar is Eddie Murphy. An Emmy, Golden Globe and Grammy winner, Murphy is one of the greatest comedians the entertainment industry has ever known. Since his early years of doing stand-up and Saturday Night Live, he's gone on to star in numerous films that have become classic comedies such as Coming to America, Trading Places, 48 Hrs., Beverly Hills Cop and Life. His voice is also instantly recognizable as Donkey from the movie franchise Shrek.
Julia Louis-Dreyfus as Shelley Cohen
Shelley is the overbearing Jewish mother of Ezra, who means well but often sticks her foot in her mouth. She's happy her son found love with Amira, but in her effort to show Amira that she appreciates and respects Black culture, the affluent and liberal mom manages to ironically say some pretty cringeworthy statements.
Julia Louis-Dreyfus stars as Shelley. Louis-Dreyfus can be considered the queen of the Emmys. She holds the Primetime Emmy record for the most wins as an actor for the same role (six) and is tied with Cloris Leachman for the most acting Primetime Emmy wins (eight). She has fronted series like Veep, Seinfeld and The New Adventures of Old Christine, and is currently enjoying a Marvel run having appeared in The Falcon and the Winter Soldier and Black Panther: Wakanda Forever.
Lauren London as Amira Mohammed
Amira is a millennial costume designer from the Baldwin Hills section of Los Angeles. While her father tends to be more rigid, she tends to go with the flow and is more laid-back. Although very pretty, it's her chill yet magnetic energy that causes Ezra to fall in love.
Starring as Amira is actress Lauren London. London shot to superstardom playing New New in the hit film ATL. She's also been seen in This Christmas, Baggage Claim, Without Remorse and Games People Play.
David Duchovny as Arnold Cohen
Arnold is Ezra's dad and a successful podiatrist. He's not as careful with his words, often saying what comes to his mind. That results in him being like his wife Shelley and sticking his foot in his mouth.
Playing Arnold is David Duchovny. Duchovny is a two-time Golden Globe winner, having won a Best Actor trophy for his roles in X-Files and Californication. He's also been featured in Aquarius, The Estate and The Bubble.
Nia Long as Fatima Mohammed
Like her husband Akbar, Fatima also has reservations about Amira wanting to be with Ezra. Her concerns only amplify after meeting Ezra's family and seeing how unintentionally offensive they can be.
Nia Long stars as Fatima. Long has an acting career that spans across decades and genres. Since her earlier role in Boyz n the Hood, she's gone on to star in movies like Love Jones, The Best Man and Big Momma's House. She's most recently been seen in the limited series The Best Man: The Final Chapters and the movie Missing.
Molly Gordon as Liza Cohen
Liza is Ezra's loving sister. She often tries to reel her mother in when the latter goes on misguided tangents. Liza also makes some of the most stylish eyewear.
Portraying Liza is actress Molly Gordon. Gordon has recently been seen in TV series Winning Time: The Rise of the Lakers Dynasty and Ramy. She's also been spotted in Booksmart and Good Boys.
Travis Bennett as Omar Mohammed
Omar is your typical over-protective brother. Although he is younger and a bit more understanding than his father Akbar, he isn't exactly supportive of his sister Amira's choice in romantic partner.
Travis Bennett stars as Omar. Bennett has been seen in the series Loiter Squad alongside Tyler, The Creator. Additionally, he's been featured as Elz in the Hulu series Dave.
You People is now streaming on Netflix. Also, check out some of the other Netflix Original movies set to premiere in 2023.
Get the What to Watch Newsletter
The latest updates, reviews and unmissable series to watch and more!
Terrell Smith has a diverse writing background having penned material for a wide array of clients including the federal government and Bravo television personalities. When he's not writing as Terrell, he's writing under his pseudonym Tavion Scott, creating scripts for his audio drama podcasts. Terrell is a huge fan of great storytelling when it comes to television and film. Some of his favorite shows include The Crown, WandaVision, Abbot Elementary and Godfather of Harlem. And a fun fact is he's completely dialed into the TLC 90 Day Fiancé universe.