New on Netflix in March 2023: every TV show and movie
Here's what's new on Netflix in March including the Chris Rock live standup comedy special.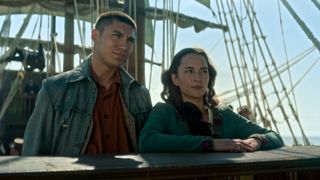 (Image credit: Netflix)
It's hard to believe we're already three months into 2023, but March is here so here we are. Netflix has something for everyone this month, from the return of popular shows like Sex/Life, Love is Blind and Shadow and Bone to fascinating documentaries and must-watch movies. So what's new on Netflix this month? Let's take a look, including our top picks.
New on Netflix in March: Best live streaming event on Netflix — Chris Rock: Selective Outrage (March 4)
Chris Rock has a new comedy special coming to Netflix on March 4, and it's a big occasion for both Rock and Netflix as this will be the first live broadcast on the streaming platform. With a live performance, you never know what might happen. When it's a live performance from Chris Rock, well, you really never know what might happen.
If you need more laughs this month, check out the new assortment of movies coming to the Netflix library in March. All three movies in The Hangover trilogy are landing on March 1, along with the classic comedy National Lampoon's Animal House.
New on Netflix in March: Our best movie pick — Waco: American Apocalypse (March 22)
As we approach the 30th anniversary of the tragedy in Waco, Texas, new information is coming to light along with never before seen footage from negotiators and people on the inside as they worked to put an end to the standoff. David Koresh and his followers were in a standoff against federal authorities but despite negotiations the standoff ended in fire and flames. Waco: American Apocalypse is poised to be the preeminent documentary that takes viewers inside the tragedy.
We also recommend MH370: The Plane That Disappeared. The disappearance of Flight MH370 is a mystery that is no closer to finding answers now than it was back in 2014. People around the world watched as rescuers searched high and low for clues as to what happened to the plane and its 239 passengers. The new documentary features interviews with family members and investigators who haven't given up the search for answers.
Best TV show on Netflix in February: You Season 4 Part 2 (March 9)
Following hot on the heels of You season 4 part 1, released in February, You season 4 part 2 continues Joe's (Penn Badgely) adventure in London and his quest to bury the past and start over. But will a new obsession stand in the way of his plans?
What's new on Netflix in March 2023
(Netflix original series identified in bold)
March 1
Big Daddy (1999)
Burlesque (2010)
Cheat season 1 (UK)
Easy A (2010)
Forged in Fire: Knife or Death season 2
The Hangover (2009)
The Hangover: Part II (2011)
The Hangover: Part III (2013)
Little Angel: Volume 2
Magic Mike XXL (2015)
National Lampoon's Animal House (1978)
Open Season (2006)
Open Season 2 (2008)
Out of Africa (1985)
Rango (2011)
Seven Years in Tibet (1997)
Sleepless in Seattle (1993)
Spirit: Stallion of the Cimarron (2002)
The Other Boleyn Girl (2008)
Tonight You're Sleeping with Me (2023, Poland)
Wrong Side of the Tracks season 2 (Spain)
March 2
Framed! A Sicilian Murder Mystery season 2 (Italy)
Karate Sheep (2023, France)
Masameer County season 2 (Saudi Arabi)
Monique Olivier: Accessory to Evil (2023, France)
Sex/Life season 2
This is Where I Leave You (2014)
March 3
Love at First Kiss (2023, Poland)
Next in Fashion season 2
Split at the Root (2022)
March 4
Divorce Attorney Shin season 1 (Korea)
March 6
March 7
March 8
March 9
March 10
The Glory Part 2 (Korea)
Have a nice day! (2023, Mexico)
Luther: The Fallen Sun (2023)
Outlast season 1
Rana Naidu season 1 (India)
10 Minute Workouts : Volume 2
20 Minute Workouts : Volume 2
30 Minute Workouts : Volume 2
Abs & Core Volume 1
Bodyweight Burn : Volume 2
Fire & Flow with Tara & Xochil Volume 1
Fitness for Runners Volume 1
High-Intensity Training : Volume 2
Ignite & Inspire : Volume 1
Kick Off with Betina Gozo : Volume 1
Lower-Body Workouts Volume 1
Upper-Body Workouts Volume 1
Yoga Volume 1
Yoga with Xochil : Volume 1
March 14
The Law of the Jungle season 1 (Mexico)
Money Shot: The Pornhub Story (2023, UK)
March 16
The Chronicles of Riddick (2004)
Kick-Ass 2 (2013)
Pitch Black (2000)
Riddick (2013)
Shadow and Bone season 2
Still Time (2023, Italy)
March 17
Dance 100 season 1 (UK)
In His Shadow (2023, France)
Maestro in Blue season 1 (UK)
The Magician's Elephant (2023)
Noise (2023, Belgium)
Sky High: The Series (Spain)
March 20
Carol (2015)
Gabby's Dollhouse season 7
March 21
March 22
Invisible City season 2 (Brazil)
The Kingdom season 2 (Argentina)
Waco: American Apocalypse (2023)
March 23
March 24
March 28
InuYasha seasons 4-5
Mae Martin: SAP (2023)
March 29
Emergency: NYC (2023)
Unseen season 1 (South Africa)
Wellmania season 1 (Australia)
March 30
Big Mäck: Gangsters and Gold (2023, Denmark)
From Me to You: Kimi ni Todoke season 1 (Japan)
Unstable season 1
March 31
Copycat Killer season 1 (Taiwan)
Diary of a Mad Black Woman (2005)
Henry Danger seasons 4-5
Kill Boksoon (2023, Korea)
Murder Mystery 2 (2023)
Teenage Mutant Ninja Turtles season 2
More on streaming
Get the What to Watch Newsletter
The latest updates, reviews and unmissable series to watch and more!
Editorial Content Producer
Sarabeth joined the Watch to Watch team in May 2022. An avid TV and movie fan, her perennial favorites are The Walking Dead, American Horror Story, true crime documentaries on Netflix and anything from Passionflix. You've Got Mail, Ocean's Eleven and Signs are movies that she can watch all day long.
When she's not working, Sarabeth hosts the My Nights Are Booked Podcast (opens in new tab) and blog (opens in new tab) dedicated to books and interviews with authors and actors. She also published her first novel, Once Upon an Interview (opens in new tab), in 2022.