F1 live stream: How to watch Formula 1 online and on your TV
By Roy Delgado
Hamilton secures his 99th pole for the F1 Grand Prix of Emilia Romagna.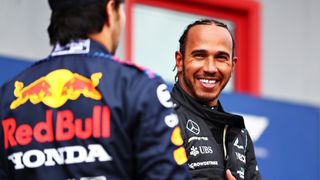 (Image credit: Dan Istitene/Getty Images)
F1 Past and Future
PREVIOUSLY: Two-time defending champion Lewis Hamilton won the Grand Prix of Bahrain on March 28 — the first race of the 2021 season. Max Verstappen finished second, with Hamilton's Mercedes teammate, Valtteri Bottas, finishing third.
THIS WEEK: The F1 series is back at the Grand Prix of Emilia Romagna at Autodromo Enzo e Dino Ferrari with the race scheduled for April 18. (The series was last here in November 2020.) Lewis Hamilton is on the pole.
AFTER THAT: Then it's another week off before the Grande Prémio De Portugal on May 2.
Seven world championships. And now, 99 poles. Lewis Hamilton secured the top spot for Sunday's Emilia Romagna Grand Prix, with the Mercedes driver beating out Red Bull's Sergio Perez by 36-thousandths of a second in Imoa, Italy. 
Max Verstappen will start third in the April 18 race, followed by Charles LeClerc, and Pierre Gasly. It'll be the second race of the season.
Hamilton — who has won the F1 title the past four years, and six of the last seven, and seven in his career — won two weeks ago in the season-opening race in Bahrain. Basically he remains a favorite for any race in which he's entered. 
Though it's not like nobody else has a shot. Indeed, in a sport that measures time in fractions of fractions of seconds, Hamilton eked out the pole position for Sunday's race ver Perez, who himself edged out Verstappen. In all, the first five starting positions were all within four-tenths of a second of each other.
The 2020 pole-sitter for this race — Valtteri Bottas, qualified eighth.
Sunday's race will be shown on ESPN in the United States. The broadcast is scheduled to begin at 8:55 a.m. Eastern time — that's 5:55 a.m. on the West Coast.
Here's the current state of the 2021 F1 schedule, as it stands as of April 12, along with this season's winners:
March 28 — Bahrain (Sakhir), Lewis Hamilton, Mercedes
April 18 — Italy (Imola)
May 2 — Portuguese Grand Prix (Algarve)
May 9 — Spain (Barcelona)
May 23 — Monaco (Monaco)
June 6 — Azerbaijan (Baku)
June 13 — Canada (Montreal)
June 27 — France (Le Castellet)
July 4 — Austria (Spielberg)
July 18 — United Kingdom (Silverstone)
Aug. 1 — Hungary (Budapest)
Aug. 29 — Belgium (Spa)
Sept. 5 — Netherlands (Zandvoort)
Sept. 12 — Italy (Monza)
Sept. 26 — Russia (Sochi)
Oct. 3 — Singapore (Singapore)
Oct. 10 — Japan (Suzuka)
Oct. 24 — USA (Austin)
Oct. 31 — Mexico (Mexico City)
Nov. 7 — Brazil (Sao Paulo)
Nov. 21 — Australia (Melbourne)
Dec. 5 — Saudi Arabia (TBD)
Dec. 12 Abu Dhabi (Yas Island)
That's all subject to change, of course. So stay tuned for more.
Watch while you're away from home with a VPN
Now that folks are slowly starting to travel again, it's entirely possible that you'll find yourself out of your home region and unable to watch the F1 race due to geographical limitations. 
One way to fix that is to use a VPN so that your network traffic is coming from your home country. (After all, a Brit in, say, France, is still very much a Brit, right?) VPNs are easier to use than ever, and they're also less expensive than ever.
ExpressVPN is one of the easiest and affordable ways to watch what you want from anywhere you want to watch it. Plus it'll help keep your network traffic away from any prying eyes on public networks.View Deal
Formula 1 racing, or F1 as the cool kids call it, is one of the oldest and most prestigious forms of auto racing. These open-wheel, single-seat race cars also pack the highest speed capabilities of the major professional racing leagues. It's no wonder why fans love watching these slick and tense races. For F1 fans, we have the full remaining 2020 schedule of Formula 1 races below to help you know when you can see the races, and from where they are broadcasting.
If you want to watch F1 racing, but have already said "goodbye" to the hassle and high prices of cable, you still have several good options. Here is how to stream Formula 1 races if you've cut the cord.
Watch F1 on Hulu with Live TV
Hulu With Live TV is the most popular live streaming service in the United States with more than 4 million subscribers. It has a slate of channels and a price that's competitive.
And it's even more affordable if you pair it up with the Disney Bundle, which gets you Hulu on-demand, Hulu Live, ESPN+ and Disney+ for just $71.99 a month. (If you want to get rid of advertising on the on-demand side, you'll pay $77.99 a month.) That's just $7 (or $13) more a month than if you were to get Hulu With Live TV on its own, so it's a pretty incredible deal.
Hulu With Live TV is available on every major streaming service. You can watch Hulu live on Roku. You can watch Hulu on Amazon Fire TV. You can watch it on Apple TV, Android TV, Google TV, on iPhone and Android, in a web browser, on smart TV systems, and on gaming platforms.
Hulu With Live TV should have many of your local channels (you can check here) in addition to many of the channels you'd find on a cable subscription.
And, yes, with ESPN and ESPN2, you can watch all the F1 races in 2021.
Watch F1 on YouTube TV
YouTube TV is the second-largest streaming service in the United States. If you put YouTube TV vs. Hulu you'll find that both have a competitive slate of channels, with a good bit of overlap. But YouTube TV does have some channels that Hulu does not. (Both have ESPN, of course.)
YouTube TV costs $64.99 a month (same as Hulu With Live TV) and has a number of premium add-ons available as well. You'll also get a free trial of YouTube when you sign up.
YouTube TV also should have your local channels, too. (You can check by entering your ZIP code here.)
And YouTube TV is available on every major streaming service. So you can watch YouTube TV on Roku, and you can watch YouTube TV on Amazon Fire TV. You also can watch it on Android TV and Google TV, on Apple TV, and on the web.
Watch F1 on Sling TV
Sling TV is still an excellent option for watching F1 races. It's also one of the most economical, as it's about as close as you can get to having true a la carte TV. 
ESPN is included in the Sling Orange plan, which runs just $35 a month. From there, you can build things out with the Sling Orange Extras. 
If you want even more channels, you can get both the Sling Orange and Sling Blue plans for $50 a month.
Sling has a number of local channels, which is good, but that varies by region. (You can make sure it has what you want here.) 
Watch F1 on FuboTV
FuboTV is all about sports, and you most certainly can watch F1 on Fubo. It's got ESPN, of course, as well as a number of regional sports networks. FuboTV also has a number of premium add-ons that can get you even more sports that you can't find anywhere else.
The basic FuboTV plan starts at $64.99 a month and comes with 95 channels, 500 hours of DVR, and the ability to watch on three devices at once. That includes the ESPN family of channels, so you'll be able to watch every F1 race. For even more channels, there's the Fubo Elite package, which gets you 159 channels, 1,000 hours of cloud-based DVR, and the ability to watch on up to five devices at once for $79.99 a month.
Fubo also has many local channels as well — you can see what's available in your region here.
FuboTV is available on every major streaming platform. You can watch FuboTV on Roku, and watch FuboTV on Amazon Fire TV. It's also found on Apple TV, Android TV, on smart TV platforms, on iOS and Android, and on the web.
Watch Formula 1 Studio Shows on ESPN3
This year, Formula 1 on ESPN networks means more than just live races. Two F1 studio shows called Welcome to the Weekend and Pit Lane Live , which are produced by Sky Sports, will be available on ESPN3. ESPN3 is a streaming-only platform available through live streaming services and cable bundles alongside the regular ESPN networks.
ESPN3 is available on YouTube TV, Hulu, FuboTV, and Sling TV. You can watch ESPN3 content in the ESPN app. That app is available on Android phones and tablets, iPhones, iPads, Fire Tablets, Apple TV, Android TV, Chromecast, Fire TV, and Roku.
ESPN3 is also available through some internet providers, like Comcast Xfinity or Verizon FIOS Internet plans. However, ESPN3 access through your internet provider only works on computers in a browser, not on streaming devices like Roku.
Watch Formula 1 on F1TV
The official Formula One Federation, FIA, has their own paid streaming service available if you want the ultimate in F1 access. The plan includes access to content from F1, F2, F3 and Porsche Supercup levels, along with an catalog of past races.
F1TV offers two different subscription plans. F1TV Access costs $27 per year, and offers F1 race on demand replays and highlights, including angles from all onboard cameras from the cars. F1TV Pro is $80 per year, and it adds live streaming of every track session for every race. Live streams include the broadcast along with onboard cameras and team radios. If you choose F1TV Pro, you can get a 7 day free trial.
Get the latest updates, reviews and unmissable series to watch and more!
Thank you for signing up to Whattowatch. You will receive a verification email shortly.
There was a problem. Please refresh the page and try again.