How to watch Super Bowl 2021
Brady. Mahomes. The Bucs and Chiefs go at it in a Super Bowl like none other.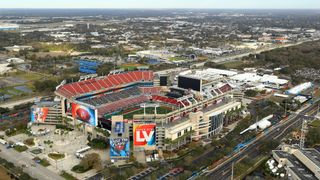 (Image credit: Mike Ehrmann/Getty Images)
HOW TO WATCH SUPER BOWL 2021
Super Bowl 2021 — also known as Super Bowl LV (or Super Bowl 55) — is scheduled for 6:30 p.m. Eastern on Sunday, Feb. 7. It'll feature the Tampa Bay Buccaneers from the NFC, and the Kansas City Chiefs from the AFC.
The game will be played at Raymond James Stadium in Tampa, with a limited crowd on hand due to the global pandemic.
Super Bowl 2021 will be broadcast on CBS and on CBS All Access.
The 2020 NFL season has come to this — Super Bowl 2021, otherwise known as Super Bowl LV. Millions and millions of people all around the world will watch Super Bowl 2021. Most in the United States, but also countless NFL fans around the world.
Even getting to this point was no small feat, given the state of the country in 2020. The global pandemic hit America as hard as nearly anywhere. Spring sports were postponed until later in the year, if not postponed outright. But somehow, the NFL managed to pull it off.
The 2020 NFL season leading up to the Super Bowl wasn't without its hiccups. Numerous games had to be postponed — some shifted several times in the course of a week. The Denver Broncos at one point didn't have any starting quarterbacks available. The Cleveland Browns entered the first round of the playoffs without its coach, thank to COVID-19 precautions. Stadiums were empty for most of the year, with fans replaced in some instances by cardboard cutouts, before pandemic levels and public health allowing for limited attendance.
But we all made it. Super Bowl LV is nearly here. This one is going to be a special one, too, with the Tampa Bay Buccaneers taking on the Kansas City Chiefs in the Bucs' home stadium. That's a pure stroke of luck — the game was scheduled to be played at Raymond James Stadium years before the Bucs made the playoffs, and years before Tom Brady took over the starting QB position.
And you know what? We're going to watch the hell out of it, from the opening drive, to the halftime show, to the trophy being raised amid a sea of disinfected confetti.
Here's everything you need to know if you want to stream the Super Bowl in 2021.
When is the Super Bowl in 2021?
Super Bowl LV (that's Super Bowl 55) is scheduled for 6:30 p.m. Eastern time (that's 3:30 p.m. on the West Coast) on Sunday, Feb. 7, 2021.
That's today!
How to stream Super Bowl 2021 from anywhere
If somehow you've found yourself away from your usual Super Bowl streaming locale and still want to watch the big game, you've got a few options. One would be to change your schedule and think twice about priorities.
Another option is to consider using a VPN. A virtual private network allows you to tunnel all of your network traffic through a specific set of servers through a specific country, be it the United States, or somewhere else. And from there you can use your usual streaming option to watch the Super Bowl.
There's a catch here, however, and that's that you need to trust your VPN provider because all of your network traffic will be funneled through that VPN — unencrypted and encrypted traffic alike. For that, we've long been fans of ExpressVPN for the Super Bowl.
The best VPN for Super Bowl 2021
ExpressVPN is one of the easiest and affordable ways to watch what you want from anywhere you want to watch it — and that includes the Super Bowl on your favorite streaming service.
And when the big game's over, it'll help keep your data away from prying eyes, and all your favorite shows easily accessible no matter where you are.View Deal
How to watch Super Bowl 2021 in the United States
Super Bowl LV will be available on the CBS network in the United States. And CBS is available on most streaming services in the U.S.
If you're looking to sign up for a streaming service to watch the Super Bowl, we'd put our money on FuboTV.
Here's why: FuboTV is just about the best streaming service there is for sports fans. It's got local channels, so you're covered for the Super Bowl on CBS. It also has ESPN, so you're all set on that front, too. FuboTV also has a strong bench of premium add-ons that get you sporting events that you just can't get anywhere else.
FuboTV's most affordable plan starts at $64.99 a month, comparable to the other services that also include local channels.
And while you won't be able to watch Super Bowl LV in 4K resolution, Fubo TV is the only streaming service in the U.S. to have any sports in 4K.
You'll also be able to watch the Super Bowl on Roku, watch Super Bowl LV on Amazon Fire TV, and on other major streaming platforms.
How to watch the Super Bowl on CBS All Access
A big question we get at Super Bowl time is if CBS All Access is free with a cable subscription. Here's the deal about that:
The short answer is, yes, you can watch Super Bowl LV on CBS All Access.
If you already had a subscription to a cable service or a streaming service that has your local CBS channel (or — cough — if you have access to the logins for either one of those things) just log in with those credentials and you'll be greeted with the live CBS feed.
What you won't get, however, is all the other great stuff that comes with a full CBS All Access subscription. That's shows like The Good Fight, The Stand, The Twilight Zone, and anything and everything Star Trek, including Star Trek: Discovery (which just finished its third season), Star Trek: Picard, and the upcoming Star Trek: Strange New Worlds.
Or you can go with a full CBS All Access account and get the full smash.
How to watch Super Bowl LV on Roku
Roku is the biggest streaming platform in the United States, and No. 2 in the rest of the world. And it's a great way to watch Super Bowl LV.
For our money, the best Roku for Super Bowl LV is still Roku Ultra. It costs less than $100, has supports 4K resolution, Dolby Atmos for audio and Dolby Vision for HDR (those things are important for top-tier movies), and it will serve you well for years. It also has one of the simplest user interfaces available.
And you can watch FuboTV on Roku, which makes the pair a perfect match for Super Bowl LV.
How to watch Super Bowl LV on Amazon Fire TV
The No. 2 streaming platform in the United States (and No. 1 in the rest of the world) is Amazon Fire TV. And for good reason — it's also a low-cost platform, with a range of options that will meet anyone's streaming needs.
The best Amazon Fire TV device is still the Amazon Fire TV Stick 4K. It retails for just $50, but you often can find it on sale. It supports 4K resolution, Dolby Atmos audio and Dolby Vision HDR, and it has full support for Amazon Alexa, so you can do all those smart things and search with your voice, right from the remote control.
It's tough to beat that much power for that low a price.
And all of your favorite live TV streaming options are available on Fire TV, including FuboTV.
How to watch Super Bowl LV on Hulu With Live TV
Hulu With Live TV is the most popular live TV streaming option in the United States, so you'd think this one's pretty straightforward. But it's not.
This one's a little more tricky. You absolutely can watch Super Bowl LV on Hulu With Live TV, but there's a catch. The game is being broadcast on CBS, and you'll need to make sure that Hulu With Live TV carries your local CBS affiliate. That's true of any streaming service, of course, but it's especially true here because Hulu With Live TV just lost a bunch of CBS affiliates.
You can make sure Hulu carries your local station here.
If you're going to go this route, you'll pay $64.99 a month after the free trial. That's right in line with the second-most popular live service, YouTube TV.
Where is the Super Bowl being played in 2021?
Super Bowl LV will be played at Raymond James Stadium in Tampa, Fla.
Florida has been a popular location for the Super Bowl, due to it being warmer than most other states in early February — and also because of the fact that it's, well, Florida. And that usually means there's plenty of trouble to get into, whether you're in Miami, or like this year in Tampa. (Quick hop down to Ybor City, anyone?)
Tampa hosted its first Super Bowl in 1984 — Super Bowl XVIII, with the L.A. Raiders beating Washington 38-9.
This year's game will be the fifth time Tampa has played host to the Super Bowl. And it will be the first time a stadium has seen its home team play in the championship game. Which leads us to ...
What teams are playing in Super Bowl 2021?
The stage is set! The Kansas City Chiefs will play the Tampa Bay Buccaneers in Super Bowl 2021.
Both teams won handily in their respective conference championships. The Chiefs rolled right over the Buffalo Bills, 38-24 (the game wasn't as close as the score makes it seem), and the Bucs handled the Green Bay Packers, 31-26.
It'll be the 10th Super Bowl appearance for Tampa Bay quarterback Tom Brady. (His other nine were with the New England Patriots), and he becomes the fourth QB to start in a Super Bowl for two teams.
Super Bowl LV marks the second straight championship game for both the Chiefs and their young quarterback, Patrick Mahomes, who's in just his fourth year in the NFL. In addition to winning Super Bowl LIV in 2020, he also was the game's MVP.
Will the Super Bowl be broadcast in 4K?
There's good news and bad news here There are going to be some 120 cameras in and around the field for Super Bowl LV. There will be dolly cams and trolley cams and movie bird crane cams (yes, really), and the newer "Venice Cameras," which have a really short depth of field and sort of make things look like video games.
There even will be cameras that are shooting not just in 4K resolution, but also in the even-higher 8K resolution.
But all that being said, Super Bowl LV will not be broadcast in 4K resolution. CBS has yet to stream any sporting event in 4K. And given that this is the biggest sporting event this side of a World Cup Final, now is not the time to start.
Maybe next year, when the game moves to NBC.
Who is the Super Bowl halftime show performer?
The Weeknd (who else!) will be the Pepsi Super Bowl LV halftime show performer. The Grammy-winning musician will perform at halftime of Super Bowl LV on Feb. 7.
No word yet if he'll do so in his full stage makeup, which has increasingly been used to show the performer going through some sort of injury and recovery process, including his face being completely bandaged after some sort of reconstructive surgery.
That doesn't really sound like something the NFL would be too big a fan of given the league's history of turning a blind eye to domestic violence, but it's just something to be aware of in case The Weeknd shows up on stage looking like he'd been playing on the defensive line for the first half. He's almost certainly OK.
Phil spent his 20s in the newsroom of the Pensacola (Fla.) News Journal, his 30s on the road for AndroidCentral.com and Mobile Nations, is the Dad part of Modern Dad, and is editor of WhatToWatch.com.
Get the latest updates, reviews and unmissable series to watch and more!
Thank you for signing up to Whattowatch. You will receive a verification email shortly.
There was a problem. Please refresh the page and try again.