How to watch Super Bowl 2021 on FuboTV
The hottest game in town — Super Bowl 2021 — is available on one of the hottest streaming services.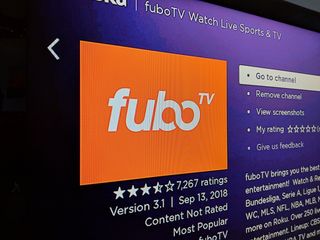 (Image credit: WhatToWatch.com)
Super Bowl 2021 is upon us. The biggest game in the NFL season is scheduled for 6:30 p.m. on Sunday, Feb. 7, and will be broadcast on CBS.
And that means that you can stream the Super Bowl on FuboTV.
There are a few small catches here, of course — but nothing that isn't also true for every other streaming service. First is that you'll need a subscription to FuboTV, which is simple enough. The Family Plan (which is the least expensive option) runs $64.99 a month. That's right in line with other competing streaming services — and FuboTV also has a free trial on that level, so you can check things out for a week before you start to pay.
Second is that you'll need FuboTV channels to include your local CBS affiliate. Like every other streaming service, it has most — but not all — local channels in the United States. That's just the way things work. We've got the full list of CBS affiliates available on FuboTV below.
After that, though? It's just a matter of tuning to the game on Feb. 7. And you can do so on just about every major streaming platform, as FuboTV is on just about all of them. That includes the largest streaming ecosystem in the United States — Roku — as well as Amazon Fire TV, which is the second largest. You also can watch FuboTV on Apple TV and Android TV, or on Google TV. FuboTV also has apps for iPhones and iPads, for Android phones and tablets, and you can watch in a web browser, too. 
FuboTV also is available on smart TVs from Samsung, Hisense, and Amazon Fire TV Edition televisions, and also on the Xbox One, Xbox One S, and Xbox One S.
CBS affiliates available on FuboTV
Albany-Schenectady-Troy, NY (WRGB)
Albany, GA (WSWG)
Albuquerque-Santa Fe, NM (KRQEDT)
Amarillo, TX (KFDA)
Atlanta, GA (WGCL)
Augusta, GA-Aiken, SC (WRDW)
Austin, TX (KEYE)
Bakersfield, CA (KBAK)
Baltimore, MD (WJZ)
Bangor, ME (WABI)
Baton Rouge, LA (WAFB)
Beaumont-Port Arthur, TX (KFDM)
Binghamton, NY (WBNG)
Birmingham, AL (Anniston-Tuscaloosa) (WIAT)
Boise, ID (KBOI)
Boston, MA (Manchester) (WBZ)
Buffalo, NY (WIVB)
Burlington, VT-Plattsburgh, NY (WCAX)
Cedar Rapids-Waterloo-Iowa City-Dubuque, IA (KGAN)
Charleston, SC (WCSC)
Charleston-Huntington, WV (WOWK)
Charlotte, NC (WBTV)
Chattanooga, TN (WDEF)
Chicago, IL (WBBM)
Chico-Redding, CA (KHSL)
Cincinnati, OH (WKRC)
Cleveland-Akron, OH (Canton) (WOIO)
Colorado Springs-Pueblo, CO (KKTV)
Columbia-Jefferson City, MO (KRCG)
Columbia, SC (WLTX)
Columbus-Tupelo-West Point, MS (WCBI)
Columbus, OH (WBNS)
Corpus Christi, TX (KZTV)
Dallas-Ft. Worth, TX (KTVT)
Davenport, IA - Rock Island-Moline, IL (WHBF)
Dayton, OH (WHIO)
Denver, CO (KCNC)
Des Moines-Ames, IA (KCCI)
Detroit, MI (WWJ)
Duluth-Superior, MN (KBJR)
El Paso, TX (Las Cruces) (KDBC)
Eugene, OR (KVAL)
Evansville, IN (WEVV)
Fargo-Valley City, ND (KXJB)
Flint-Saginaw-Bay City, MI (WNEM)
Fresno-Visalia, CA (KGPE)
Ft. Myers-Naples, FL (WINK)
Ft. Smith-Fay-Springdale-Rogers, AR (KFSM)
Ft. Wayne, IN (WANE)
Gainesville, FL (WGFL)
Grand Rapids-Kalamazoo-Battle Creek, MI (WWMT)
Green Bay-Appleton, WI (WFRV)
Greensboro-High Point-Winston Salem, NC (WFMY)
Greenville-New Bern-Washington, NC (WNCT)
Greenville-Spartanburg, SC - Asheville-Anderson, NC (WSPA)
Harlingen-Weslaco-Brownsville, TX (KGBT)
Harrisburg-Lancaster-Lebanon-York, PA (WHP)
Hartford-New Haven, CT (WFSB)
Honolulu, HI (KGMB)
Houston, TX (KHOU)
Jackson, MS (WJTV)
Jacksonville, FL (WJAX)
Johnstown-Altoona-State College, PA (WTAJ)
Kansas City, MO (KCTV)
Knoxville, TN (WVLT)
La Crosse-Eau Claire, WI (WKBT)
Lafayette, LA (KLFY)
Lansing, MI (WLNS)
Las Vegas, NV (KLAS)
Lexington, KY (WKYT)
Lincoln-Hastings, NE (KOLN)
Little Rock-Pine Bluff, AR (KTHV)
Los Angeles, CA (KCBS)
Louisville, KY (WLKY)
Macon, GA (WMAZ)
Madison, WI (WISC)
Medford-Klamath Falls, OR (KTVL)
Miami-Fort Lauderdale, FL (WFOR)
Milwaukee, WI (WDJT)
Minneapolis-St. Paul, MN (WCCO)
Mobile, AL-Penscaola, FL (Ft. Walt) (WKRG)
Monterey-Salinas, CA (KION)
Montgomery-Selma, AL (WAKA)
Myrtle Beach-Florence, SC (WBTW)
Nashville, TN (WTVF)
New Orleans, LA (WWL)
New York, NY (WCBS)
Norfolk-Portsmouth-Newport News, VA (WTKR)
Odessa-Midland, TX (KOSA)
Oklahoma City, OK (KWTV)
Omaha, NE (KMTV)
Orlando-Daytona Beach-Melbourne, FL (WKMG)
Paducah, KY - Cape Girardeau, MO - Harrisburg, IL (KFVS)
Panama City, FL (WECP)
Peoria-Bloomington, IL (WMBD)
Philadelphia, PA (KYW)
Phoenix, AZ (Prescott) (KPHO)
Pittsburgh, PA (KDKA)
Portland-Auburn, ME (WGME)
Portland, OR (KOIN)
Providence, RI-New Bedford, MA (WPRI)
Raleigh-Durham, NC (Fayetteville) (WNCN)
Reno, NV (KTVN)
Richmond-Petersburg, VA (WTVR)
Roanoke-Lynchburg, VA (WDBJ)
Rochester, NY (WROC)
Rockford, IL (WIFR)
Sacramento-Stockton-Modesto, CA (KOVR)
Salisbury, MD (WBOC)
Salt Lake City, UT (KUTV)
San Antonio, TX (KENS)
San Diego, CA (KFMB)
San Francisco-Oakland-San Jose, CA (KPIX)
Santa Barbara-San Marcos-San Luis Obispo, CA (KCOY)
Savannah, GA (WTOC)
Seattle-Tacoma, WA (KIRO)
Shreveport, LA (KSLA)
Sioux City, IA (KMEG)
Sioux Falls, IA (Mitchell) (KELO)
South Bend-Elkhart, IN (WSBT)
Spokane, WA (KREM)
Springfield-Decatur-Champaign, IL (WCIA)
Springfield-Holyoke, MA (WSHM)
Springfield, MO (KOLR)
St. Louis, MO (KMOV)
Syracuse, NY (WTVH)
Tallahassee, FL - Thomasville, GA (WCTV)
Tampa-St. Petersburg, FL (Sarasota) (WTSP)
Toledo, OH (WTOL)
Traverse City-Cadillac, MI (WWTV)
Tri-Cities, TN-VA (WJHL)
Tucson, AZ (Sierra Vista) (KOLD)
Tulsa, OK (KOTV)
Tyler-Longview, TX (KYTX)
Waco-Temple-Bryan, TX (KWTX)
Washington, D.C. (Hagerstown, MD) (WUSA)
Wausau-Rhinelander, WI (WSAW)
West Palm Beach-Ft. Pierce, FL (WPEC)
Wichita-Hutchinson, KS (KWCH)
Wilkes Barre-Scranton-Hazelton, PA (WYOU)
Wilmington, NC (WWAY)
Yakima-Pasco-Richland-Kennewick, WA (KIMA)
Youngstown, OH (WKBN)
FuboTV is available on every major streaming service. That means you'll be able to watch Super Bowl 2021 on Roku with FuboTV. Or you can watch Super Bowl LV on Amazon Fire TV with FuboTV.
Or when Tom Brady and the Bucs take on the Kansas City Chiefs, you'll be able to watch Super Bowl 2021 on Apple TV with FuboTV.
You get the point, right? The game is everywhere.
Phil spent his 20s in the newsroom of the Pensacola (Fla.) News Journal, his 30s on the road for AndroidCentral.com and Mobile Nations, is the Dad part of Modern Dad, and is editor of WhatToWatch.com.
Get the latest updates, reviews and unmissable series to watch and more!
Thank you for signing up to Whattowatch. You will receive a verification email shortly.
There was a problem. Please refresh the page and try again.