Jac Naylor Vs... Faye in Holby City AND Dylan in Casualty!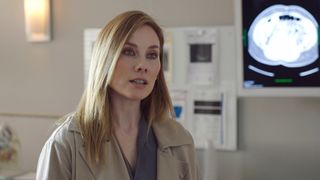 (Image credit: BBC)
Jac Naylor is shaken when Dylan makes demands in Casualty and Faye turns up in Holby City. Will the cutting-edge surgeon speak her mind?
It's a big week for Jac Naylor. First she pops up in Casualty on Saturday, and then next Tuesday she comes face-to-face with her ultimate nemesis in Holby City!
In Saturday's Casualty fans will see super surgeon Jac (Holby City legend Rosie Marcel) rankled when discourteous clinical lead Dylan Keogh (William Beck) summons her to the ED. Nurse David Hide's son Ollie, 14, needs urgent surgery and there's no time for pleasantries.
Which is great news for fans of Jac and Dylan, who are in for a treat as these two equally abrupt medics bump heads!
By the time Tuesday rolls around, however, Jac's encounter with Dylan is long forgotten, as a nasty storm brews in Holby City.
Jac's astounded when her mortal enemy Faye Morton (Patsy Kensit) turns up needing a transplant. To make matters worse Faye's rekindled her romance with Joseph Byrne (Luke Roberts), who was once the love of Jac's life.
MORE: Our exclusive interview with Patsy Kensit and Rosie Marcel on this story
It's quite the reunion - full of bile, backbiting and ferocious one-liners!
Fortunately, Jac's been practising her put-down skills for years.
Here are our 14 favourite Jac Naylor quotes of 2019 so far
A pair of Muppets
Sacha Levy: "Here we are, living together, working together, travelling together. We're like Eric and Ernie."
Jac: "More like Bert and Ernie."
On junior doctors Nicky McKendrick and Cameron Dunn
Jac: "Foetus and Fauntleroy, the world's least likely crime fighting duo."
The ultimate put down. Poor Cameron!
Jac "Are you done here or do you want to stay in the hole and keep digging?
Cameron: [Silence]
Jac: "Shame, I was genuinely curious to see where you'd end up."
She cares about you, really Frieda
Frieda Petrenko: "Jac, I am not coming in tomorrow."
Jac: "Don't get my hopes up Petrenko."
Honestly Frieda, she does care!
Frieda: "I quit!"
Jac: "Go on then, give me your little snowflake speech.
"Tell me how offended you are you're not allowed to set up makeshift hospitals wherever you see fit."
MORE: Revealed! The events that bring Jac Naylor to Casualty
Asserting top dog credentials
Talking about Gary the dog to Frieda…
Jac: "He'll never respect you as much as he respects me."
That's woof!
Bedside burn
Anxious partner of patient: "How can a man as fit as him end up on his death bed?"
Jac: "He's not. He's on my ward."
Fandabbydozy!
On having to work with Fleur Fanshawe
Jac: [sigh] "Janette Cranky in the house."
Putting Madani in his place from day one
Kian Madani on his first day: "Dude: not a bad start huh?"
Jac: "A patient attacked you and then you stabbed him in the heart with your finger."
Hiding a hangover…
Hanssen: "Are you well? You look a little pale."
Jac: "I'm a red head I've always been pale… I'm not ill!"
Aside: "I'm so ill"
Is there a compliment in there, Cameron?
Jac: "I don't know what you did to [patient] but I've never seen him so up for surgery.
"Did you bore him into submission?"
To Jac killer lines are kids play
On a video call to her daughter, Emma. Jac says to a random kid:
"Who are you? Your face is too big for the Internet, go away."
Brace yourself…
In a very serious conversation with Hanssen about the Tooth Fairy…
Hanssen: "Have you got any I could borrow? Teeth that is…"
Jac: "Of course not! It's what the Tooth Fairy uses to build her fairy castle…"
Ain't that the whole tooth!
And finally… Flipping the bird
Madani narrowly avoids being hit by bird mess. Jac looks to the sky:
"He had one job!"
Good luck Faye. Something tells us you're going to need it!
Rosie Marcel guest stars in Casualty on Saturday 31 August; Jac's past with Faye and Joseph is put under the spotlight on Tuesday 3rd September in Holby City.
Get the latest updates, reviews and unmissable series to watch and more!
Thank you for signing up to Whattowatch. You will receive a verification email shortly.
There was a problem. Please refresh the page and try again.