Simon Cowell is unconcerned about The Voice switching to ITV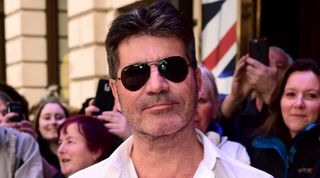 Britain's Got Talent judge Simon Cowell has said The Voice will not pose a threat to The X Factor when the BBC1 show moves to ITV next year.
The Voice, currently airing its final series on the BBC, was acquired last year by ITV – which has hosted Britain's Got Talent since it launched a decade ago.
Asked whether he is worried about competition on the same network, he said: "That's not going to be a problem, trust me."
Simon Cowell at Britain's Got Talent 2016 auditions (Vianney Le Caer/Invision/PA)
Speaking on the red carpet at the Dominion Theatre ahead of five days of Britain's Got Talent auditions in London, Simon said he is not concerned about when in the year The Voice is shown on ITV.
He added: "I actually couldn't give a toss. Honestly, I don't like that show, it's not doing well, they can put it wherever they want."
Judging Britain's Got Talent is a welcome relief after finishing 2015′s edition of The X Factor, he said.
Simon Cowell (Ian West/PA)
He said: "It's a bloody sight easier to do this show than that show … Britain's Got Talent comes back, everyone's happy. The X Factor is like releasing a horror movie."
With the show's and the judges' contracts up for renewal, Simon said there was no danger of going off air.
He said high viewing figures would keep the show on ITV: "It's absurd to think they're not going to want to have a show with these numbers over ten years."
Alesha Dixon at Britain's Got Talent 2016 auditions (Ian West/PA)
Judge Alesha Dixon said she wanted to stay on as a judge because of "the fact that it's one of the most loved shows on television".
She added: "We have such a great time making it. It doesn't take itself too seriously and it really feels like the public are really invested in it.
"A bit of escapism, a bit of fun, and at the end of it something fantastic wins that we're all really proud of as a nation… I'd be a fool not to want to be part of it."
Alesha Dixon (Ian West/PA)
Her fellow judge Amanda Holden said part of the show's continued success was down to its long established judging panel, which also includes David Walliams, as well as presenting duo Ant and Dec.
She said: "I think if it ain't broke you don't bother to fix it."
The judges have already seen auditions in Liverpool before London, and will be heading to Birmingham next.
Amanda Holden at the Britain's Got Talent auditions (Ian West/PA)
But Amanda, 44, has already used her "golden buzzer", an innovation introduced in 2014 to allow each judge to send one act straight through to the live semi-finals.
She explained: "The thing about pressing the golden buzzer is it's kind of like when you fall in love – you know it's the real thing."
Amanda Holden (Ian West/PA)
In terms of what to expect on this year's show, Simon said: "We've had some good people, horrible people, interesting people, a dog. We may have found a dog that can actually sing this year, rather than having somebody work its mouth."
Last year's series saw performances by dog Wendy and her comedy ventriloquist owner, Marc Metral.


Britain's Got Talent will be broadcast on ITV later this year.
Get the latest updates, reviews and unmissable series to watch and more!
Thank you for signing up to Whattowatch. You will receive a verification email shortly.
There was a problem. Please refresh the page and try again.