The Tiger Who Came To Tea is heading to C4 this Christmas!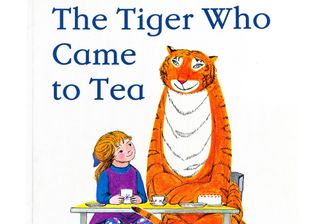 (Image credit: Alamy Stock Photo)
David Walliams and Benedict Cumberbatch are among the stars who'll be lending their voices to the famous characters
The Tiger Who Came to Tea, the classic children's picture book by Judith Kerr, is to be turned into an animated film this Christmas on C4.
And the broadcaster revealed that the half-hour production will boast an all-star voice cast including Benedict Cumberbatch, Tamsin Greig, David Walliams, Paul Whitehouse and David Oyelowo.
The Tiger Who Came To Tea, which has sold over five million copies since it was first published in 1968, tells the story of Sophie and her amazing stripy teatime guest, who eats everything in sight.
Sherlock star Benedict, who plays Daddy, said: "I couldn't be more thrilled to be playing a small part in bringing Judith Kerr's timeless children's classic to the screen for another generation to enjoy."
MORE: New Worzel Gummidge will be on BBC1 this Christmas
David Walliams, who will narrate the tale, added that he was also delighted to be taking part and "adored" Judith Kerr, who died aged 95 in May.
The Britain's Got Talent judge and children's author said: "Judith was an incredible inspiration – her work is so brilliant. The book is a thing of beauty – there isn't a word out of place, the illustrations are just gorgeous.
"I really wanted to be a part of it and I was chuffed that she wanted me to narrate. I'm so proud to be associated with it because it's a stone cold classic.
"Just like the book has been around for over 50 years, hopefully the animation will have this incredible longevity too."
David Oyelowo also expressed his delight at being in the animated adventure as the Tiger. "Who wouldn't jump at the chance to play the iconic tiger from The Tiger Who Came To Tea? He's a big cat of few words because – he's too busy eating! – but I relished all of the growling, chomping and slurping, which called on me to find my inner cat."
Like many parents, Paul Whitehouse, who plays the Milkman, enjoyed reading the story to his children.
"I wanted to get involved because it has fond memories for me and a close association with my girls," he said.
Tamsin Greig, who plays Mummy, added that the "story has a universal appeal".
Seven-year-old newcomer Clara Ross will make her TV debut as Sophie.
The Tiger Who Came to Tea will be on C4 this Christmas. It's not yet been revealed the exact day it will be shown.
Main picture: Alamy Stock Photo
Get the latest updates, reviews and unmissable series to watch and more!
Thank you for signing up to Whattowatch. You will receive a verification email shortly.
There was a problem. Please refresh the page and try again.