Three new housemates enter Celebrity Big Brother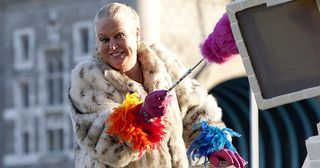 (Image credit: BEI/Shutterstock)
Geordie Shore's Chloe Ferry, former The Apprentice contestant Jessica Cunningham and television cleaning guru Kim Woodburn are the latest stars to enter the Celebrity Big Brother House.
In an episode full of twists on Friday night, the three surprised the housemates by entering in traditional Day Of The Dead costumes.
Their arrival followed minutes after the departure of Angie Best in the series' first official eviction.
Moments later, Austin Armacost was also given the boot after he was voted the dullest by the remaining housemates.
It was an unexpected twist for all the contestants, who did not realise that their votes would determine a second ejection.
Speaking to presenter Emma Willis as he left, Austin, who finished the show as runner-up in 2015, said he had struggled to feel comfortable because he missed his partner.
Holding back tears, he said: "I am now in a new relationship with the most amazing person I have ever met in my life and going from spending every moment with someone you are absolutely in love with to going into a house full of people you don't know.
"I really miss him and it wasn't fun this time around."
As well as the departures and arrivals, the live programme finished with yet another surprise for the surviving housemates.
After a short public poll was opened, Coleen Nolan, Heidi Montag and Spencer Pratt, James Jordan, Jasmine Waltz, Stacy Francis and Jedward were condemned to spend the rest of the weekend in "hell".
The six contestants were told they would face a "meagre existence", separated from the others in what appeared to be a makeshift dungeon, with the threat of another eviction hanging over their heads.
Loose Women star Coleen buried her head in her hands as Big Brother confirmed that one of the nominated six would be the next to leave the house for good.
Celebrity Big Brother returns at 10.30pm on Saturday on Channel 5.
Sarah is a freelance writer and regularly writes for publications including Womanandhome.com, Independent, BBC and What to Watch. She mainly writes about health, fitness, TV, and travel. Sarah loves gritty crime dramas, sitcoms, and reality shows, while she always amazes her friends at how quickly she can binge-watch the latest on-trend Netflix show.
Thank you for signing up to Whattowatch. You will receive a verification email shortly.
There was a problem. Please refresh the page and try again.