Watch UFC 251 Usman vs. Masvidal live stream online July 11 on PPV ESPN Plus and ESPN
By Roy Delgado
UFC 251 puts three UFC Titles will be on the line — on the beach of Fight Island.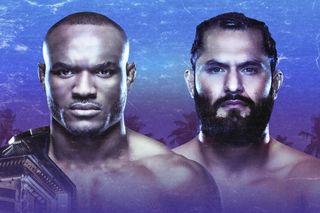 (Image credit: UFC)
UFC 251 is ready to take things overseas again, and they have a unique and exciting destination ready for this month ⁠— Fight Island. Yes, that's the name given to a newly built outdoor facility on Yas Island in Abu Dhabi. Still, if everything goes to plan, this weekend's big fights will leave behind the empty arena for an oceanside octagon on a beach. However, the fight card for this marquee event is the real star of this show.
UFC 251 will feature three championship fights, as well as a rematch of one of last year's best women's title matches. The Main Event has changed in the last few days, as the original challenger Gilbert Burns had to withdraw after testing positive for COVID-19. Fans will be rewarded with the matchup everyone wanted originally, as Jorge Masvidal steps in at the last minute to face Kamaru Usman. Also the Featherweight and Bantamweight titles are on the line as well. See all these matches as part of a full night of fights easily with UFC 251 Pay-Per-View featuring Usman vs. Masvidal in the ESPN app.
What is UFC 251?
UFC 251 is the latest major MMA event from the biggest promotion in the sport. UFC 251 will be broadcast live on Saturday, July 11, from "UFC FIght Island", also known as Yas Island in Abu Dhabi, United Arab Emirates.
UFC 251 will be a split-broadcast event available with cards on ESPN+, ESPN and PPV, so you will need multiple subscriptions and logins to see everything in the ESPN app. The Prelims come first at 6 p.m. Eastern on both ESPN and ESPN+. Then, the Main Card will be on at 10 p.m. as a PPV via ESPN+, and it is expected to be headlined by Usman vs. Masvidal.
UFC pay-per-view events are now available exclusively on ESPN+ . The streaming sports service is packed with additional UFC content, including regular UFC Fight Night events, Dana White's Contender Series, UFC Post Shows, and exclusive analysis on "Ariel and the Bad Guy". If you aren't sure what is needed so you can watch UFC 251 PPV on ESPN+, here's a breakdown to help.
How much will UFC 251 Pay Per View cost?
New subscribers and current subscribers on monthly plans can choose a special offer with months of sports to enjoy. The deal combines an annual subscription to ESPN+, which usually costs $49.99 a year, with UFC 251 PPV for $84.98. This gives new and monthly subscribers a big savings on this sports streaming service compared to the regular prices. That subscription includes a full year of live UFC Fight Nights too.
ESPN+ will also have Top Rank Boxing cards, plus other games as sports resume in the MLB & NHL, MLS , college sports, and so much more.
How to order UFC 251 Pay-Per-View
For new subscribers , ESPN makes it easy to buy UFC 251 PPV on the event page of ESPN+ . Just create an account and purchase this event on your computer. Then login with that account on a streaming device to activate the PPV in the ESPN app.
If you already subscribe to ESPN+, you can buy the UFC 251 PPV Main Event either at the event page or on the streaming devices you use to watch all the action. This feature is available on the ESPN app for TV platforms, and only takes a few taps on your remote.
Both new and existing subscribers have the option to buy UFC 251 ahead of Saturday night. Normally you don't want to miss part of the event waiting to pick a new password or your purchase to process. It is quick and easy to sign up now and then sign in on your devices before the event. Take care of this ahead of time, and you can focus on the fights leading up to Saturday night!
UFC 251 Usman vs. Masvidal — The Main Event Preview
Kamaru "The Nigerian Nightmare" Usman (16-10) is the UFC Welterweight Champion, and the sixth ranked fighter in the Men's Pound-For-Pound rankings. Usman has a phenomenal record and resume, especially since joining the UFC. He is undefeated in the UFC, which started with his victory in The Ultimate Fighter 21 tournament. His last three fights are the stuff of legends. He won performance of the night honors in a unanimous decision over Rafael dos Anjos. The win got him a title match at UFC 235, where he took the Welterweight championship from Tyron Woodley. Then in December of 2019, Usman had a highly anticipated title defense against Colby Covington at UFC 245. Usman won a brutal battle, breaking Covington's jaw and knocking him out in the final round.
Usman was originally scheduled to take on the number one contender, Gilbert Burns. However, Burns reportedly tested positive for COVID-19, and had to be removed from the fight. Some feared Burns was the last hope for a Usman fight at UFC 251. No, there is another.
Jorge "Gamebred" Masvidal (35-13) is the third ranked contender for the UFC Welterweight crown, and he's in a no-lose situation by accepting this title fight with under a week to go. This is the fight he has always wanted. It is Masvidal's first shot at a UFC title, even though he joined in 2013 and is 12-6 in the promotion. But taking this match with Usman as a substitute fighter with under seven days until fight day, he is sure to get a ton of credit for stepping in when UFC needed him. It would be hard to see him fall much in the rankings or the eyes of fans no matter what the outcome. Masvidal also got a new multi-fight contract, and he told ESPN's Ariel Helwani that he's very happy about the terms. If he brings in PPV buys and puts on a good show, I would expect Masvidal to be in more PPV Main Events soon, whether win, lose or draw this weekend.
UFC 251 Main Card Fight Previews
UFC 251 has more for MMA fans than just one big main event fight.
This event also includes two more UFC title fights! UFC Featherweight champion Alexander "The Great" Volkanovski (21-1) will defend his belt against the man he took the title from — Max "Blessed" Holloway (21-5). There was some public discussion from fans, and these fighters, that this fight could serve as the Main Event if Usman couldn't find a new opponent. Volkanovski is undefeated in the UFC, and his last loss was back in 2013. Holloway has been fighting in the UFC for over eight years, and he's a huge fan favorite. He was the Featherweight title holder for over two years, and he's sure to lay it all out to reclaim it as he and Volkanovski run it back.
Get a sneak preview of Volkanovski vs. Holloway 2, as these fighters prepare to run it back.
This stacked Main Event card goes three fights deep with title matches, but this last one is contender vs. contender. Peter "No Mercy" Yan (14-1) and Jose Aldo (28-6) will face off, and the winner will claim the vacant UFC Bantamweight championship. At UFC 249, the previous champion Henry Cejudo successfully defended his Bantamweight title, then retired after the match to leave the belt up for grabs. Yan feels like a champ in waiting, with a 6-0 UFC record and a win over legend Urijah Faber. Aldo is a legend himself as longtime UFC Featherweight champ, but this will be only his second fight at Bantamweight.
Still need more? How about a rematch of a fantastic Women's Strawweight title fight? Jessica Andrade (20-7) will face Rose Namajunas (9-4) just over a year after they last fought in the amazing main event from UFC 237.
How to get UFC 251 Prelims on ESPN
ESPN networks owns over 10 different channels, but the UFC 251 Prelims will be on ESPN as well as ESPN+. This isn't your normal Prelims, as ESPN and the UFC have combined the typical Prelims and Early Prelims cards into one super sized televised event. This Prelims Card includes eight big fights including a bout between two Light Heavyweight contenders, as Volkan Oezdemir (17-4) faces Jiri Prochazka (26-3-1).
You can get the UFC 251 Prelims from ESPN on five of the largest live TV streaming services. Hulu with Live TV and some of the other services offer a variety of free trials, while Sling TV's Orange Plan offers the lowest regular price. Check out the options, and select the one that is best for you. Then you can use the login and password for these streaming services in the ESPN app to watch the Prelims.
Hulu with Live TV
Sling TV - Sling Orange
AT&T TV Now - Plus Plan
YouTube TV
How to watch UFC 251 on your devices
The ESPN app has everything you need to watch all of UFC 251 online on your TV. Your best play is to install the app, and log in with your ESPN+ account and your Live TV streaming credentials before the event begins. If you need help, we can guide you through how to login and watch ESPN+ on your TV . The ESPN app is available on the major streaming platforms and game consoles including iOS and Android devices, Apple TV, Android TV, Chromecast, Fire TV, Roku, Samsung Smart TVs, PlayStation 4 and Xbox One.
UFC 251 Schedule and Fight Card
All times shown are Eastern time.
Prelims: 6 p.m. on ESPN+ and ESPN
Main Card: 10 p.m. on PPV
Post Show: 1 a.m. on ESPN+
The full event fight card, subject to change as always, is as follows:
Main Card — Pay Per View
Kamaru Usman (16-10) vs. Jorge Masvidal (35-13)
Alexander Volkanovski (21-1) vs. Max Holloway (21-5)
Peter Yan (14-1) vs. Jose Aldo (28-6)
Jessica Andrade (20-7) vs. Rose Namajunas (9-4)
Amanda Ribas (9-1) vs. Paige VanZant (8-4)
Prelims — ESPN & ESPN+
Volkan Oezdemir (17-4) vs. Jiri Prochazka (26-3-1)
Elizeu Zaleski dos Santos (22-6) vs. Muslim Salikhov (16-2)
Makwan Amirkhani (15-4) vs. Danny Henry (12-3)
Leonardo Santos (17-4-1) vs. Roman Bogatov (10-0)
Marcin Tybura (18-6) vs. Maxim Grishin (30-7-2)
Raulian Paiva (19-3) vs. Zhalgas Zhamagulov (13-3)
Karol Rosa (12-3) vs. Vanessa Melo (10-7)
Martin Day (8-3) vs. Davey Grant (11-4)
UFC 251 livestream
You can order the livestream of UFC 251 Usman vs. Masvidal today. New ESPN+ subscribers pay $84.98 for this pay-per-view and 1 year of ESPN+. Existing subscribers can pay just $64.99 for just the event, or $84.98 to upgrade from monthly to a 1 year subscription with the event. Either way, you will get an exciting night of top fights including Usman vs. Masvidal on July 11.
Get the latest updates, reviews and unmissable series to watch and more!
Thank you for signing up to WhatToWatch. You will receive a verification email shortly.
There was a problem. Please refresh the page and try again.