Baking It season 2: episode guide, trailer and everything we know about the Maya Rudolph and Amy Poehler series
The baking show lets real-life grandmothers be the judges of contestants desserts.d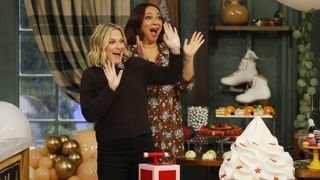 (Image credit: Jordin Althaus/Peacock)
For fans of The Great British Bake Off and are excited by The Great American Baking Show Celebrity Holiday, we have some good news for you: there's more baking coming to TV with Baking It season 2.
Baking It not only showcases some delicious desserts, but features comedic moments from Saturday Night Live alums Maya Rudolph and Amy Poehler as the hosts. Oh, and the judges on the show are real-life and opinionated grandmothers, who judging by the season 2 trailer, have some comedy chops of their own.
Here's everything we know about Baking It season 2.
Baking It season 2 release date
Baking It season 2 premiered in the US with the first episode on Peacock on Monday, December 12. The other episodes of the season become available on the following Mondays.
There is no official word yet as to when Baking It or the Baking It special airs in the UK.
Baking It season 2 episode guide
Below we've provided an episode guide which we will update as information becomes available. The season finale premiered on January 9.
Episode 1: "Bake, Bake, BOOM!"
"Maya and Amy start the new season with a bang, asking teams of bakers to recreate an exploded cake."
Episode 2: "Bake Your Fears"
"Maya and Amy challenge the bakers to create edible representations of their worst fears. The Panel of Opinionated Grannies tastes snakes, spiders, eyeballs and more to choose the winning Phobia Bake."
Episode 3: "Granny's Got a Brand-New Bake"
"Maya and Amy pull vintage recipes from the Grannies' purses and ask the bakers to give their modern take on old-fashioned dishes that are as retro as they are revolting."
Episode 4: "2 Sweet 2 Savory: Crustastrophe"
"The bakers must decide if sweet or savory is better. Amy and Maya ask them to bake a pie that puts their best taste forward in the semi-finals. One team is eliminated, and the final four continue to the finals."
Episode 5: "Explosive Master Bakes"
"Amy and Maya ask the bakers to bake it to the limit in their final challenge. The teams create a centerpiece dish for their favorite holiday celebrations to impress the Grannies one last time and win the cash prize in the explosive season finale."
Baking It season 2 premise
Here is the official synopsis for Baking It season 2:
"Baking It season 2 premieres December 12 on Peacock, with a new batch of bakers competing in teams in a series of captivating challenges hilariously designed by Maya and Amy themselves. These challenges will test the competitors across a variety of bakes for the chance to win some serious money and the adoration of the beloved Baking It judges, a panel of opinionated grandmothers!"
Baking It season 2 hosts
Returning to hosting duties is none other than comedian Maya Rudolph. The Emmy Award-winner was recently seen as Malvina in Disenchanted and heard as Connie in Big Mouth. Her comedic talent is also on full display in the new Apple TV Plus sitcom Loot.
Replacing Baking It season 1 host Andy Samberg (Brooklyn Nine-Nine) is Amy Poehler. Also an Emmy winner, Poehler spent years playing Leslie in the hit comedy series Parks and Recreation. Additionally, she's starred in Sisters, Baby Mama, Wine Country and voices Annie in Duncanville.
Baking It season 2 trailer
In an interesting move, Rudolph and Poehler sing a song for the Baking It season 2 trailer. Check it out below.
How to watch Baking It season 2
Baking It season 2 is a Peacock original series. Those hoping to watch it in the US need a Peacock subscription. Currently, the steamer offers a few different options for would-be subscribers.
Get the latest updates, reviews and unmissable series to watch and more!
Terrell Smith has a diverse writing background having penned material for a wide array of clients including the federal government and Bravo television personalities. When he's not writing as Terrell, he's writing under his pseudonym Tavion Scott, creating scripts for his audio drama podcasts. Terrell is a huge fan of great storytelling when it comes to television and film. Some of his favorite shows include The Crown, WandaVision, Abbot Elementary and Godfather of Harlem. And a fun fact is he's completely dialed into the TLC 90 Day Fiancé universe.
Thank you for signing up to Whattowatch. You will receive a verification email shortly.
There was a problem. Please refresh the page and try again.