Deadline — release date, trailer, cast interviews, plot, episode guide and everything we know
Deadline is a thriller starring Charlie Murphy as a femme fatale accused of murdering her husband.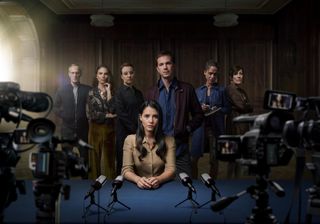 (Image credit: Channel 5)
Twisty thriller Deadline tells the story of Natalie Varga (played by Peaky Blinders star Charlie Murphy), who stands accused of murdering her husband. Agent Carter actor James D'Arcy plays James Alden, an investigative journalist who becomes captivated by the case and Natalie herself, yet must try to untangle his feelings to get to the truth.
The dark four-part thriller is produced by Clapperboard, who were behind the dramas Intruder and The Teacher, starring Sheridan Smith. It's written by BAFTA-nominated Gareth Tunley, the man behind The Ghoul and Cold Call, as well as Motherland writer Barunka O'Shaughnessy, so you can expect edge-of-your-seat stuff.
So here's everything you need to know about Deadline which has now arrived on Netflix…
Deadline release date
Deadline arrives on Netflix on Wednesday February 1 2023. It was previously shown on Channel 5 in the UK on Tuesday April 5 2022.
Is there a Deadline trailer?
Yes a trailer for Deadline has been released and this thriller does look tense. Take a look below at Charlie Murphy and James D'Arcy in action....
Deadline plot
In Deadline, elusive widow Natalie Varga (Charlie Murphy) stands accused of murdering her husband in cold blood and the court of public opinion has already decided she's guilty as charged. But Natalie is a difficult woman to get a handle on as she's perfected the art of adapting to her surroundings. After surviving a traumatic childhood, Natalie studied at Cambridge University and having escaped her roots she's become adept at switching from warm to aloof and from relatable to untouchable.
James Aiden (James D'Arcy) is an investigative journalist with one serious black mark on his career copybook already. He's now looking for redemption and decides to interview Natalie for his documentary. However he soon falls for the very femme fatale he's supposed to be profiling and loses his grip on reality. Can James unravel fact from fiction or will his own feelings prove to be the barrier to the truth?
Deadline cast — Charlie Murphy on playing Natalie Varga
Deadline star Charlie Murphy says of playing Natalie: "We open the series with a grieving Natalie Varga, her husband has been murdered, and it's roughly about six weeks after the fact so we find her in a very vulnerable and fragile state. Even before you see her, you see what people think of her, and you see what the media is saying about her before she gets to speak. It's the perfect setup from an audience point of view. She's quite buttoned-up! It was so enjoyable to have so many secrets, to eke out what tone she wants to give in that moment. You wonder — is she shy, or is she a manipulative character? That was a really fun line to dance."
Charlie previously played Jessie Eden, who led two factory walkouts in the 1920s and 1930s in Peaky Blinders from 2017 to 2019. She also starred as Ann Gallagher in Happy Valley, alongside Sarah Lancashire and Siobhan Finneran. Charlie will appear in the sci-fi adventure Halo later this year, which is based on the popular alien video game of the same name. She's also had roles in Love/Hate, The Last Kingdom and The Foreigner. In 2016 Charlie played Anne Brontë In To Walk Invisible: The Brontë Sisters.
Deadline cast — James D'Arcy on playing journalist James Alden
James D'Arcy says of his Deadline character James Alden: "I was sent the script, and immediately was struck by this flawed character who had, as it turned out, made a colossal mistake. Obviously ,we don't know that on page one, but I really loved the way that James had been written.
"He's a man in the doldrums of his career who is intrigued by this case — a very beautiful woman accused of murder. He gets an interview with her, and when they see each other initially, there's something between them he can't put his finger on. As they spend more time together, it becomes murkier and murkier, and we're led into a sort of Hitchcockian thriller, where the story is constantly not quite what you thought it was, and the rug is being pulled from under your feet every 10 or 15 minutes…"
James previously starred as Lee Ashworth in the hit drama Broadchurch back in 2015. He also played Edwin Jarvis in the series Agent Carter. He's had roles in Leonardo, Das Boot and Homeland. He's also appeared in movies such as Dunkirk, Master and Commander and Avengers: Endgame and will be in Banking on Mr. Toad, the story of The Wind in the Willows author Kenneth Grahame which is slated for release this year.
Who else is starring in Deadline?
Deadline will also star Indra Ové — The Unforgotten actor plays Barbara Curtis, who is James' boss and former old flame. Indira says: "I made a decision on Barbara very, very quickly. What struck me was her coolness. She seemed a woman on top of things, on top of her work, on top of her home life. She has kids, she's married, but she's also the top of her professional game. And with that came a coolness about her, and a sense of herself, a sense of who she is, and that really attracted me. And with that comes a strength, a groundedness, which is great in the story, and sits very well with James. She's got the balance right. The work/play/mother balance, and that's very attractive."
Brian Caspe (Jojo Rabbit and Doctor Who) plays a sinister henchman Toth (see pictured below) and Anamaria Marinca (Tin Star, Temple) is the formidable lawyer Mrs Molnar. Nina Senicar plays Natalie's former lover Vera and Ian Bonnar is Natalie's brother Oliver.
Deadline episode guide (with spoilers)
Here's our full episode guide for Deadline. Please look away if you don't want spoilers...
Episode 1
James Alden is a washed-up journalist making trashy documentaries when he lands the interview of the decade. Natalie Varga is suspected of murdering her rich Hungarian husband and she makes James an offer — find the killer and she'll give him the exclusive everyone wants. Years ago James was a rising star but he made one terrible mistake which derailed his career. This is his chance to get his life back by exonerating Natalie but it won't be easy. Everyone including his boss and old flame Barbra Curtis thinks she's guilty. James is drawn to Natalie but the interviews are tightly policed by her formidable lawyer Mrs Molnar. He questions Natalie's ex-lover Vera (NINA SENICAR) who gave her an alibi for the night of the murder. His nosing around attracts the attention of sinister henchman Toth who warns him off just as Natalie reveals the killer.
Episode 2
Natalie tells James she's just seen her dead brother. Oliver went on the run after borrowing from drug dealers in Budapest. Mrs Molnar provides a Hungarian police file which implicates him in another murder attempt. He's officially dead from a drugs overdose and their mother identified the body. James and Barbara doorstep Natalie's mother Mary (JANE SLAVIN) and learn she's protecting Oliver. James is viciously attacked by Toth and given a final warning to stop looking. James ignores the threat and finds Oliver's new family being taken to the airport by Vera. James and Natalie become closer and he reveals why he gave up serious journalism. In his relentless chase for a story and the truth, he contaminated evidence at a murder scene that resulted in the killer being released. He has never forgiven himself. Determined now to redeem himself, he's on the next plane to Budapest to find Oliver but so is Toth.
Episode 3
James has a terrifying flight to Budapest where he discovers it's very easy to kill someone on a plane. He manages to evade Toth and Barbara joins him to track down Vera. Vera denies knowing Oliver is alive and threatens to report them for harassment. James and Barbara part company when she realizes he's become emotionally involved with Natalie. Alone, James finds Natalie's ex-boyfriend who was supposedly pushed off a roof by her brother. But now he denies it and says it was Natalie. Natalies ex, Luckas warns James to be careful. Toth finally corners James and is about to kill him when James gets some unexpected help. James follows Vera to Oliver's family and travels outside the city to where Oliver is being held by Toth's accomplice. James reports back to Natalie that he's found her brother but before he can escape he comes face to face with the killer.
Episode 4
Everything James thought he knew has been turned upside down and he barely escapes with his life. He returns to London to pursue the killer but Barbara has fired him from his job and no-one believes his stories of what happened in Budapest. When he refuses to drop the case the police arrest him. He finally finds the one piece of evidence which proves the killer's identity and motive but it may also lead to his destruction.
Get the What to Watch Newsletter
The latest updates, reviews and unmissable series to watch and more!
TV Content Director on TV Times, What's On TV and TV & Satellite Week
I'm a huge fan of television so I really have found the perfect job, as I've been writing about TV shows, films and interviewing major television, film and sports stars for over 25 years. I'm currently TV Content Director on What's On TV, TV Times, TV and Satellite Week magazines plus Whattowatch.com. I previously worked on Woman and Woman's Own in the 1990s. Outside of work I swim every morning, support Charlton Athletic football club and get nostalgic about TV shows Cagney & Lacey, I Claudius, Dallas and Tenko. I'm totally on top of everything good coming up too.