Koala Man: release date, trailer, cast and everything we know about the animated comedy
Meet the newest wannabe superhero, Koala Man.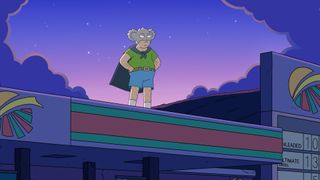 (Image credit: Courtesy of Hulu)
Koala Man is Hulu's latest animated comedy aimed for adults, releasing in early 2023. Created by Australian animator Michael Cusack (YOLO: Crystal Fantasy, Smiling Friends), who also provides the voice of the eponymous hero, Koala Man is executive produced by Justin Roiland, Dan Hernandez and Benji Samit.
Roiland is the co-creator of Rick and Morty, while Hernandez and Samit wrote Pokemon Detective Pikachu, as well as on The Tick and Central Park, meaning the show has a strong background of comedic chops.
Take a look below to see everything you need to know about Koala Man on Hulu
Koala Man release date
Koala Man premieres on Hulu in the US on Monday, January 9. Global audiences don't need to fret, though, as they is available to watch on Disney Plus on the same day. All episodes are going to be available to watch immediately.
See what else is new on Hulu and Disney Plus in January.
Koala Man trailer
The good folks over at Hulu and 20th Television Animation have released a trailer for Koala Man, which shows just how zany and hilarious the comedy should be. Take a look below.
Koala Man cast
Koala Man has a remarkably strong vocal cast. Cusack plays middle-aged dad Kevin McKay, who passes his time as the wannabe superhero Koala Man, while he also voices the characters Liam McKay, Damo and Darren.
Meanwhile, the rest of Koala Man's ensemble includes some of best acting talent from Australia/New Zealand available. Hugh Jackman (X-Men, The Prestige) plays Big Greg, Sarah Snook (Succession) voices Kevin's wife Vicky McKay, while comedian Demi Lardner stars as their daughter Alison.
It doesn't stop there, though. Jermaine Clement (Flight of the Concords, Avatar: The Way of Water) plays Principal Bazwell, Rachel House (Hunt for the Wilderpeople, Thor: Ragnarok) stars as Annie, while Miranda Otto (The Lord Of The Rings trilogy) and Hugo Weaving (The Matrix) have guest roles, too.
All of which means Koala Man is pretty star-studded. But what is actually going to happen in the show?
Koala Man plot
Kevin McKay possess a deep desire to tackle petty crime in the Australian suburb of Dapto that he calls home.
So much so that the middle-aged father has his own not-so secret identity as Koala Man, a superhero with no discernible powers who tries to stop people from committing minor offenses. Kevin even convinces his frustrated wife and their offspring to help in his pursuits, much to their annoyance
That's until genuine evil forces, both of a cosmic and man-made nature, start to unleash chaos on the terrified and unsuspecting Daptonians. Koala Man leaps at the chance to keep Dapto safe, as he's not afraid to tackle evil geniuses, terrifying monsters or just people who don't take their trash-cans out on the right days.
Koala Man episodes
Hulu have also released the officials synopsis for Koala Man episodes:
Koala Man episode 1, "Bin Day"
"Kevin forgets to take the garbage bins down."
Koala Man episode 2, "Deep Pockets"
"Koala Man tries to get an official superhero license from Big Greg so he can compete with the Tradies. At school, Vicky launches a healthy initiative, banning soft drinks."
Koala Man episode 3, "The Red Hot Rule"
"The Queen is coming to Dapto! Koala Man is thrilled and volunteers to run security. Unfortunately, Liam cares more about his new American friend, Chad Wagon, than the Queen."
Koala Man episode 4, "The Great One"
"The Williams family visits the Dapto Royal Show, where a meteor crashes into Dapto. Its residents start behaving oddly, led by an eerily calm Janine. Vicky is feeling unfulfilled by Kevin."
Koala Man episode 5, "Ode to a Koala Bear"
"Liam and Alison leave for a weekend music camp in the Outback, but Liam forgets his jacket. Kevin insists on bringing it to him, but must face down kangaroos, evil and his own past."
Koala Man episode 6, "The Handies"
"Dapto is hosting the Handball Olympics! A shocking tragedy strikes the team, so Koala Man steps up to form a new one. He recruits Alison and Liam, coaching them to play fair."
Koala Man episode 7, "Emu War II"
"When someone makes an omelette out of the Royal Emu Egg, the emus take revenge by attacking Dapto. Koala Man will do everything he can to protect his family in the face of avian war."
Koala Man episode 8, "Hot Christmas"
"Koala Man is on the verge of death, stuck on Toothbrush Island and desperate to finally face off with The Kookaburra. Back home, Vicky misses Kevin and feels that Christmas won't be the same without him."
How to watch Koala Man
In the US, Koala Man is exclusively available to watch on Hulu, so you'll need a subscription to the streaming service to enjoy its comedic offerings. Either you can get a standalone Hulu subscription, or you can get Hulu with Live TV or the Disney Bundle.
For UK and other viewers outside the US, Koala Man plays on Disney Plus, which you also need a subscription to access content.
Get the latest updates, reviews and unmissable series to watch and more!
Born and raised in England but now based in Philadelphia, Gregory Wakeman has written for the BBC, New York Times, The Guardian, GQ, and Yahoo Movies UK, all while defiantly trying to keep his accent.
Thank you for signing up to Whattowatch. You will receive a verification email shortly.
There was a problem. Please refresh the page and try again.