Bargain-Loving Brits in the Sun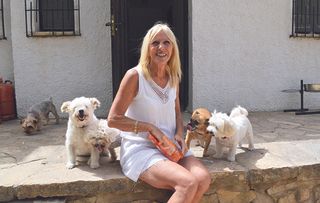 John Thomson's warm, dry voiceover anchors another look at life by Brits on a budget in Spain – on the Costa Notalot
John Thomson's warm, dry voiceover anchors another look at life by Brits on a budget in Spain – on the Costa Notalot.
There's retiree Linda, who's set up a charity to rescue dogs, including Flora, pregnant with seven puppies and now having seizures. Will Flora and her pups survive?
For Dave, his bar business has gone well in its first year but he reckons it needs a sun terrace to really pull in the punters. Can he get something that will do the trick for only seven grand?
As for Eddie and Ros, from Liverpool, the euro-a-litre wine means they can have a 'champagne lifestyle on a lemonade budget'. Salud!, as they say in Spain!
Thank you for signing up to Whattowatch. You will receive a verification email shortly.
There was a problem. Please refresh the page and try again.