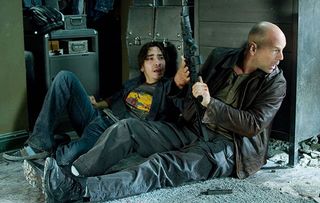 (Image credit: Frank Masi)
Returning as detective John McClane after more than a decade away, Bruce Willis proves he still has the action man moves in this explosive fourth film
Returning as detective John McClane after more than a decade away, Bruce Willis proves he still has the action man moves in this explosive fourth film.
The plot seems simple enough: he has to escort young computer hacker Justin Lang to Washington DC. But a cyber-terrorist gang, led by Timothy Olyphant (doing a nice line in smug, oily villainy), want Long dead because he could stop their dastardly plot to wreck the country's entire computer network on the Fourth of July holiday weekend.
'You're a Timex watch in a digital age!' observes Bruce's cynical adversary - but our hero keeps on ticking.
With non-stop action and hilarious wisecracking, this is a stonkingly good action thriller. Sit back and enjoy as Bruce dodges bullets by the thousand, shoots down a helicopter (with his car!), hangs off the tail of a fighter jet and dangles in a lift shaft with a kung fu-fighting female assassin.
Thank you for signing up to Whattowatch. You will receive a verification email shortly.
There was a problem. Please refresh the page and try again.