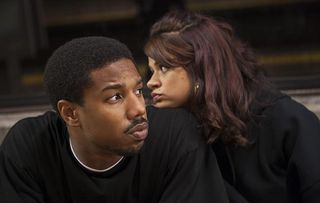 (Image credit: © Spirit Entertainment)
This film about the real-life shooting of young black man Oscar Grant (Michael B Jordan) at the hands of cops in 2009 is notable for its restraint and compassion
This film about the real-life shooting of young black man Oscar Grant (Michael B Jordan) at the hands of cops in 2009 is notable for its restraint and compassion.
There is outrage, too, in writer-director Ryan Coogler's account of 22-year-old Grant's fateful encounter with the police on a train station platform in Oakland, California in the early hours of New Year's Day, which was caught on mobile phones by appalled bystanders and provoked riots in the days that followed. However, Coogler wants us to feel a sense of loss at Grant's death and does so by reconstructing the intimate, ordinary details of his life over the course of his final day. The lad we encounter is no saint. He's been to prison, been fired from his job and been caught cheating on his girlfriend. But, as superbly played by Jordan, he's also touchingly human, a young man striving to get his life on track. Knowing what lies in store for him, foretold in the authentic mobile-phone footage that opens the film, lends poignancy to the most trivial of events - taking his infant daughter to kindergarten, preparing a birthday card for his mother - and reminds us that miscarriages of justice are also terrible personal tragedies.
Get the latest updates, reviews and unmissable series to watch and more!
Thank you for signing up to Whattowatch. You will receive a verification email shortly.
There was a problem. Please refresh the page and try again.