The Hobbit: The Desolation of Smaug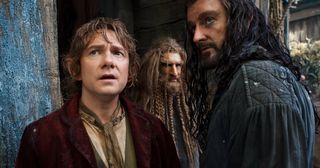 (Image credit: Mark Pokorny)
Director Peter Jackson picks up the pace with his second instalment of The Hobbit trilogy
Director Peter Jackson picks up the pace with his second instalment of The Hobbit trilogy. And so does Martin Freeman's unassuming hero Bilbo Baggins as the quest to reclaim the lost dwarf kingdom of Erebor gathers momentum. It's a thrilling journey from start to finish as Bilbo and his dwarf companions fend off giant spiders, repel marauding orcs - with aid from elves Legolas (Orlando Bloom) and Tauriel (Evangeline Lilly) - and steel themselves for a fateful encounter with terrifying dragon Smaug, voiced sinuously by Benedict Cumberbatch. Ian McKellen's wizard Gandalf has his own share of hair-raising encounters, too, and the implacable Gollum (Andy Serkis) is lurking in the shadows. The visual effects are stunning, but they never, ahem, dwarf the actors and Freeman, McKellen and their co-stars continue to breathe vivid life into Tolkein and Jackson's awesome fantasy.
Get the latest updates, reviews and unmissable series to watch and more!
Thank you for signing up to Whattowatch. You will receive a verification email shortly.
There was a problem. Please refresh the page and try again.