Kirstie's Handmade Christmas – C4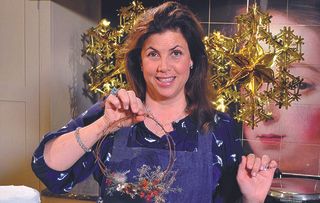 (Image credit: Channel 4 Television)
Kirstie Allsopp applies her craft skills to the festive season
'It's beginning to look a lot like Christmas…' Kirstie is getting crafty and if the urge to get trigger-happy with the snow spray is just too strong tune into Kirstie's Handmade Christmas on C4.
Before the daily daytime series starts proper next week Kirstie is getting in the festive spirit with oodles of crafty Christmas makes and ideas.
From a stunning centrepiece for the Christmas table to retro cocktails and a pudding to impress your yuletide dinner guests, this is a Christmas cracker of a show full of ideas, tips and tricks to celebrate the magic of Christmas in style.
There are also handmade gifts ideas including a magical wand for little ones, easy pop-up cards and natural beauty products to make friends and family feel extra special.
Here, in an exclusive interview, Kirstie, 47, tells us about the crafters she meets this year and shares her top tips for making sure Christmas Day is a stress-free zone…
What were your favourite things to make this time? There were so many! I made whipped aromatherapy body cream, pop-up cards and I learnt how to do snowy windows with a guy who creates the most incredible works of art. I also loved the amazing pudding we made, which is a kind of tiramisu. You basically use leftover panettone, soak it in whatever alcohol you have lying about, and add mascarpone, sugar and egg yolks. It was divine and honestly took no more than 10 minutes from start to finish. My kind of pudding!
What's new in the world of craft this Christmas? The trend at the moment seems to be macramé [a form of textiles made using knotting techniques], it's very 1970s and I loved it. We make plant hangers and a table runner on the show. I became slightly addicted! You get in the zone and just sit there knotting and knotting. If you're not very good at knitting or crocheting but want a similar effect, I really recommend it. You can make little stars and decorations to hang off the tree.
What are the best crafts to make with children? Anything foodie is always good. Children are great at decorating labels and jars. And for people short of time, I did something called needle-punch embroidery, which I'd never tried before. It's really easy and fast – you create a kind of rag-rug effect that looks lovely.
What are your tips for achieving the perfect festive season? The first thing is don't be a martyr. You can't go around sighing and telling everyone how exhausting it all is. That doesn't work for anyone! The second is, if you've got people coming, ask them in advance for help by bringing something they like most. A pudding, cake, cheese, booze, whatever. Not only does it take the pressure off you, but it makes everyone feel involved and needed. My other tip is freeze as much as you can now to get ahead of the game.
And if you're a '1.30pm Christmas lunch' person, change to a '6pm Christmas dinner' person. I was always a lunch person until I met my other half, Ben [Andersen], who was an evening person. What a revelation. It is so much easier!
TV Times rating: ****
Get the latest updates, reviews and unmissable series to watch and more!
Thank you for signing up to Whattowatch. You will receive a verification email shortly.
There was a problem. Please refresh the page and try again.