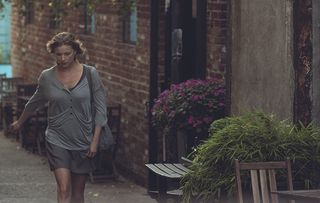 (Image credit: © Icon Film Distribution)
Emily VanCamp stars in this timely, subtly compelling drama about a woman grappling with the long-term repercussions of her teenage encounters with a predatory older man
Emily VanCamp stars in this timely, subtly compelling drama about a woman grappling with the long-term repercussions of her teenage encounters with a predatory older man.
Nearing 30 when we first meet her, VanCamp's Alice is clearly emotionally damaged. A smart, sardonic junior editor for a Manhattan publisher, she is wracked with self-doubt and self-loathing. She reels from one drunken one-night stand to the next and seems intent on sabotaging any chance of a fulfilling relationship. She is also a thwarted author, crippled with writer's block.
Making matters even worse, her condescending male boss has just given her the unwelcome task of supervising the reissue of a 15-year-old bestseller by celebrated author Milan Daneker (played by Swedish actor Michael Nyqvist, who died earlier this year).
Which brings us to the source of Alice's troubles. As a teenager (played in extensive flashbacks by Ana Mulvoy-Ten), Alice was the inspiration for Milan's acclaimed book.
A client of Alice's domineering literary agent father (Michael Cristofer), Milan exploited his self-appointed role as Alice's writing mentor – and not only sexually for, equally secretly, he plundered her life for his novel. So his reappearance in Alice's life is doubly painful.
First-time writer-director Marya Cohn relates all this with insight, sensitivity and skill, only faltering slightly towards the end when things get unnecessarily sappy. However, VanCamp and Mulvoy-Ten are both superb, expressing the consequences of Alice's ordeal with devastating clarity.
Get the What to Watch Newsletter
The latest updates, reviews and unmissable series to watch and more!