Will Sienna really marry Ben?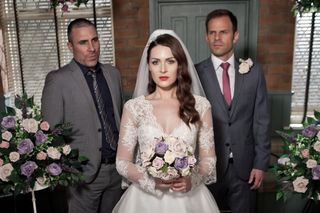 As Sienna and Ben prepare to get married, Sienna knows she's walking down the aisle to the wrong man. She tries to tell Trevor but Grace interrupts and she invites them both to the wedding instead. At the ceremony, Ben and Trevor square up to each other – just as Sienna arrives with Maxine and Jack by her side. Sienna walks down the aisle, glancing at Trevor. She and Ben exchange vows and are declared husband and wife. Nico sheds a tear as she watches Sienna and Ben have their first dance, but when she gets a tissue from her mum's bag she discovers a letter from Sienna to Trevor…
When Harry goes to the shack to look for a memory stick containing his revision notes, he bumps into James, who's using the shack for storage. As James helps him look, Harry notices an engraving on the floor of the shack: "Cameron is a killer". Meanwhile, Ste's worried when he gets a text from the hospital about his CD4 test results. As Leela waits with Ste at the hospital, conversation turns to Lockie. Later, at the Lomaxes', Leela suggests to Cameron that he should call Lockie. He pretends to but then tells Leela that Lockie is in Italy.
Also, Tony's panicking about his relaunch on Wednesday, while Marnie is a wolf in sheep's clothing watching him struggle. When Tony can't afford to pay any of his suppliers, Marnie suggests he contact her loan shark friend…
Get the latest updates, reviews and unmissable series to watch and more!
Thank you for signing up to Whattowatch. You will receive a verification email shortly.
There was a problem. Please refresh the page and try again.