Meet the Waterloo Road season 11 cast: who's who in the BBC school drama
Here's our breakdown of the Waterloo Road series 11 cast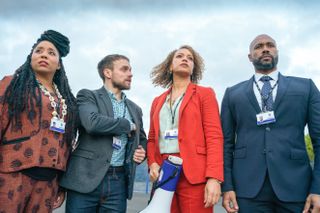 (Image credit: BBC)
Here's a rundown of all the parents, staff and pupils that make up the Waterloo Road season 11 cast.
After years away from our screens, the beloved school drama is back on BBC One. Having returned to Greater Manchester, the BBC has promised that Waterloo Road series 11 will feature plenty of drama for new and old fans to get hooked on, ranging from "riots, scandals, fractured families and challenging kids"...everything we would expect from Waterloo Road, then!
A new school year also means plenty of fresh faces, and Waterloo Road series 11 also features plenty of fresh members of staff and a whole new set of pupils for them to manage. Read on to find out a little bit about the staff, students, and parents who are set to feature in the new series.
Meet the Waterloo Road series 11 cast: Staff and Parents
Angela Griffin as Kim Campbell
Angela Griffin the cast as Kim Campbell, a role she previously played in the original show. Kim's no longer Head of Pastoral though, as she's now Waterloo Road's headteacher. When we join her, she's been in her post for two years, having pipped Lindon King to the post and joining just at the start of the COVID-19 pandemic, and she's hoping for a return to normal...whatever that looks like.
Where else have you seen Angela Griffin? Aside from her run on Waterloo Road, Angela is known for playing Fiona Middleton in Coronation Street and has also appeared in Irvine Welsh's Crime, Holby City and White Lines, among many others. Most recently, she appeared in the Prime Video festive film, Your Christmas or Mine?
Adam Thomas as Donte Charles
Emmerdale favorite Adam Thomas is returning to play the adult Donte Charles. He's grown up a lot since we last saw him as a pupil, and is now a proper family man with Chlo.
Where else have you seen Adam Thomas? Adam's likely best known for either Donte or being Adam Barton in Emmerdale, though he's also appeared in Casualty, and in the travelogue Absolutely India: Mancs in Mumbai along with his late father Doguie and his brothers Ryan and Scott. He also came third in the 2016 series of I'm A Celebrity... Get Me Out of Here!
Katie Griffiths as Chlo Charles
Like Adam Thomas, Katie Griffiths is also reprising her role as Chlo Charles, Donte's wife. Although the early years of their relationship were a little tough (especially having kids whilst studying), the duo are firmly on the right track now and they're both very excited that their daughter Izzy is starting school.
Where else have you seen Katie Griffiths? Katie's arguably best known for playing Chlo in the original run of Waterloo Road, though she's also appeared in Casualty, Father Brown, Doctors and Coming Down the Mountain.
Kym Marsh as Nicky Walters
Kym Marsh plays Nicky Walters, a mum of two teens at the school. She's taken a temporary role as a dinner lady at the school after having been forced to close her salon.
Where else have you seen Kym Marsh? She also took part in the most recent series of Strictly Come Dancing with Graziano Di Prima.
Vincent Jerome as Lindon King
Vincent Jerome plays Lindon King, one of Waterloo Road's Deputy Headteachers. He's Head of Behaviour and Science, and he coaches the Waterloo Warriors school basketball team. He's also apparently got one eye on Kim's job!
Where else have you seen Vincent Jerome? Aside from Waterloo Road, Vincent has appeared in Transformers: The Last Knight, Wonder Woman 1984, Sins of Solitude and The Peripheral.
James Baxter as Joe Casey
James Baxter plays Joe Casey, Waterloo Road's other deputy head. He's described as Lindon's "laid-back alternative" and many of the staff seek him out to solve their issues. He's also married to Mike Rutherford, a local police officer.
Where else have you seen Joe Casey? Joe's appeared in The Witcher, Emmerdale, Wolfe, Harriet's Army and he starred as Anthony in Alma's Not Normal.
Neil Fitzmaurice as Neil Guthrie
Neil Fitzmaurice stars in the Waterloo Road cast as Neil Guthrie, the school's current Head of History and union rep. His personal life has suffered a serious shake-up in recent years, prompting him to stop discussing life outside school with the rest of the faculty, forcing him to live a lie he's worried he can't keep up.
Where else have you seen Neil Fitzmaurice? Neil's arguably best known for playing Mark's archnemesis, Jeff in the much-loved sitcom, Peep Show. He's also appeared in Phoenix Nights, Brassic, The First Team and Semi-Detached.
Rachel Leskovac as Coral Walker
Rachel Leskovac stars as Coral Walker, a trusted (though, apparently, not well-liked!) member of staff who is extremely hard-working. She's a stickler for the rulebook and looks out for the kids... on her own terms.
Where else have you seen Rachel Leskovac? Rachel has appeared in Coronation Street as Natasha Blakeman; her other roles include appearances in Hollyoaks, WPC56, Happy Valley, All Creatures Great and Small, and Shameless.
Katherine Pearce as Amy Spratt
Katherine Pearce plays Amy Spratt, a working-class, newly-qualified English and Drama teacher with a background in youth work. Although this means she gets on well with the students, she might struggle adapting to the more formal learning environment of Waterloo Road.
Where else have you seen Katherine Pearce? Katherine has appeared in Rules of the Game, Coronation Street, My Cousin Rachel, Girlfriends and Vera.
Jo Coffey as Wendy Whitwell
Jo Coffey plays Kim's loyal secretary, Wendy Whitwell. She's described as being able to take everything in their stride and someone who handles her heavy workload, without complaint.
Where else have you seen Jo Coffey? Jo's previous roles include appearances in The Witcher: Blood Origin, Avoidance, EastEnders, Extraordinary and Artemis Fowl.
Shauna Shim as Valerie Chambers
Shauna Shim stars as music teacher, Valerie Chambers. Val came to teaching later in her career and is passionate about the power of music to heal. She draws on her Trinidadian and Jamaican heritage, though she has a short fuse when it comes to core curriculum and governmental guidelines around the arts.
Where else have you seen Shauna Shim? Shauna has appeared in Somewhere Boy, The Capture, The Savages and Finding Alice, though she's likely best known to younger viewers for her role as Miss Drill in The Worst Witch.
Sonia Ibrahim as Jamila Omar
Sonia plays the Waterloo Road social worker, Jamila Omar, who is always willing to do her best to provide support to the pupils. She described her character as "a warm person" and someone who "definitely puts the kids first but does it in the right way".
Where else have you seen Sonia Ibrahim? Sonia has previously appeared in Coronation Street as Mel Maguire and has had roles in Whiskey Cavalier and The Windsors.
Ryan Clayton as Mike Rutherford
Ryan Clayton rounds out the adult cast as Police Sergeant Mike Rutherford. He's married to Joe, and together the pair have two foster kids attending the school.
Where else have you seen Ryan Clayton? Ryan has appeared in Coronation Street, Exile, and Young Dracula, and he's had a variety of roles on stage including the sell-out tour of Gypsy Queen
Adam Abbou as Danny Lewis
Adam Abbou plays Danny Lewis. Danny is receiving additional support from Kim Campbell and he's promised he won't let her and Val down, but that may not be a promise he can keep.
Where else have you seen Adam Abbou? Adam's previously starred in The Rising, Casualty and Time, and he played the title role in Billy Elliot The Musical for four years.
Priyasasha Kumari as Samia Choudry
Priyasasha Kumari is one half of Waterloo Road's latest power couple. On the surface, her partnership with Preston is picture-perfect, though she's starting to wonder whether there's more to her relationship than good looks.
Noah Valentine as Preston Walters
Preston is the new Waterloo Road kingpin who's currently paired off with Samia. Popular, intelligent and attractive, he's the school heartthrob and has developed enough confidence and the self-belief to withstand anything that comes his way. Apparently, he takes his school authority and skills "completely for granted."
Where else have you seen Noah Valentine? Valentine has already appeared in a range of popular British shows including Casualty, Hollyoaks, Emmerdale, The Bay and Inside No. 9.
Adam Ali as Khalil 'Kai' Sharif
Adam Ali plays Kai Sharif, a basketball ace who's described as being "easy in his own skin" and "comfortably gay and pretty camp — even if he does tone it down a bit at home".
Where else have you seen Adam Ali? Ali is both an actor and filmmaker. He played Zain in Little America and starred in Haider Rashid's EUROPA.
Alicia Forde as Kelly-Jo Rafferty
Kelly-Jo Rafferty loves to stir up trouble for Waterloo Road staff, and the teachers all dread having her in their lessons, though the real reason she's so disruptive is just that she struggles to concentrate.
Where else have you seen Alicia Forde? Alicia's prior roles include appearances in Ryan Can't Read and The Painter and the Poet.
Francesco Piacentini-Smith as Dean Weaver
Francesco stars as Dean Waver, who sounds like he's on track to be another one to watch in the classroom. Dean's described as "a ducker and weaver, into all sorts; like a modern day Artful Dodger".
Where else have you seen Francesco Piacentini-Smith? Aside from Waterloo Road, Francesco has starred in The Nest opposite Jude Law and Mayday, and he was a series regular in Outlander's fifth season. He's also due to appear in Masters of the Air on Apple TV Plus.
Liam Scholes as Noel McManus
Liam Scholes plays Dean Weaver's best friend, Noel McManus. "Big daft Noel" is constantly finding himself in hot water alongside his best mate, though his good humour and cheeky charm usually mean he's more likely to steer clear of serious consequences.
Where else have you seen Liam Scholes? Scholes has had roles in Butterfly, Peaky Blinders and Coronation Street.
ChiChi Ulebor as Shola Aku
ChiChi Ulebor plays the highly principled student Shola Aku. Shola is described as being intelligent, focussed and ambitious and as "a one woman machine, hell bent on highlighting the injustices around the school and the world."
Where else have you seen ChiChi Ulebor? ChiChi has had several small roles in Sherwood, All Creatures Great and Small and Class Dismissed.
Lucy Begg as Caz Williams
Newcomer Lucy Begg plays Caz, Waterloo Road's head pupil. She's a determined, smart, level-headed pupil and a talented artist who "refuses to let her disability or sexuality define her".
Where else have you seen Lucy Begg? Lucy is a relative newcomer, though she has also appeared in ITV's Ridley.
Thapelo Ray as Dwayne Jackson
Thapelo Ray plays Dwayne Jackson, a 14-year-old who has had to become responsible for his younger brother, Zayne (played by Inathi Rozani). Apparently, life for the pair was "the two of them against the world"... until they met Joe and Mike.
Where else have you seen Thapelo Ray? Thapelo has also appeared in Nativity 3 and in the BBC daytime series, Doctors.
Summer Violet Bird as Tonya Walters
Summer Violet Bird rounds out the main series cast as Tonya Walters. According to the info we have, Tonya has always found herself to be low on her mum Nicky's list, though she does find some common ground with her best friend, Izzy, owing to their family issues.
Get the latest updates, reviews and unmissable series to watch and more!
Staff Writer at WhatToWatch.com
Martin is a Staff Writer with WhatToWatch.com, where he produces a variety of articles focused on the latest and greatest films and TV shows.
Some of his favorite shows are What We Do In The Shadows, Bridgerton, Gangs of London, The Witcher, Doctor Who, and Ghosts. When he's not watching TV or at the movies, Martin's probably still in front of a screen playing the latest video games, reading, or watching the NFL.
Thank you for signing up to Whattowatch. You will receive a verification email shortly.
There was a problem. Please refresh the page and try again.