Canceling Hulu with Live TV? Here are some great alternatives
published
If Hulu's live TV offering is too expensive for you, it's time to try a new service.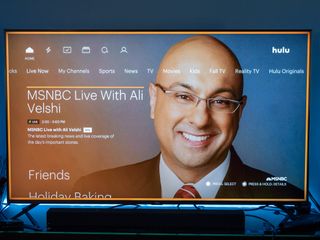 (Image credit: CordCutters)
Hulu With Live TV is the biggest live TV streaming service in the United States. It's no longer one of the less expensive options. Starting Dec. 18, 2020, Hulu With Live TV is increasing its rates and will cost $64.99 a month — same as YouTube TV. That's the second $10 increase in as many years, and it's sending folks looking for options.
Fortunately, there are options. And good ones, at that.
The aforementioned YouTube TV is one of them. Old standby Sling TV is another. And there are other viable alternatives as well.
Here's a quick look at what you should look at if you're looking at getting rid of Hulu With Live TV. (Just remember that if you go, you won't get a new Hulu free trial under that same email.)
Fubo TV
You'll be forgiven if you've not heard of Fubo TV before. It's one of the newer streaming services and definitely doesn't have the name recognition of the others. But what it does have is a pretty decent list of live channels.
And where Fubo TV really stands out is with its sports offerings. It's lacking ESPN, but it's got other options that you can't find anywhere else. And Fubo TV is one of the only ways to watch any live sports in 4K resolution in the United States.
Fubo starts at $64 a month for the basic service (and before any of the add-ons). And for $79 a month you can upgrade things to more than 100 channels.
Sling TV
Sling still is one of the least expensive ways to watch Live TV. It's also as close as you can get to having a true "a la carte" service, wherein you only pay for the channels you watch. And there's a Sling TV free trial, so be sure to use that.
For $35 a month you'll get either the Sling "Blue" or Sling "Orange" plan. (You can get both for $50 a month.) From there you'll add on the "Extras" — packages that include things like more sports channels, or more news channels, or various entertainment channels. It's not quite a la carte, but it's closer, and it lets you build your own lineup better than any other service out there.
Philo TV
If you just want the basics — and only the basics — and don't want to pay too much for them, definitely check out Philo TV.
This one's pretty simple. It doesn't have all the major channels you'll find elsewhere, but it does have a surprisingly decent lineup for just $20 a month.
You really can't find a cheaper deal on live TV anywhere.
AT&T TV
AT&T TV is the 500-pound gorilla in the room. It has more available channels than any other service. Its plans start at $65 a month (and that includes HBO, which AT&T now owns) and can go all the way up to a whopping $135 a month if you just have to have all the channels.
And there's an added twist here — if you've got an unlimited plan with AT&T Wireless, you can save a ton of money and even get some stuff free. (That'll vary a little and is subject to change, of course.)
So, yeah. If you're an AT&T subscriber you should definitely take a look here.
YouTube TV
Google's live TV service — YouTube TV — is one of our favorites to use because it's so simple. One monthly fee of $65, tied to your Google account. One list of channels. Just a few add-ons (including Showtime and NBA TV and Fox Soccer Plus), and that's it. And be sure to take advantage of the YouTube TV free trial.
Plus YouTube TV has unlimited cloud-based DVR, support for multiple profiles, and works well on just about any hardware you have.
For more, please see our YouTube TV vs. Hulu guide.
Get the latest updates, reviews and unmissable series to watch and more!
Thank you for signing up to Whattowatch. You will receive a verification email shortly.
There was a problem. Please refresh the page and try again.