Philip Glenister would be 'up for Life on Mars movie'!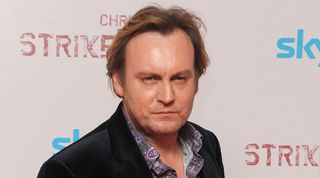 Philip Glenister has said he would like to resurrect his defining TV character DCI Gene Hunt.
The actor played the inspector in BBC One's Life On Mars between 2006 and 2007 and then reprised the role in the sequel Ashes To Ashes from 2008 to 2010.
He told the Radio Times he would never rule out playing Gene again – and that he likes the idea of a big-screen adaptation of the series.
"Oh, yeah, I'd do it. Yeah, you bet," he said.
"(Co-star) John (Simm) and I were talking about it a while ago and I think he'd be up for it. Maybe to do a Life On Mars movie in some form, if we could find an angle – I think we'd be up for that, for sure."
Philip Glenister (Ian West / PA)
The actor's latest alter-ego is a hard-bitten West Virginian clergyman in the American series Outcast.
It follows a troubled young man who, along with the Reverend, battles demonic possession.
The 53-year-old said he was watching television with his wife Beth Goddard when he found the inspiration for the character.
"Beth and I were sitting in bed watching this TV evangelist," he said.
"He was cool, good-looking, had ripped jeans on, the T-shirt, legs draped over the edge of the stage. I thought, 'It's rock-star time. He's the rock star. This is his domain.'
- 5 : Days -
The unraveling is set to begin. #Outcast premieres June 3.https://t.co/Ed9gUQx16q
— Outcast Cinemax (@OutcastCinemax) May 30, 2016
"That power he wields over people, that brainwashing thing, the celebrity that rock stars have, especially over young impressionable kids. Look at One Direction and all that."
Get the latest updates, reviews and unmissable series to watch and more!
Thank you for signing up to Whattowatch. You will receive a verification email shortly.
There was a problem. Please refresh the page and try again.