Queer as Folk season 1: cast, trailer and everything we know about the reboot
A second US reboot of the British original series is now streaming.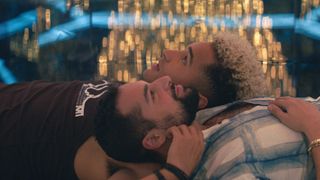 (Image credit: Peacock)
Making another US run, Queer as Folk has been reimagined for a second reboot. The groundbreaking British series from Russell T. Davies found a lot of success among fans when it first aired in 1999. So much so, that Showtime adapted the series in the US a year later.
Now over 20 years have passed and show creator and executive producer Stephen Dunn has opted to retool the hit with a diverse cast that aims to be more inclusive and reflective of the current culture.
Here's everything we know about Queer as Folk.
When is the next Queer as Folk season 1 episode?
Queer as Folk season 1 started streaming in the US on Peacock as of Thursday, June 9. Those hoping to watch the series in the UK can do so on Sky TV and NOW, as Peacock Originals are available on those platforms.
In a programming note, in light of the recent Texas shooting of a school, The Hollywood Reporter details that Peacock will place a warning for viewers in the premiere episode. The statement will read:
"Queer as Folk is a fictional series about the vibrant LGBTQ community in New Orleans rebuilding after a devastating tragedy. Some viewers may find elements of the first episode distressing as it depicts the aftermath of a shooting. Our hearts go out to all of those affected by these senseless tragedies."
With all of that said, below you will find an episode guide for season 1. Given that all the episodes are now available, you can binge the season or take your time viewing the brand new series.
Episode 1: "Babylon"
"Brodie returns to New Orleans and finds his life irrevocably changed after a night out at Babylon with Ruthie, Shar, Noah, Julian, Mingus and Daddius."
Episode 2: "Blocked"
"The gang struggles to regain a sense of normalcy. Julian moves in with Brodie and a deeply hurt Noah. Mingus' crush grows. Shar and Ruthie host a sip and see party."
Episode 3: "Welcum to the Hellmouth"
"Brodie throws an unforgettable party to honor his lost friends with money from the survivors' fund. Brodie and Noah disagree. Ruthie lies to Shar again. Judy struggles to connect with Mingus."
Episode 4: "#F*ck Disabled People"
"Marvin and Ali throw a party for people with disabilities at Ghost Fag. Brodie babysits so Ruthie and Shar can have a night out, but it doesn't go as planned. Mingus attends Bussey's drag school; Julian meets someone."
Episode 5: "Choke"
"Mingus celebrates their birthday at Ghost Fag's drag wrestling event, despite Brodie's best efforts to keep them away. Julian and Noah come to a difficult decision. Ruthie makes a mistake."
Episode 6: "Pretend You're Someone Else"
"The gang rides on a Mardi Gras float, where Brodie and Ruthie find they cannot escape each other -- or their past. Mingus finds solace in sex. Marvin butts heads with Ali and Shar. Noah brings Julian to lunch with his dad."
Episode 7: "Problemática"
"Brodie considers his impact on his friends' lives. Noah and Julian host a dinner. Mingus gets shocking news. Bussey makes a big decision. Ruthie bonds with the twins. Shar makes a surprising connection."
Episode 8: "Sacrilege"
"Bussey throws a transformative party to reclaim Babylon. Mingus performs again. Bussey, Brodie, Ruthie, Shar and Brenda make decisions that will change the course of their lives."
Queer as Folk season 1 plot
Peacock describes the Queer as Folk plot as the following:
"Queer as Folk is a vibrant reimagining of the groundbreaking British series created by Russell T. Davies, exploring a diverse group of friends in New Orleans whose lives are transformed in the aftermath of a tragedy."
Given Peacock is emphasizing the British series in their promotional material, would-be viewers shouldn't expect the series to resemble the Showtime American reboot.
Queer as Folk season 1 cast
In some exciting news for those anticipating the Queer as Folk reboot, Peacock announced that Sex and the City star Kim Cattrall is featured in the new series. Those disappointed Cattrall didn't reprise her role as Samantha in And Just Like That may find solace in her role as what Peacock describes as a "martini-soaked, high society southern debutant with trailer park roots."
Cattrall is a great addition to a cast that already consists of series regulars Devin Way (Grey's Anatomy), Fin Argus (The Gifted), Jesse James Keitel (Big Sky), Candace Grace (Acts of Crime), Johnny Sibilly (Hacks) and Ryan O'Connell (Will & Grace).
Additionally, we'd be remiss not to mention that Juliette Lewis (Yellowjackets), Ed Begley Jr. (Young Sheldon) and Olli Haaskivi (Winning Time: The Rise of the Lakers Dynasty) are also a part of the project.
Looking for a little more insight into the characters on the show? Don't worry, we've got you covered.
Brodie (Devin Way): a charming and sometimes chaotic commitment-phobe who finds a reason to stay in New Orleans after tragedy rocks his community.
Mingus (Fin Argus): a cocky high schooler whose confidence belies their lack of real world experience.
Ruthie (Jesse James Keitel): a trans, semi-reformed party girl who is struggling to grow up.
Shar (Candace Grace): a non-binary professor navigating the rocky transition from punk to parenthood.
Noah (Johnny Sibilly): a successful lawyer who is not as put together as he seems.
 Julian (Ryan O'Connell): a pop culture nerd with cerebral palsy who is more than ready for some independence.
Brenda (Kim Cattrall): a martini-soaked, high society southern debutant with trailer park roots.
Judy (Juliette Lewis): a single mom who is more of a friend than a parent to her teenager.
Queer as Folk season 1 trailer
The Queer as Folk trailer proves to be quite riveting as there are several nuances in the Peacock show one won't be able to find in previous iterations of the series.
How to watch Queer as Folk season 1
Queer as Folk is a Peacock Original series. Those wishing to watch episodes of the show will have to subscribe to Peacock Premium, which offers either a $4.99 ad-supported or $9.99 ad-free plan.
Again, those in the UK can access Peacock Originals on Sky TV and NOW.
As for past iterations of the show, Showtime's Queer as Folk is available through the cable network, including its Showtime Anytime app, as well as on Prime Video and Hulu with the Showtime channel add-on.
US viewers can watch the original British Queer as Folk for free (with ads) on Tubi and The Roku Channel. In the UK, the 1999 series is available to watch via BritBox and Channel 4.
Get the What to Watch Newsletter
The latest updates, reviews and unmissable series to watch and more!
Terrell Smith has a diverse writing background having penned material for a wide array of clients including the federal government and Bravo television personalities. When he's not writing as Terrell, he's writing under his pseudonym Tavion Scott, creating scripts for his audio drama podcasts. Terrell is a huge fan of great storytelling when it comes to television and film. Some of his favorite shows include The Crown, WandaVision, Abbot Elementary and Godfather of Harlem. And a fun fact is he's completely dialed into the TLC 90 Day Fiancé universe.