Tuca & Bertie season 3: everything we know about the animated comedy
Birds of a feather continue to flock together in the hit series starring Tiffany Haddish and Ali Wong.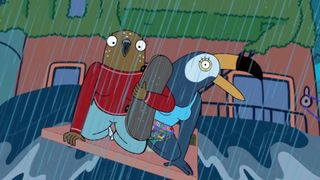 (Image credit: Adult Swim/HBO)
When Tuca & Bertie season 1 first began streaming on Netflix in 2019, it opened to generally positive reviews. Variety stated, "There's so much to look at and latch onto while getting lost in Tuca & Bertie's fever-dream world of witty, filthy chaos."
Despite the buzz circulating around the show, the streaming giant canceled it after one season. However, fans were not pleased with the decision and rallied around the series, sending tweets to the powers that be as well as signing petitions for the animated comedy to return on another platform. Enters Adult Swim.
The cable network was pretty quick to not only pick up the series but also release the second season, which debuted in June 2021. The show was again well-received by viewers and Adult Swim quickly renewed it for season 3. Now over a year later, season 3 is finally here.
Here's everything we know about Tuca & Bertie season 3.
Tuca & Bertie season 3 episode guide
Tuca & Bertie season 3 officially wraps with the last two episodes of the ten-episode season debuting on HBO Max on Monday, August 29.
Below we've provided an episode guide for the season.
Episode 1: "Leveling Up"
"Tuca's got a new job and love interest. Speckle's making a big splash at work. Bertie's barely treading water until she has the chance to prove herself."
Episode 2: "The Pain Garden"
"Tuca is forced to confront a mysterious chronic health issue. Bertie accidentally takes a liking to Tuca's beau."
Episode 3: "The One Where Bertie Gets Eaten by a Snake"
"Bertie gets eaten by a snake."
Episode 4: "Leaf Raking"
"Tuca juggles lust and sexual dysfunction. Bertie and Speckle try their hands at parenting."

Episode 5: "Salad Days"
"Yeast Week is here again! Is Bertie's new mentor an improvement over Pastry Pete? Tuca and Speckle wrangle a rowdy duck into submission."
Episode 6: "Screech Leeches"
"The girls revisit Bertie's spookiest memory: a high school friendship that got intense."
Episode 7: "A Very Speckle Episode"
"Being an architect is tough and Speckle is close to losing it. Tuca dips into astrology and goes hard."
Episode 8: "Fledging Day"
Bertie might have some mommy issues! Tuca coaches Speckle through a tough transitional life stage.
Episode 9: "Somebirdy's Getting Married"
"There's a wedding in Bird Town, and that means being forced to mingle with ex-lovers while dressed up real fancy!"
Episode 10: "The Mole"
"Tuca's in trouble and Bertie has to dive deep to understand how to help her! Speckle does some wild stuff too! I don't want to spoil it, but oh man, it's truly nuts!"
Tuca & Bertie season 2, is also now streaming in the US on HBO Max and is available in the UK on Channel 4.
Tuca & Bertie season 3 plot
Hanawalt describes the overall premise of Tuca & Bertie as the following:
"An adult animated series about two best friends: a shy, ambitious song thrush named Bertie, and a brassy, rambunctious toucan named Tuca!"
We can further elaborate by saying that while the focal point of the show is two birds, the series certainly dives into adult situations about dating, relationships and other real-life human issues that many viewers find relatable.
As for details about the upcoming season, unfortunately not much has been shared. However, watching (or perhaps rewatching) season 2 when it becomes available to stream will give you a pretty good inclination as to where the show is headed.
Tuca & Bertie season 3 cast
Returning to her role as Tuca is comedian Tiffany Haddish. She's starred in a number of major projects including the recently released Apple TV Plus series The Afterparty, as well as The Last O.G., Bad Trip and Girls Trip.
Also back as Bertie is comedian Ali Wong. Wong is no stranger to animated comedy, having voiced the characters of Becca Lee and Ali in Human Resources and Big Mouth, respectively. She is also recognizable onscreen in films like Birds of Prey and Always Be My Maybe.
Although he does not voice a titular character, Steve Yeun voices the always important bird Speckle. Yeun is most famous for his role as Glenn Rhee in The Walking Dead. From those zombie days, he's gone on to star in projects such as The Humans and received an Oscar nomination for his role in Minari.
Tuca & Bertie season 3 trailer
Season 3 looks like it will be as funny as ever judging by the trailer.
How to watch Tuca & Bertie season 3
Tuca & Bertie season 3 episodes became available on both Adult Swim and HBO Max in the US. For those wishing to stream episodes on-demand, you'll want to purchase a subscription to HBO Max.
Additionally, no official announcement has been made as to when and where season 3 will be available in the UK. However, once that information becomes available, we can pass it along.
Get the What to Watch Newsletter
The latest updates, reviews and unmissable series to watch and more!
Terrell Smith has a diverse writing background having penned material for a wide array of clients including the federal government and Bravo television personalities. When he's not writing as Terrell, he's writing under his pseudonym Tavion Scott, creating scripts for his audio drama podcasts. Terrell is a huge fan of great storytelling when it comes to television and film. Some of his favorite shows include The Crown, WandaVision, Abbot Elementary and Godfather of Harlem. And a fun fact is he's completely dialed into the TLC 90 Day Fiancé universe.