Will Michelle fan an old flame in Corrie?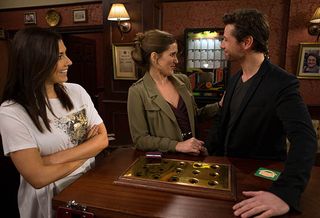 (Image credit: Joseph Scanlon)
It's several months now since her husband Steve headed off to sunny Spain to recover from depression, so it's understandable Michelle might be starting to feel a little peeved in Coronation Street (opens in new tab).
After all, she's stuck in wet Weatherfield trying to run their business interests all by herself. So is this just the wrong moment for her first love to turn up on the cobbles?
No one's more surprised than Michelle when one of her wedding clients, Saskia, introduces her fiance. It's Will, her first boyfriend!
Worryingly for Saskia, Michelle and Will get on like a house on fire, reminiscing about old school friends and enjoying each other's company
Later, the pair share a cosy drink at the Rovers, prompting suspicious Liz to confront her daughter-in-law and ask outright if she's having an affair!
While vulnerable Michelle hasn't gone that far, could she be tempted to cheat on Steve with good-looking Will?
Watch all the drama on Corrie, ITV, from Easter Monday.
Thank you for signing up to Whattowatch. You will receive a verification email shortly.
There was a problem. Please refresh the page and try again.