Coronation Street spoilers: Bernie arrives to cause trouble for Gemma Winter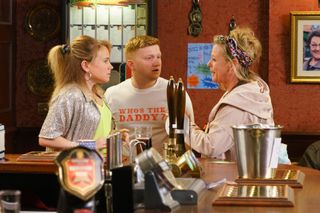 Gemma Winter is stunned when her mum shows up!
Jane from Radio Weatherfield interviews Coronation Street's Gemma Winter and Chesney about their quads. In the Rovers, everyone gathers round to listen and when Chesney admits they're not married, Jane urges the listeners to tweet their support for the pair to get hitched.
As the customers make cash donations towards the babies' futures, Chesney plucks up the courage and tells Gemma he never stopped loving her and wants to try again.
But as he leans in for a kiss, they're interrupted by the arrival of Gemma's Mum, Bernie, who reveals she's about to be made homeless and needs money.
When Gemma offers her the cash from the charity collection Chesney's appalled.
Kevin's unimpressed to realise Paula stayed the night. When Paula assures him it was a one-off and she's looking to rent a flat, Sophie announces she'd like to move in with her.
Kevin admits he thinks Paula is too old for her but Sophie tells him they're in love and he'd better get used to the idea.
Tracy moans to Steve that she's sick of driving a cab and can't wait for him to get his licence back. Steve and Tim exchange guilty looks.
After another successful unicorn party, Steve and Tim are intrigued to see Robert in a pub garden with Vicky.
When Alya and Ryan clock Ali gazing wistfully at Maria, they come up with a plan and dupe the pair into having lunch together at Speed Daal.
Although initially awkward, they're soon getting on well and the chemistry is evident.
Having recognised Aggie from the pharmacy, Kirk asks her for some advice about the rash on his bum.
Coronation Street continues at 7.30pm
Get the latest updates, reviews and unmissable series to watch and more!
Thank you for signing up to Whattowatch. You will receive a verification email shortly.
There was a problem. Please refresh the page and try again.