Coronation Street Spoilers: Nick Tilsley's scheme is thwarted by Billy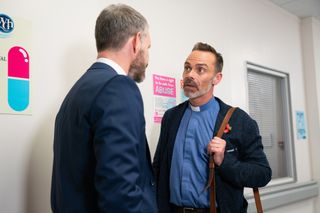 Nick Tilsley schemes his way into the hospital to see Josh but he is spotted by Billy
Nick Tilsley tells Imran that he is going to visit Josh at the hospital by pretending to be his solicitor, in Coronation Street's second episode on Monday 4th November (8.30pm, see our TV Guide for full listings).
His plans are thwarted, however, when Billy spots him and asks him what he is doing. Back at home Leanne thinks that Billy might be the answer to their prayers if he can speak to Josh.
Gary forgives Maria for her liaison with Ali but meets up with the private detective and asks him to find out what he can about Dr Ali.
Beth is furious when she finds Carla preparing beard oil but will she change her mind when Carla explains all the profit is going to Bertie's future?
Steve asks Emma to come and stay with him and Amy whilst she recovers. Sally is unimpressed to find Abi drunk with Kevin instead of revising.
Get the What to Watch Newsletter
The latest updates, reviews and unmissable series to watch and more!
James has worked for What's on TV, TV&Satellite Week and TV Times magazines for more than 20 years. His all-time favourite TV shows (in no particular order) are Inspector Morse (but he refuses to accept The Wench Is Dead), Wallander (the Krister Henriksson version, of course), Our Friends in the North, Studio 60 on the Sunset Strip, and Around the World in 80 Days (Palin not Tennant).