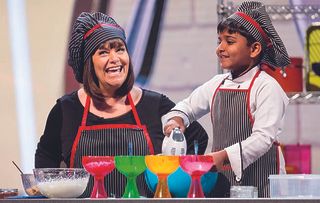 (Image credit: ITV / Wall To Wall)
More talented children show off their skills, from cooking to boxing
When six-year-old Thomas from Stevenage grows up he would like to be 'somebody who keeps birds of prey.'
But until then he's entertaining us and host Dawn French with his adorable tribute to David Bowie, in the second part of this series showcasing talented children from the UK and all over the world.
Also performing on tonight's show is Kicha, a pint-sized chef, who's also six, and loves to cook and sing; sister act Terra and Eddie from Wolverhampton, who are amazing break dancers; a nine-year-old super-speed boxer from Kazakhstan called Evnika; and finally a beautiful ballet dancer from Reading.
Also, Emile is just 11, but his strength and grace are breathtaking.
Thank you for signing up to Whattowatch. You will receive a verification email shortly.
There was a problem. Please refresh the page and try again.