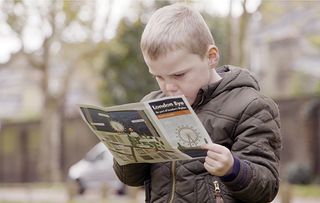 Children are tasked with travelling alone across London, with surprising results, in Planet Child, ITV's fascinating new study
Children are tasked with travelling alone across London, with surprising results, in Planet Child, ITV's fascinating new study
Would you let young children travel across London on their own?
That's what a group of kids aged seven and under do in this new series presented by twin doctors Chris and Xand van Tulleken.
It's for an experiment the pair conduct to see if British children can handle the sort of independence that is common in some other cultures around the world.
The seven children must get from a London park by public transport to the London Eye without their parents.
Don't worry, they are monitored by undercover chaperones and secret cameras.
The results are fascinating and prove children are more capable than they are given credit for.
Chris and Xand tell us more…
Why did you make Planet Child?
Xand: We're both parents ourselves.
We film a lot of stuff with kids and we make a children's show called Operation Ouch! on CBBC.
And the thing that we've noticed is that there are lots of different ways of raising children around the world.
So that provokes the question of what the benefits and risks might be of doing things differently here.
What do you think the children gained from taking part?
Xand: There was a moment where one of them, Darcee, said, 'I feel bigger than I am.'
It was genuinely a very moving moment.
The children had gone through a real transformation about how they thought of themselves.
What can parents watching the programme take from it?
Xand: In Japan, there's total social acceptance of putting your young child on the Tokyo underground on their own.
In the UK, it's the opposite and the London Underground won't allow it anyway.
We're not proposing that everyone starts to do that, but your child could probably walk further to school than you imagine and maybe cycle by themselves when they're a bit older, which would give them a bit more freedom.
But it's very hard to do, we know!
TV Times rating: ****
Get the latest updates, reviews and unmissable series to watch and more!
Thank you for signing up to Whattowatch. You will receive a verification email shortly.
There was a problem. Please refresh the page and try again.