The Cannings have a surprise visitor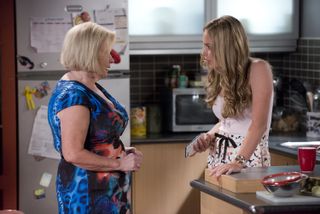 A mysterious woman tries to swindle a free meal from Sheila by claiming to find a hair in her burger. Mark is called in, but when the newcomer, Xanthe, tells him a sob story, he lets her off with a warning. When Sheila sees Xanthe sneak into the back yard, she turns the garden hose on her. A spluttering Xanthe reveals she's looking for Gary Canning – she's his daughter!
Imogen reassures Mark that everything will go smoothly with the house settlement, but then loses his bank cheque. When Daniel finds it after diving into the skip behind Harold's, Imogen kisses him. Later, she denies to Piper that she likes Daniel and attempts to prove it by asking Tyler out on a date. Piper is crushed when he agrees.
Sonya wishes Toadie had chosen to help Steph in her hour of need - telling her that she knows how Steph feels; she has also had a child taken from her. Steph is touched especially when Sonya says they will fight to the end for Steph's right to be a mother to Charlie.
Get the latest updates, reviews and unmissable series to watch and more!
Thank you for signing up to Whattowatch. You will receive a verification email shortly.
There was a problem. Please refresh the page and try again.